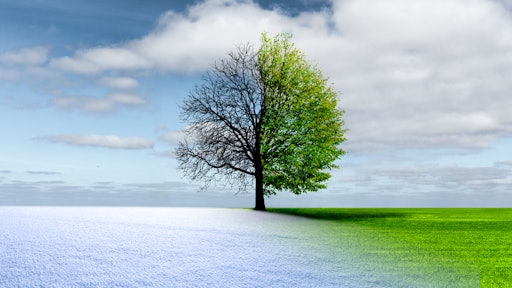 by-studio/stock.adobe.com
The pandemic has justifiably received the brunt of the blame for a volatile supply chain over the past few years. However, extreme and unpredictable weather events that can occur as a result of climate change, such as widespread wildfires, lengthy droughts, major hurricanes, and severe winter storms, have also proven to be a significant risk. Their residual effects have already been felt across the supply chain and within the shipping experience.
According to a UPS Capital report, 75% of merchants have experienced an increase in damaged, expired or lost packages due to severe weather events over the last 12 months. This increase is so pronounced that many believe this threat is just getting started as climate change is a slow-moving crisis that is likely to gain momentum for years to come. In fact, the same report found that nearly all merchants (92%) anticipate an increase in shipping and delivery issues due to climate change over the next five years.
With peak season ramping up, and the Farmer's Almanac forecasting a turbulent winter, it's important to invest in safeguards that can protect shipments against the havoc that climate change can bring—now and in the future.
Protecting warehouse inventory from damage
The US Census Bureau estimated that retailers' inventory stockpiles exceed $550 billion this peak season due to fears over last year's mass shortages. Unfortunately, inventory at rest in a warehouse is vulnerable to climate-related risks, such as fires and floods. This is especially true in higher risk areas like California or Florida that are more susceptible to natural disasters.
Not only is there risk of massive loss should an unruly weather event occur, but aggregate inventory can also have insurance policy limitations surrounding the amount of inventory being held and the time it has sat idle. Therefore, the loss may not even be adequately covered, putting the merchant on the line and in the hole.
Circumventing shipping and delivery delays
Climate change has made severe weather a worldwide issue, causing global supply chain shipping challenges like port shutdowns, longer freight routes, and last mile delays. Merchants who rely on just one supply chain line are most likely to be affected by weather delays or halts that influence their only supply source.
For example, weeks of drought across Europe this summer created supply chain problems for major waterways like Germany's Rhine River. While most vessels were forced to lighten their loads to ensure they could travel along depleted water channels, some vessels still couldn't sail even when they were empty—causing bottlenecks on one of the country's main commercial routes and delaying shipments worldwide.
During the holiday season when deliveries have a drop-dead date, merchants could face negative repercussions to both their reputation and bottom line should inventory not arrive in time (or at all). It's imperative to diversify supply sources so that there's multiple lines of inventory coming in—helping to avoid being left high and dry in the event of complications.
Investing in weather stabilizing shipment packaging
According to UPS Capital's 2022 State of Shipping report, 77% of shoppers now believe that extra steps are needed to protect their orders from weather issues due to climate change. Merchants and other supply chain players should be investing in solutions like weather-stabilizing shipment packaging to offset the potential for an increase in damaged or expired packages, especially for more sensitive items like electronics or pharmaceuticals. In addition to express shipping and insulated containers, shipments can also include materials that stabilize the temperature to protect items against extreme cold or heat.
Understanding the greater need for shipment insurance
As the weather becomes more unpredictable and disasters become more frequent as the result of climate change, such events are likely to have a greater impact on the supply chain. According to Climate.gov, the U.S. had the second-most climate disasters (20) in 2021, just behind 22 in 2020.
It's important for merchants to safeguard themselves from these growing risks by investing in peace of mind through the right shipping insurance. By doing so, it can not only minimize out of pocket losses should a crisis hit but boost the customer experience by resolving issues swiftly and easily.