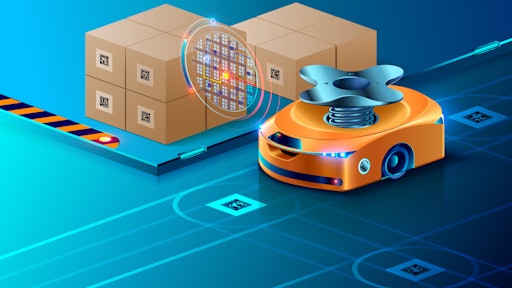 AndSus/Adobe Stock
Geek+ unveiled its newest warehouse robot solutions at the 2022 Manifest show in Las Vegas. The demonstration of the system was the first in the United States. The robots include RoboShuttle and P40 that work together to achieve an efficient warehouse.
From Geek+:
RoboShuttle has a telescopic fork that can reach deep into a shelf to pick a tote and relocate it anywhere on the rack
RoboShuttle can maneuver narrow aisles and reach high shelves, increasing picking efficiency by three times
The P40 helps to deliver totes directly to the warehouse operator from the first row of the RoboShuttle shelf
RoboShuttle+P40 both maximize warehouse efficiency and storage space and boost picking accuracy
"Changes in consumer behavior over the last two years have accelerated e-commerce growth and reinforced the growing demand for greater storage capacity and space utilization," Yixin Bai, Senior Product Manager, Geek+ says. "We've created a high-density storage solution, RoboShuttle+P40, that not only enhances overall warehouse space utilization, but also optimizes the order fulfillment process with fast and accurate tote handling from the storage rack to the operator picking station."