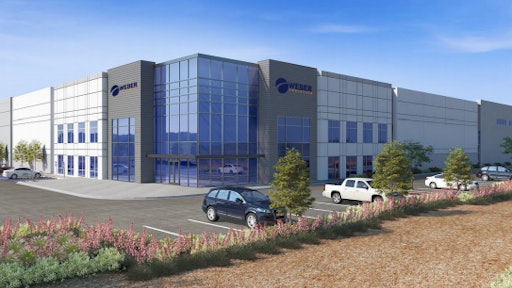 Weber Logistics
In the last two years, Weber Logistics grew its warehouse footprint in the "Inland Empire" by 63%. This week, the logistics company announces a new addition in the form of a 406,710-square-foot omni-channel distribution center at the airport commerce center in San Bernardino, Cali. and aims to handle 18,000 packages a day through innovative technology such as automation. The location is its sixth largest.
Per Weber Logistics:
The operation will be staffed initially with a team of 40 new employees, with more hiring expected as e-commerce fulfillment volumes grow.
Weber has committed half the building to an existing growing client. The remaining space is ideal for consumer goods, food or apparel companies that require a West Coast omni-channel solution.
The San Bernardino DC further expands Weber's ability to provide integrated distribution services from the West Coast, which include drayage, warehousing, fulfillment, and transportation. As with every facility throughout Weber's network, this DC will offer highly engineered value-added capabilities including kitting and assembly, rework, repacking, retail display builds, and other both traditional and innovative supply chain strategies.