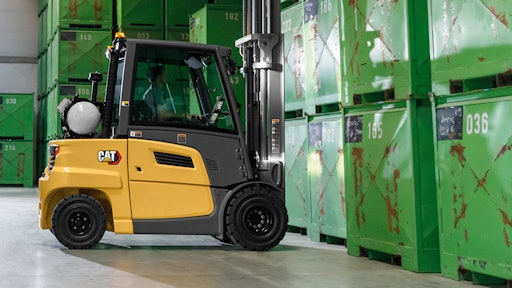 Mitsubishi Logisnext Group
Mitsubishi Logistnext Americas Group launches its first Cat Hydrostatic Internal Combustion Forklift series, using advanced hydrostatic engine and technology system designed to boost productivity and provide intuitive control when handling heavy-duty materials. The field-proven, EPA emissions-compliant engine and hydrostatic drive system is designed for a range of heavy-duty manufacturing and warehousing activity that focuses on smoother acceleration, directional change and increased uptime.
Per PR Newswire:
At the heart of the lift truck is an advanced hydrostatic drive train that circulates hydraulic fluid to power wheels.
The Cat hydrostatic IC forklift series is built to perform in heavy-duty operations that demand long hours of usage, frequent and efficient directional changes, and constant stop-and-go maneuverability.
Key features include: a fuel-efficient, powerful engine lineup for heavy-duty material handling applications, a fully hydrostatic drive system combined with full software integration with the hardware for greater performance and control, low-maintenance wet disc brakes for precise braking and lower maintenance costs, a spacious operator compartment, intuitive controls and five preset performance modes to allow, comfortable and confident operation and easy access to major parts and equipment for easier maintenance and greater uptime.