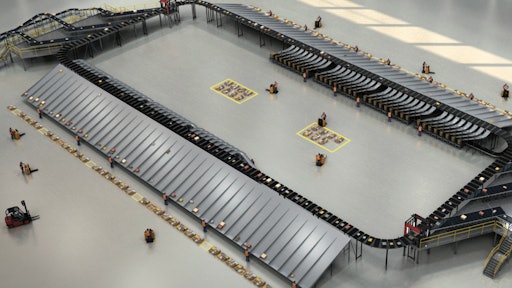 MHS
MHS, a single-source provider of material handling automation and software solutions, has revealed two new additions to the company's in-house sortation portfolio: HC-Loop cross-belt sorter and HC Smalls sliding shoe sorter.
The HC-Loop is the company's first cross-belt sorter, offering a flat carrying surface to handle the high volumes and package variety of e-commerce with maximum efficiency and accuracy. It includes an automatic centering feature that locates items in the center of the conveying surface for consistent divert accuracy.
This level of accuracy allows the system to use narrower divert chutes, boosting sortation capacity while maintaining an efficient footprint. The HC-Loop has a modular design for layout flexibility and space savings and fewer components for improved reliability and simpler maintenance. The HC-Loop uses the new MHS linear induction motor that avoids contact and vertical attraction, for smooth, constant operation that contributes to long lifespans and precise speed control.
The HC Smalls Sorter is a versatile sortation solution designed for the smallest, lightest parcels. The advanced sliding shoe design works in tandem with rounded slats to prevent thin products from becoming trapped and causing jams. It offers a high density of exits to maximize capacity in a space-efficient framework, with low noise levels and a maintenance-friendly design to keep operations productive.
"These two new sortation products further demonstrate the capability of MHS as one-stop shop for distribution centers looking to handle the challenges of e-commerce with the latest technologies and responsive support," says Rush Fullerton, senior vice president, business development, MHS. "From electronics and apparel to flats, bagged items and totes, these technologies position us to solve customers' throughput challenge no matter the product mix they handle."
MHS draws on extensive controls engineering and design experience to offer complete, turnkey control solutions to leverage a variety of automated sortation systems for maximum effect. The company's Lifecycle Performance Services group provides maintenance, support, modification and optimization services to keep systems running at peak efficiency and maximize long-term value.