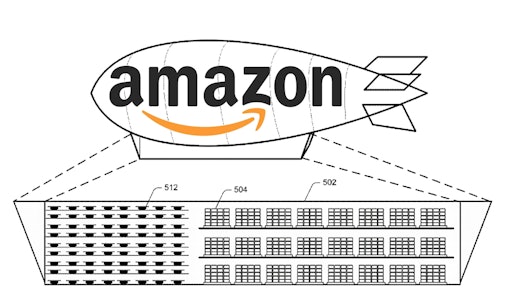 MyAJC reports that Amazon received a patent for product-distribution warehouses that float in the sky and are carried and held by blimps.
Amazon has been planning on moving its ground-based deliveries to the air, with some locations already utilizing drone deliveries. Drone delivery would reportedly save the company $887 billion.
The patent describes the "aerial fulfillment centers" being serviced by a fleet of drones, or what Amazon refers to them as "unmanned aerial vehicles."
MyAJC reports that the centers may be positioned at an altitude higher than a metropolitan area and will be designed to maintain an inventory of items that may be purchased by consumers and will be delivered to them via drone. The blimps keeping the fulfillment center afloat would run on helium so they would stay afloat.
Amazon identified the safety hazards that go along with having a floating fulfillment center and using a fleet of drones. In previous patents, the company noted a system that would cause a drone to fragment in case of malfunction in order to reduce the falling-object hazard, MyAJC reports.
It is unclear at this time if Amazon will move forward with the technologies described in the floating warehouse patent.