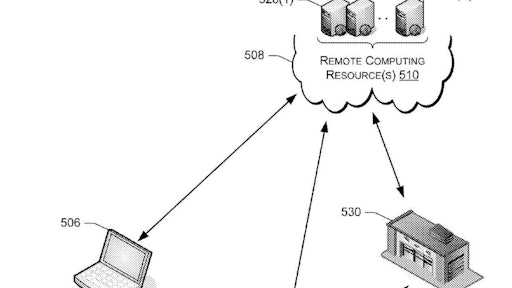 U.S. Patent and Trademark Office
With the success of ride hail apps like Uber and Lyft, public transit systems have been suffering from revenue loss. However, a recent patent from Amazon may transform public buses into mobile delivery stations.
According to the Telegraph Herald, customers could meet a bus at a stop and pick up their items from a removable delivery module attached to the vehicle. A customer could also pick up items from a bus that a person uses regularly. Though, the deliveries would be limited to those who reside close to the pickup locations.
"Some customers may not live or work near pickup locations, or may otherwise not way to take the time to travel to one," the patent says. "In addition, some customers may live and work in regions where there are few or no carriers for delivering packages, thus complicating the delivery of items to any destinations near the customer."
The patent doesn't specify any financial arranges that may be associated with delivering packages on public transportation, but does anticipate doing so.