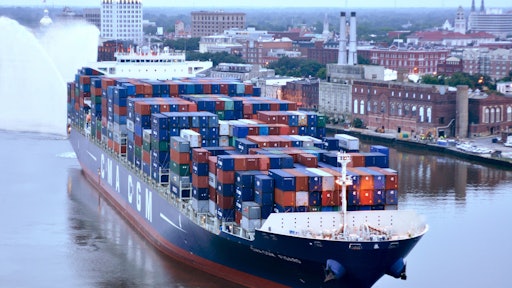 Georgia Ports Authority announced that they will be able to handle 10 million TEUs within the next ten years. The plan will also allow for more than one million rail lifts and auto and machinery units per year.
Geo Ports Authority executive directory Griff Lynch provided an overview for the plan that calls for 42 ship-to-shore cranes, 200 yard cranes, new RTG lanes and an expansion of Savannah's port. The GPA will open up a second inland terminal and break ground on the Mason Mega Rail Project at Garden City terminal.
Georgia ports TEUs have more than doubled since 2010, now carrying four million TEUs. Ro/Ro cargo has grown to 640,000 units per year and cargo crossing docks have upped to 35 million tons.
The GPA plan has three elements for success: space, infrastructure and connectivity.
"Georgia is home to both the single largest container and roll-on/roll-off facilities in North America," Lynch said. "Our goal is to maximize capacity, create jobs and reduce impact on our local communities."
To read the full original article, please click here.