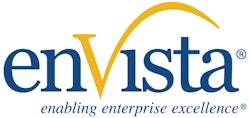 Indianapolis—Feb. 27, 2016—enVista, a global supply chain consulting and IT services firm, announced that Tom Drivas joined its design solutions practice as director of client engagement. In his role, Drivas will lead sales and business development efforts for the design solutions practice, helping manufacturing, wholesale, e-commerce and omnichannel retail clients determine optimal facility designs to address their long-term requirements.
With nearly 15 years of supply chain experience, Drivas has implemented automated conveyor, goods-to-person, storage and software solutions for dozens of companies.
"Tom's impressive supply chain experience will enable him to be a leader within our design solutions team," said enVista President and CEO Jim Barnes. "He has managed the selection and implementation of multiple automated systems and software solutions for companies in the past, and has the experience to guide clients through the design process."
Prior to joining enVista, Drivas held positions in engineering, business development, marketing and sales. Most recently, he served as material handling solutions manager at Dematic. He also held multiple leadership positions at Wynright.
Drivas said, "Thanks to enVista's comprehensive services and deep expertise across many industries and technology offerings, there is an innovative solution for any client facing any challenge. Being able to join with such a diverse and talented team of professionals to help our clients improve their facilities and every facet of the supply chain is tremendously gratifying."
enVista's design solutions practice manages all aspects of facility design and redesign for businesses, including assuming general contractor responsibilities to streamline the entire design and build process for clients. The practice takes a holistic view of an organization during the design process, starting with the end customer experience in mind and an understanding of the client's process all the way back to the source. Although design solutions focuses within the four walls, this end-to-end vision ensures that facilities and equipment support all aspects of the supply chain and deliver optimal results.
Companies in this article