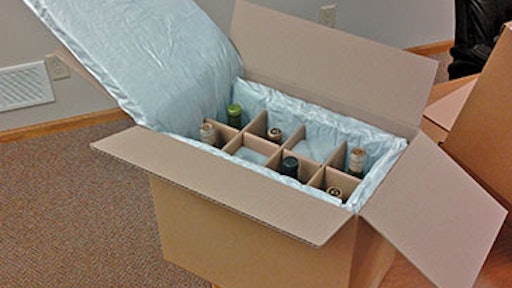 Norfolk, Neb.—Mar. 11, 2014—Thermal Packaging Products introduces Chilled Wine Shipper, a temperature control shipping carton made with eco-preferable insulated padding and materials. The cushioning carton liner features insulating padding made from purified recycled biodegradable absorbent cotton-enhanced textile fibers sandwiched between an inner layer and an outer layer of poly film sealed on all sides. The inner surface of the poly film is perforated to allow condensation from the refrigerant to wick away and be absorbed into the cotton fibers, protecting your bottle labels.
The flexible cushioning insulation padding also contains a special antimicrobial that helps to prevent cross-contamination and is programmed to expire after a desired length of time to allow an eventual degradation of the Wine Shipper. The enhanced cotton insulation can completely biodegrade in less than one year and meets the current FTC Green Guidelines as tested by ASTM D-6400. The poly film contains an additive that promotes biodegradation in a landfill environment in greater that one year as tested by ASTM D5511.
Four-Bottle Shippers have one extra refrigerant cooling chamber and Six-Bottle Shippers have two refrigerant cooling chambers for added temperature control during shipments.
Companies in this article