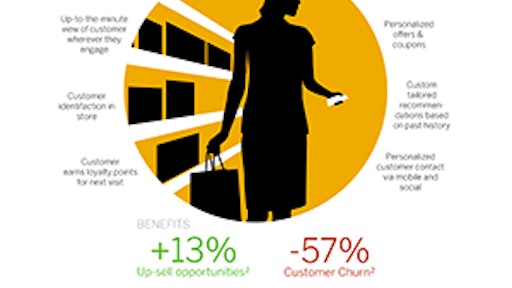 Newton Square, Pa.—Oct. 15, 2013—To help retailers better understand and act on consumer behavior in the fast-changing retail marketplace, SAP AG announced the SAP Customer Activity Repository application, a new retail data repository powered by the SAP HANA platform. The SAP Customer Activity Repository is intended to support retailers in becoming more customer-centric by bringing together customer, sales and inventory information from siloed applications. A unified view of the customer can help retailers drive consistent experiences across all channels, and improve business efficiencies, profitability and brand perception.
Shoppers are demanding more choice and richer content at all times, on any device. To meet demand, retailers must deliver more personalized content, faster and across all channels. The SAP Customer Activity Repository aims to empower retailers with consumer insights by consolidating customer interactions from stores, online and mobile channels with insight from social media feedback, such as Twitter or Facebook posts. The information can act as the basis for a "single source of truth" to help retailers optimize branding, marketing, promotions, pricing, merchandising, inventory management processes and more.
"As consumers expand their shopping experiences across multiple purchase channels, retailers have an opportunity to engage more fully and provide more personal interactions," said Lori Mitchell-Keller, the global head of the industry business unit retail, SAP. "This is a daunting task, requiring access to multiple databases and tools. With the SAP Customer Activity Repository, retailers have access to powerful consumer insights, are able to centralize critical business data and run reports instantly, and make better business decisions that support both sales and the customer experience."
SAP HANA helps businesses make smarter, faster decisions through real-time analysis and reporting, combined with accelerated business processes. As the backbone of the SAP Customer Activity Repository, it is intended to deliver rapid insight at a user-determined level of detail, helping eliminate the time needed to handle multiple data transactions in the point-of-sale (POS) transaction log, other sales channels and reporting systems.
The SAP Customer Activity Repository is intended to help retailers establish the foundational data that can be used to better understand customer demand and predict future buying behavior. Features, such as real-time visibility into consumer sales data down to the transaction level, are intended to enable retailers better understand of what, when and where customers make purchases. One consolidated data pool for all customer transactions across channels support ease of use and accessibility to the right information.
Further, SAP plans to design better access to inventory levels, predictive models and analytics in the application for improved operational management. General availability of SAP Customer Activity Repository is planned for the first quarter of 2014.
Companies in this article