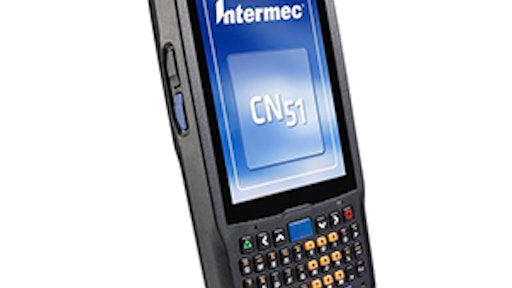 Fort Mill, S.C. and Everett, Wash.—Oct. 2, 2013—Intermec , now a part of Honeywell Scanning & Mobility, announced the availability of its CN51 rugged mobile computer, the company's latest product to offer the choice of Windows Embedded Handheld 6.5 or Android 4.1 operating systems on a single device. Designed for flexible application support, this mobile computing solution is designed for use in direct store delivery, transportation and logistics, and field service operations.
The CN51's large, multi-touch, outdoor-readable screen provides ample room for application viewing with less scrolling for greater productivity, as well as more space for capturing signatures. It's also equipped with smart battery technology, delivering battery life that lasts through a full 12-hour shift without interruption to replace or recharge. The CN51 is also an ideal migration option from the current CN50, offering improved processor and area imager performance, while still maintaining accessory compatibility with existing CN50 installations.
For added flexibility, the CN51 incorporates a voice-capable Flexible Network Radio, allowing the same device to operate on either a CDMA or UMTS wireless network in North America. With the ability to switch networks on the fly, enterprises with large, geographically dispersed workforces can rely on the CN51 to meet changing coverage needs and ensure anytime, anywhere access to business-critical information.
The new CN51 is available with Intermec's EA30 or EA31 imagers for optimal reading of 1D and 2D barcodes in various conditions, including low-light scanning environments. With motion tolerance and rapid scanning, the CN51 also eliminates delays or user frustration during scan-intensive applications, improving worker productivity. The 5-megapixel color camera combined with Intermec's image-processing technologies also delivers advanced capabilities. Mobile document imaging (MDI) and remote deposit capture (RDC) provide a fast and reliable way to convert full-size paper documents or check payments into electronic files while on the road, transmitting directly from the point of capture to the back-office workflow.
Additionally, service solutions like Intermec's CloneNGo provide device provisioning that makes it easy to replicate a master configuration across an unlimited number of devices to get up and running quickly. The Intermec SmartSystems™ Management Console also monitors key sub-systems, including scanning, communications and device health, to prevent issues before they impact operations. Intermec's Medallion Advanced and Support Services help protect the investment by reducing unexpected operational impacts of network communication issues or minimizing device downtime.
Companies in this article