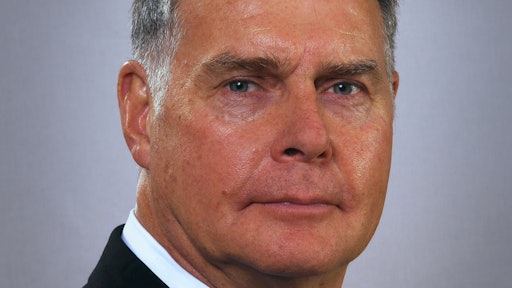 Lombard, Ill.—July 25, 2013—Dr. Abré Pienaar, chief executive officer of iPlan, will receive the Council of Supply Chain Management Professionals' (CSCMP) highest honor: the 2013 Distinguished Service Award. He will be presented with the award during the opening session at CSCMP's Annual Global Conference in Denver on Oct. 21.
"Abré Pienaar represents the very spirit of CSCMP's Distinguished Service Award," said Rick Blasgen, CSCMP's president/CEO. "He is a champion of innovation and creativity, converting ideas into actions, and helping others to do the same. His vast and significant contributions have left an indelible mark on our industry, and we are extremely proud that he is joining this elite group of distinguished supply chain leaders who have been selected to receive this award."
The prestigious annual award was instituted in 1965 as a tribute to logistics pioneer John Drury Sheahan.
Pienaar's contributions to the supply chain industry are described by industry leaders as "an exemplary record of professional and consulting experience." He is widely recognized for his emphasis on the importance of understanding real world problems, and applying his rich and broad experience to search for innovative solutions that are applicable to actual business situations.
"Over my many years of involvement in CSCMP," Pienaar said, "I have learned an immense amount from my colleagues and friends in the CSCMP community. Receiving this award, with its recognition of professional contribution, is a very personal and treasured experience."
With an early focus on international dissemination of knowledge, Pienaar's career spans academic, professional, and business pursuits. His extensive work experience includes engineering, manufacturing, and business system implementations, as well as roles as a university lecturer, executive director of a Johannesburg Stock Exchange-listed company, and author.
In 2002, he founded iPlan, a South Africa-based consulting firm with a global reach that focuses on supply chain management. More than 10 years later, his company has expanded to become the country's preeminent supply chain consulting organization. He travels frequently in both professional and business capacities while coordinating iPlan's multiple assignments.
Pienaar's service to the industry also includes roles on CSCMP's Board of Directors as well as serving on other committees for the organization. He has been responsible for efforts to increase CSCMP's international exposure, including oversight of the organization's Dubai and South Africa conferences.
Pienaar is a founding member of the Southern African Institute of Industrial Engineers and is registered as a professional engineer with the Engineering Council of South Africa. In 1990, he authored a book on the concepts and principles of manufacturing systems, the first one ever written on this topic in the Afrikaans language.
"The core of supply chain management is getting people to collaborate on objectives that transcend their own narrow, short-term interests," said Pienaar. "This is what makes our profession so challenging, and yet so satisfying when we succeed."