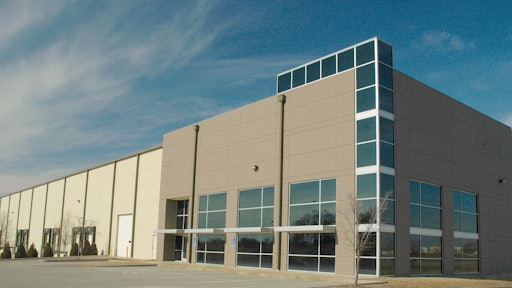 St. Louis—March 27, 2013—Lambert-St. Louis International Airport (STL) received a welcome boost to its drive to increase freight and logistics activity, with the opening of a 200,000 square foot facility for TAGG Logistics at Free Trade Zone 102, adjacent to the airport.
"Our new facility will be one of the most advanced third-party logistics centers in the Midwest," said Tod Yazdi, Principal, TAGG Logistics. "It perfectly positions TAGG Logistics for growing healthcare companies and others that need to take logistics to the next level. We strongly promote St. Louis and the Midwest as an ideal location for distribution. This is also our first operation in a free trade zone, and it will add a new dimension to our capabilities for clients—particularly in sectors such as high-end medical devices, where we are targeting growth."
The new logistics center replaces TAGG's three current sites around the city, improving its efficiency and adding 35 percent to its capacity. It will feature high-specification bulk distribution space, multiple kitting and assembly lines, a high-volume order-picking system and a state-of-the-art warehouse management system.
TAGG Logistics' current business centers on order fulfillment for clients selling healthcare and consumer products via e-commerce, catalog and direct response TV; distribution to major retail outlets; and added-value services such as re-packing and labeling.
Some 60 percent of TAGG's freight flows are already international. Although most of its inbound freight currently arrives by ocean container, its ambitions to further develop its healthcare business are likely to see it move further into premium product lines whose default transport mode is airfreight. At the same time, TAGG's flourishing fulfillment business is driving steady growth in small packages to consumers, a growing proportion of whom (already 20 percent) are located outside the U.S.
"We are delighted that TAGG is relocating within the airport logistics community and investing so heavily in its future development here," said David Lancaster, Cargo Development Director, Lambert-St. Louis International Airport (STL). "It's a vote of confidence in St. Louis and its airport as an ideal location for domestic and international logistics. TAGG's presence adds considerably to the collective resources and capabilities within the airport cluster, and will contribute to our drive to regenerate air cargo traffic levels through STL."
Companies in this article