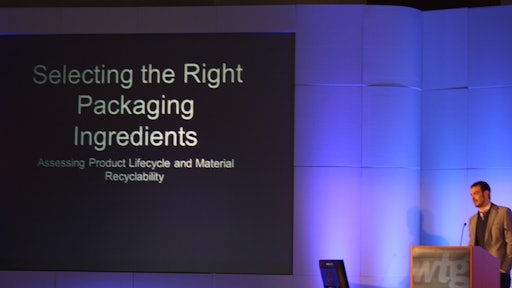 A number of industry leaders and product providers touted their message and initiatives in promoting sustainability through packaging at yesterday's American Packaging Summit in Chicago but perhaps no one brought it more home than National Geographic Fellow Barton Seaver, also the Director of Healthy and Sustainable Food Program for the Center for Health and the Global Environment; chef; and author.
"Packaging is no longer just a delivery mechanism—it's a powerful communication tool," Seaver confirmed. "We can use packaging very powerfully to sell a message. You work so hard to get that package into my life—but the most lasting effort is not the nourishment from that product—it's about the packaging that it was delivered in."
"And packaging in manufacturing—putting a 'no bpa' label on a product—sustainability is so much more than just responding to the latest negative trend," he continued. "Sustainability becomes a way for your company to differentiate itself on the store shelf. And consumers have an equal responsibility in this sustainability matter."
In the case of PepsiCo, a global food and beverage leader with over 300, 000 employees and over $67 billion in revenue, a number of principles that continue to guide its packaging today include:
Commitment
Consumer foresight
Design
Environmental sustainability
Flexibility: speed to market
Advantaged cost
"Design is critical to PepsiCo," said Denise Lefebvre, Vice President of Global Beverage Packaging for PepsiCo Inc. "We really need to educate consumers that, every time they touch a product, it means something to the brand." In her morning keynote, she explained how critical product design becomes, often times holding a more powerful message than through advertising because the packaging is the first experience and interaction a customer is faced with in picking up a product off a store shelf.
"What's iconic for PepsiCo is that we have cool brands that are in the global market which show our ever-changing style and innovation," she continued. "To do that, we had to consider 'what did we want to be true? What was our strategy? What were the principles that we were going to hold ourselves to? We wanted packaging to be a competitive advantage through differentiated packaging."
In fact, just last week the company's Pepsi brand announced its first design update in 16 years—a new single-serve bottle for its portfolio, including Pepsi, Diet Pepsi, Pepsi MAX and Pepsi NEXT.
But along with its iconic brands comes the company's driving sustainability initiative, perhaps most evident in how far its Tropicana brand has come through packaging, now made of a "unique resin that enables the company to produce bottles at a lower cost and provides a product in a package that is the No. 1 recyclable package in the global marketplace," said Lefebvre. The resin used to manufacture PepsiCo's Tropicana handleware bottle is 100 percent compatible with the PET recycling infrastructure.
Efficiency in all supply chains
Among the number of lessons learned not just for attendees but also for exhibitors on day one of the American Packaging Summit, changing product design to become more sustainable can lead to:
Better stability on line
Better material optimization
Improved line functionality
Increased job stability
As manufacturers and suppliers look to global expansion, they must identify how to best become more efficient in their supply chains to bring sustainable packaging to other markets. An important part of that delivery process, pallets today have come a long way in their design and engineering structure, evident through discussions with a number of such product provider's who discussed their sustainability initiatives on the show floor yesterday. "Just because it's a pallet doesn't mean you can't drive other uses from it," said Jerry Koefelda, Senior Director, New Product Commercialization, Rehrig Pacific Co.
With 20-plus years of experience in the reusable market, Koefelda discussed how businesses can drive corporate sustainability through their supply chains today, identifying a number of sustainability goals of importance to businesses today which include:
Increasing consumer value
Communicating sustainability effectively
Benchmarking sustainability for upper management
Through its EZ Pal One-Touch Delivery System, Rehrig removes the cost from the delivery point and brings that back to the warehouse, according to Koefelda. Using the EZ Lift instead of a hand truck reduces the number of movements required for each store. As such, productivity and efficiency is increased because more stops can be made per day, reducing the number of routes required to deliver the same number of cases.
More important to note, pallets are no longer an afterthought in the distribution and warehouse space as their engineering and design is the key factor necessary to uphold heavy volumes of product throughout the delivery and distribution process.
"If you can provide a product that reduces cost but helps the production cycle with a sustainable footprint, that's what makes the job so great," shared Christian Ueland, General Manager of TranPak Inc.
A provider of plastic pallets, bins, totes, cases and more, what sets TranPak apart is their ability to provide bins and pallets in smaller form factors and various colors, which addresses the issue that previously, delivering small sizes was difficult to supply in the industry, explained Ueland. For example, the company's collapsible bin 7048 series include bulk containers which collapse when empty for reduced return transportation costs and warehouse space savings; but are fully recyclable at the end of their service life.
Smaller sometimes is better
Of industry importance when it comes to delivering sustainable packaging, Seaver explained, is the notion that value does not always come in the form of larger package sizes but instead, it comes in the impact that a product pack conveys.
"We look at packaging to bring products both safely and efficiently to market—but we also see packaging as a waste," said Seaver. "And the way things come to us is as important as the product itself. It's easy to use packaging to align your products with issues that a community cares about—such as jobs, costs and sustainability."
In a brief but impactful presentation—in conjunction with DDL President Patrick Nolan's presentation on sustainable packaging misconceptions—the Responsible Packaging Institute (RPI), is one such fairly new organization, founded by Michael White, formed to educate consumers about the effect that over-packaging has on the environment. In addressing the issues with over packaging, RPI will work with DDL Inc., which drives quality testing in the medical device package, product and materials space, on various functions for improvement planning. RPI also works to develop new programs to provide independent third-party certification.
Adopt a wide-angle lens to address the packaging issues of today
Regardless of what packaging a manufacturer utilizes—whether a window box for toys, a poster card or a bag for perishable goods—the message that a package delivers through its form is the key element that resonates with a customer in the long-term. In fact, as food service companies get smarter about sustainability, students and chefs become as concerned about what is going out the back door of a restaurant or school as what is coming through the front door, explained Seaver. Whether sustainability starts with the consumer or a manufacturer, the question can be debated for months after this tradeshow report is published. But the fact holds true that sustainability must start somewhere. And whether it comes first from the manufacturers, the service providers, the consumers or the businesses that impact the global supply chain, whether indirectly or directly—everyone is responsible for their actions they take to identify what it is they are trying to sustain.
"Sustainability is not about the environment—it's about the people and what we are trying to sustain and save," continued Seaver. "Sustainability must become the wholly-owned narrative of the industry you are in. If we just measure issues through a singular lens, then we forfeit what the real understanding of those issues is and we forfeit the profit in the real problem. Each company must define sustainability in their own way—their own narrative. We must address how we relate to and impact the world and identify what packaging represents of that. The contents by which products come into our line is as important as the product itself," he concluded.