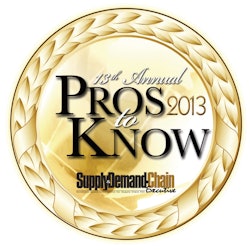 Fort Atkinson, Wis.—Feb. 14, 2013—Supply & Demand Chain Executive magazine, an international B2B publication that provides mission-critical editorial to address the issues and challenges of the supply chain, today announced the names of its 2013 "Pros to Know" award winners.
Exclusively honored as the Provider "Pro of the Year," Louise O'Sullivan is the Chief Executive Officer and Founder of Prime Advantage, one of the largest buying groups in the world that helps mid-sized manufacturers achieve savings and form better relationships with suppliers. Her selected nomination supports the 2013 "Pros to Know" awards coverage's dominant theme supporting female executives leading the supply chain.
"From the global retail COO's to the top F&B supply chain directors to the EVP's and founders of the leading software and technology services providers of today—there's really no limit as to whom our annual 'Pros to Know' awards honor," said Barry Hochfelder, Editor, Supply & Demand Chain Executive. "This year's nominations alone came close to nearly 400 entries—providers and practitioners combined—and many of them included some of the leading female executives in the supply chain. And we wanted to ensure that their efforts do not go unnoticed. Louise O'Sullivan is a prime example of what it really takes to consider yourself a 'pro,' not just as a female, but as an executive within the global supply chain."
Following a 22-year management career in industrial manufacturing, O'Sullivan founded Prime Advantage in 1997. Today, the company serves more than 25 different industries, including commercial food service; packaging; truck and trailer; material handling; and more. A tribute to her successful leadership, in the past 10 years Prime Advantage paid more than $130 million in rebates and discounts to its manufacturing industry members.
In addition, this year's 13th annual awards coverage also honors the top five female "Pros," which include Mary Kleespies, Director of Supply Chain Consulting, DiCentral; Anne Omrod, President and Chief Executive Officer, John Galt Solutions Inc.; Sharon Nelson, Managing Director, Plan4Demand Solutions Inc.; Dawn Tiura Evans, President and Chief Executive Officer, Sourcing Interests Group (SIG); and Rose Kelly-Falls, Senior Vice President, Supply Chain Risk Management, Rapid Ratings.
The men and women honored in the 2013 "Pros to Know" awards make up the leading providers and practitioners of the supply chain who proactively work to improve their business's functions in a number of categories—including manufacturing and production output; procurement; logistics; risk mitigation strategies; sourcing; financial operations; packaging and distribution; transportation; and much more.
"The number of issues that can present themselves in one's business truly run the gamut—from a dysfunctional product component found within a manufacturer's tier three level of the supply chain to clarifying a business's procurement strategy for reduced costs," said Hochfelder. "It's not always initially clear as to how broad the scale of the supply chain and its challenges really is. If there are those present in the industry who are working to overcome such issues and grow the global supply chain at the same time, they should get the recognition they deserve for their achievements."
Providers include individuals from software firms, service providers, consultancies or academia who helped their supply chain clients or the supply chain community prepare to meet industry challenges. Practitioners include those supply chain executives who demonstrated leadership by managing risk in the supply chain; provided competitive advantage; and delivered value to the bottom line.
SDCE is proud to list the 2013 "Pros to Know" honorees here.
Provider "Pros to Know"

Ross Elliott, Accellos Inc.; Phillip A. Marlowe, Acuitive Solutions LLC; Trevor Read, Agistix Inc.; Michael B. Lee, Airclic; Slava Apel, Amazing Print Corp.; William Michels, ADR North; Ty Bordner, Amber Road; Jim Preuninger, Amber Road; Stephanie Miles, Amber Road; Dr. Oliver Hedgepeth, American Public University; Robert Shecterle, Aravo Solutions Inc.; Robert Steinberg, Ariba; Tim Minahan, Ariba; Laura Rokohl, Aspen Technology; Joe Averill, Avercast LLC; Gene Averill, Avercast LLC; Paul Garino, Axway; John Webster, Basware; Chris Bohill, Biznet Solutions Ltd.; Marc Kalman, BizSlate Inc.; David Blinick, Blinco Systems Inc.; Donald Raack, BravoSolution; John Ryan Shaw, BravoSolution; Chandler Hall, BravoSolution; Sean Martyn, BravoSolution; Dan Purtell, BSI Supply Chain Solutions Group; Kelly Barner, Buyers Meeting Point; Derrick Moreira, Censeo Consulting Group; Tom Blanck, Chainalytics; Chuck Robinson, Choice Logistics Inc.; Ron Lackey, CUSTOMS Info (CiGDM); Matt Gersper, Global Data Mining, (CiGDM); Torrey Schoel, Global Data Mining, (CiGDM); Steve Brooke, CombineNet; Brett Cornell, CombineNet; Rich Wilson, CombineNet; Rob Achtzehn, CombineNet; Robert Wiedmaier, Container and Pooling Solutions (CAPS); Patrick Reymann, Corbus LLC; Unni Vasudev, Corbus LLC; David Clevenger, Corporate United; Jeff Silver, Coyote Logistics; Belinda Hess, CSX; Rick Burian, CVM Solutions LLC; Steven Wales, Decideware Inc.; Bill Harrison, Demand Solutions; Alan C. Veeck, Ph.D., Denali Sourcing Services; Ken Wood, Descartes Systems Group; Mary Kleespies, DiCentral; Thuy Q Mai, DiCentral; Ann Drake, DSC Logistics; Michael J. Oldani, DSSI LLC; Rich Katz, Elemica; William Gindlesperger, e-LYNXX Corp.; Jason Mathers, Environmental Defense Fund; Davison Schopmeyer, enVista; Stephen Craig, enVista; Desikan Madhavanur, E2open Inc.; David Hale, E2open Inc.; Pervez Qureshi, Epicor Software Corp.; David Saroli, e-Procurement Services (ePS); Chuck Baren, Fieldglass; Eric Clark, FORTE; Jeff Ross, FORTE; David Farmer, Fortna Inc.; Scott Miner, Fortna Inc.; Rich Seidel, Fortna Inc.; Matt Tormollen, FuelQuest; Andrea Kostelas, FulfillMED; Suresh Iyer, Genpact; VK Gopalkrishnan, Genpact; Derek Smith, GHX; Dr. Richard Dawe, Golden Gate University; Robert A. Rudzki, Greybeard Advisors LLC; Nick Parnaby, GXS; Constantine Limberakis, HICX Solutions Ltd.; Doug Markle, HICX Solutions Ltd.; Roger Layette, HICX Solutions Ltd.; Gary Nemmers, HighJump Software; Scott Frew, iasset.com Inc.; Mireia Brancos, IASTA; David Bush, IASTA; David Cravens, IASTA; Sean Delaney, IASTA; Chris Jasper, IASTA; Scott McBride, IASTA; Matt McCarrick, IASTA; Mike Pringle, IASTA; Jason Treida, IASTA; Greg Laquinto, IBM; William Leedale, IFS North America; Michael A. Lyle, InfinityQS International Inc.; Steve Dollase, Inmar Inc.; Dr. Jeff Karrenbauer, INSIGHT Inc.; Jacob Wojcik, Insight Sourcing Group; Brent Eiland, Insight Sourcing Group; Tom Beaty, Insight Sourcing Group; Brian Houpt, Insight Sourcing Group; Ken Peters, Integration Point; Lani Hawks, Integration Point; Alan Drake, Integration Point; Paul Crinks, International Asset Systems (IAS); Tim Cummins, International Association for Contract & Commercial Management (IACCM); Scott Lewin, Invoiceware International; Danny Halim, JDA Software Group Inc.; Kelly Thomas, JDA Software Group Inc.; Scott Welty, JDA Software Group Inc.; Anne Omrod, John Galt Solutions Inc.; Christian Hutter, Junction Solutions; James V. Kelly, JVKellyGroup Inc.; Jennifer Spicher, Kelly Services Inc.; John Healy, Kelly Services Inc.; Bob Lucas, Kelly Services Inc.; Aamer Rehman, Kinaxis; Joe Flynn, Lavante; Megan Pulliam, Liaison Technologies; John Ames, Llamasoft Inc.; Donald Hicks, Llamasoft Inc.; Jaret Lynch, LogFire; Diego Pantoja-Navajas, LogFire; Mike Edenfield, Logility; Eddie Capel, Manhattan Associates; Doug Bertram, Metafile Information Systems Inc.; Anne Kohler, The Mpower Group ; Dalip Raheja, The Mpower Group; Fred Minturn, MSX International; Brian Peters, National Association of Electrical Distributors (NAED); Mark Burstein, NGC Software; Jon Winsett, NPI; Gregory Brady, One Network Enterprises; Bernard Gunther, Opera Solutions; Brad Lillis, Pace Harmon; Christopher Stacy, Pace Harmon; Dr. Aleks Gollu, PINC Solutions; Andrew S. McCall, Plan4Demand Solutions Inc.; John George, Plan4Demand Solutions Inc.; Sharon Nelson, Plan4Demand Solutions Inc.; Martin Nehls, POOL4TOOL America; Matthias Gutzmann, Procurement Leaders Network (PLN); Chad Gottesman, Procurian; Louise O'Sullivan, Prime Advantage; Mike McDonald, Prime Advantage; Dennis Toohey, Puridiom; Treadwell Davison, Railinc Corp.; Rose Kelly-Falls, Rapid Ratings; Jon Bovit, Resilinc; Greg Silich, Resilinc; Charles Clark, Rosslyn Analytics; Hugh Cox, Rosslyn Analytics; Jeff Sweetman, Rosslyn Analytics; Chris Merritt, Ryder System Inc.; Mark Davis, SafeSourcing; Debbie Wilcox, SafeSourcing; Ronald D Southard, SafeSourcing; Ryan Melowic, SafeSourcing; Tony Harris, SAP; Anand Iyer, Serus Corp.; James A. Kandilas, The Shelby Group; Henry Popplewell, SkyBitz Inc.; Omer Abdullah, The Smart Cube Inc.; Nelson Hartunian, Smart Software Inc.; Sean Riley, Software AG; Dave Brooks, Software AG; Joseph Payne, Source One Management Services LLC; Diego De la Garza, Source One Management Services LLC; William Dorn, Source One Management Services LLC; David Pastore, Source One Management Services LLC; Lindsey Fandozzi, Source One Management Services LLC; Dawn Tiura Evans, Sourcing Interests Group (SIG); Jeff Felix, Sourcing Interests Group (SIG); Mohan Ponnudurai, Sparta Systems; John Haber, Spend Management Experts; Jeff Jorgensen, Spinnaker; John Sharkey, Spinnaker; George Fowler, Spinnaker; Scott Bolduc, SPS Commerce; Jim Frome, SPS Commerce; Glen Margolis, Steelwedge; Carlos Tellez, Storeroom Solutions Inc.; Steve Murray, Supply Chain Visions; Joey Benadretti, SYSPRO USA; Raja Chandrashekar, Tata Consultancy Services; Gautam Sardar, Tata Consultancy Services; Robert F. Byrne, Terra Technology; Jacqueline E. Bailey, TidalSeven; Dan Avila, Tompkins International; Sean Feeney, TradeCard; Ayush Sharma, Trade Extensions LLC; Brian Pavlovich, Trade Extensions LLC; Frank McGuigan, Transplace; Mike Regan, TranzAct Technologies; Steve Simmerman, TZA; Charlie Zosel, TZA; Ron Kubera, Vocollect (of Intermec Inc.); Paul Laman, W&H Systems
Provider "Pros" Teams
IHS Government, Aerospace, and Defense DMSMS Obsolescence, IHS Inc.—Chuck Austin; Ross Beiler; Bob Braasch; Rick Brittingham; Randy Butler; Kevin Hearn; Greg Jaknunas; Rory King; Vicki Knauf; David Koel; Joe Marlino; Dave Martin; Deana Mobley; Pete Morse; Laura Woods
Treya Partners—Rahul Ahuja; Mark Usher
LogiServe Inc.—Gary A. Glisch; Jerry Hahn; Fernando De Oliveira; Tom Beck; Marshall Pierce; Mike Beck
Practitioner "Pros to Know"
Martin G VanTrieste, Amgen; Shekar Natarajan, Anheuser Busch; Douglas Kent, Avnet Inc.; Rob Van Etten, Brighton Cromwell LLC; Brad Tallman, Cisco Systems; Patrick Bower, Combe Inc.; Jessica Sanchez, C.R. Bard; Scott Crutchfield, Crocs Inc.; John P. Willi, Dana-Farber Cancer Institute Inc.; Steve Schuman, DG3; Christopher Irion, e-Cycle LLC; Jim McCarthy, Equifax; Ray Fattore, First Group; Mike Oswalt, Fluor; Paul L Romano, Fusion WorldWide; Tunir Chatterjee, GEP; Chris S. Connor, Hy-Tek Material Handling Inc.; Han Kieftenbeld, Ingredion Inc.; Zach Parham, J&P Cycles; Keith Nash, Lennox International; Brian Leinbach, Macy's Inc.; Paul Johnson, Momentive Specialty Chemicals Inc.; Steven M. Foster, National Aeronautics and Space Administration (NASA); Dave Abeloe, Patagonia; Navin Lal, SCA Hygiene Australasia; Maurice Sevigny, SciQuest; Tom Russell, SciQuest; Brian Daniels, SciQuest; Sam Bethea, SDI Inc.; David Noble, Seegrid; David Sterling, Sterling Solutions LLC; Patti Vora, TELUS; Eric Olsson, Under Armour Inc.; Frank Corris, Westinghouse Electric Company
Practitioner "Pros" Teams
Adventist Health System (AHS)—Celeste West; Carole Owens; Derek Stewart
CACI—Joseph Boyd; Jim Stubblefield; Cecile Strait; Jeff Renard; Robert Hunt; Matthew Morgan; Shannon Metcalf; Frank Sowa; Paul Carey; William Hershey
Hennepin County Medical Center—Matthew Werder; Doug Lowe; Tom Stang; Jess Becker; Yogi Ohneswere
Honeywell Aerospace—Jeffrey Wincel; Steve Lenzo; Jannette Klebenow; Khalid Amer; Jeremy Baich; Eric Clepper; Cassandra Fleetwood
Industrial Scientific—Michael Evans; Evelyne Rivera; Linda Shi; Toni Dunn; Traci Trew; Kelli Pingley; Mark Hamilton; Sourendra Sharma; Shelly Schaaf; Tim Davis; Chris Allen
Nokia Siemens Networks—Pramod Singhal; Siddhartha Ghosh; Oliver Cufflin; Andras Bodori; Prashant Singh; Pia Ahlgren; Navneet Kumar
Trident Technical Corp.—Todd Pish; Wallace Shellhouse; Lee Shellhouse
For more exclusive coverage on the Provider Pro of the Year, other "Pros to Know" and some outstanding supply chain teams, stay tuned for the March print issue of Supply & Demand Chain Executive, which also goes live on www.sdcexec.com March 15th.