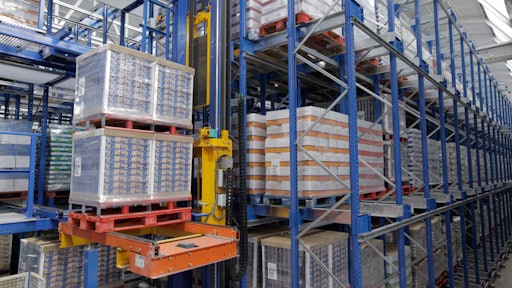 Chicago—Jan. 23, 2013—For the first time in North America, ITW Warehouse Automation (ITWWA), the global supplier of fully-integrated warehousing solutions, showcased its StorFast cart-based, ultra high-density, AS/RS solution at ProMat 2013, located at McCormick Place, Chicago. Show attendees were also able to learn more about ITWWA's Vertique case-picking system and robotic VTP palletizers.
"We are excited to introduce StorFast to the North American market," said Jeff Stingel, Vice President of Sales, ITWWA. "We've experienced great success with it in Europe for either optimizing existing facilities or new buildings. Displaying it with the Octopus stretch wrapper further reinforces our ability to offer fully-integrated warehousing solutions."
ITWWA's cart-based StorFast AS/RS—showcased at ProMat in-line with ITW Muller's Octopus 'S' Series automatic rotary ring stretch wrapper—maximizes storage capacity with higher density and throughput than traditional crane-based systems. StorFast designs are modular and can be easily expanded as capacity requirements and SKUs increase. Carts operate on each level of the system and can even change levels. In addition, built-in redundancy results in even greater efficiency.
Also on display
ITW Muller's Octopus 'S' Series automatic rotary ring stretch wrapper has been newly designed and features a load stabilizer; new load lift conveyer; and the No Touch No Tail (NT²) seaming device—an effective and efficient alternative to heat seal pads or wipe down systems.
ITWWA also displayed its Vertique case picking solution and VTP Palletizers—which make up over 20 installations and a picking accuracy of 99.8 percent. Best known for its flexible solutions, Vertique offers both vertical tower and horizontal lane buffering solutions; as well as different levels of automation based on a customer's ROI needs.
For those looking to maximize warehouse efficiencies and minimize costs of their palletizers, ITWWA's robotic systems enable quick pallet changeover options, gentle product handling and minimal maintenance requirements.
"ITWWA offers proven, scalable systems for a variety of industries," said Stingel. "We are excited to showcase our capabilities and help visitors achieve their warehouse automation needs."
Companies in this article