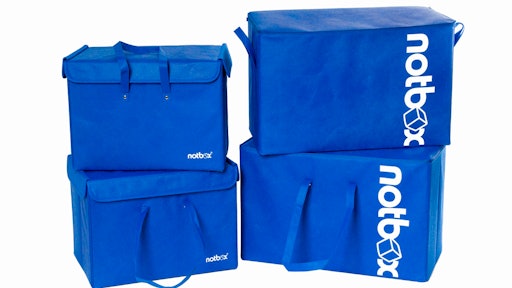 London—Jan. 10, 2013—The Notbox Company Ltd. launched its eco-friendly alternative to single-use cardboard boxes for manufacturers, supply chain professionals and consumers in the U.S. and Canada through a new partnership headed by former Wall Street financier, Thomas Hellman, Chairman and President of Notbox North America.
Notbox's are new strong, recyclable and multi-use transportation and storage boxes that fold flat when not in use. Designed to replace traditional single-use cardboard boxes, the range of Notbox products include cool boxes suitable for home use as well as by specific industries such as the healthcare sector.
"The global packaging industry is worth some $424 billion and North America accounts for 28 percent of this market," explained Hellman. "Currently, cardboard is used to ship 90 percent of all products in the U.S. but the growing focus towards sustainability by businesses and consumers makes this the perfect time to bring a product like Notbox to the market. Reducing corrugated cardboard excess is one of the fastest and most effective steps a company can take to reduce waste and is high on the corporate agenda. We can demonstrate not only the environmental benefits of using Notboxes but also the cost advantages of switching to Notbox, especially for the supply chain sector where vast quantities of product are moving in cycles between distribution centers and retail stores," he said.
As well as their strength, reusability and ability to fold flat for easy storage and carriage when not in use, Notboxes come in a range of sizes and colors and can be easily branded. Bespoke Notbox's can also be produced for specific client requirements.
Hellman appointed Shelley Slaughter, Vice President of North America for Notbox, responsible for business development and marketing using her experience in similar roles with companies in Canada and Asia Pacific.
"We are very excited about launching Notbox into the U.S. and Canadian markets and see a huge potential with organizations and consumers that are interested in the benefits of using an eco-friendly alternative to single-use cardboard boxes and plastic containers," said Slaughter. "We are in an excellent position to introduce a competitive product that produces less waste, uses fewer resources, lowers costs, and increases environmental public awareness. Right now, we're focused on working in partnership with companies who want to be ahead of the curve with their commitment to sustainability. So, that includes an increasingly wide range of businesses who understand that sustainability can pay for itself. The bottom line is that throwing things away costs money—and the bigger the business, the greater the costs. Compared to a single trip cardboard box, a Notbox will make 20 or more trips so it's easy to see how the savings can ramp up," she confirmed.
The North American market as a whole is very conscientious and well-informed about environmental issues and consumers are looking for sustainable alternatives to old concepts. Practicing environmentally-responsible methods is recognized as sound corporate management, Slaughter added.
"We're in a position to deliver a reusable and sustainable packaging product that reduces waste at the point of delivery for business-to-business transactions," she continued.
Launching Notbox North America is just the latest global expansion initiative from The Notbox Company. In November, it recruited packing industry executive Laurence Tanty to act as its European growth consultant and spearhead its growth in the market for sustainable and lower cost supply chain packaging solutions. During her career, Tanty held senior executive roles in the consumer goods and B2B packaging industries, working with private equity-owned LINPAC Packaging Group and blue chip companies such as Mars and Sara Lee Corp.
The Notbox team in Europe continues to work on projects that will help clients achieve cost savings of over $10 million by removing cardboard from their supply chain between the distribution center and store; and also remove over 15 million kilos of CO2 emissions in support of their Corporate & Social Responsibility programs.
Hellman believes great awareness of the environmental benefits of Notbox will also have a significant appeal with North American consumers.
"According to U.S. industry reports and data, consumers will put a greater value on recyclability and the perceived 'greenness' of packaging in the years ahead," confirmed Hellman. "They will increasingly demand proof of sustainability claims, such as lifecycle analysis data, carbon footprint exposure, etc. and that opens up an enormous market for Notbox. Being environmentally responsible is now more important to consumers—they want lower costs, fewer toxins, less guilt and more incentives connected to the products they buy," he concluded.
Hellman spent 25 years as an institutional trader on Wall Street and held past positions as a marketing director for a Swiss bank and working for the Chinese government in Hong Kong.
Companies in this article