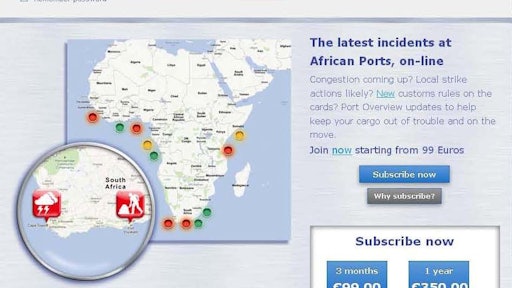 Copenhagen, Denmark—Jan. 7, 2013—Global provider of maritime market intelligence SeaIntel Maritime Analysis launched Port Overview, an information-sharing portal which will allow all parties involved in international trade to and from Africa to obtain information on the status of African ports.
The site, www.portoverview.com—launched earlier today following two months of live operation—collects status reports on Africa's 50 most important container terminals and related logistics infrastructure.
"Africa really has made some significant steps forward in opening its doors to international trade in the past decade," said Lars Jensen, Chief Executive Officer of SeaIntel. "We have seen an influx of international terminal operators, carriers, supply chain solution providers as well as a host of new entrepreneurs from all parts of the world. Africa has shown and continues to show immense potential."
The concept of the portal has been co-developed together with Appropriate Communications, an agency focusing on maritime and logistics PR in emerging markets and co-owner of Port Overview.
Jensen confirmed that the logistical challenges facing Africa will remain significant over the coming years. Many ports face significant capacity challenges as well as the urgent need to improve hinterland connections to and from its emerging markets.
The Port Overview portal is designed to empower importers, exporters, traders and forwarders with information in order for them to take proactive decisions on how to move their cargo for their customers.
"We are not proclaiming to have every incident and positive development covered in every corner of Africa," added Jensen. "But what we do have is neutral, factual information provided by independent sources—some of whom are logistics operators themselves."
The recent SeaIntel Sunday Spotlight study on the two months of data collated on Port Overview indicates that whilst a significant number of issues within the compounds of the container terminals impacted cargo transits, over 41 percent of incidents are either intermodal incidents; force majeure events; or challenges posed by local governance or industrial relations.
Having covered maritime activities in African ports for over a decade, Appropriate Communications Managing Partner Victor Shieh was directly exposed to the constant challenges facing shippers, carriers, ports and logistics operators in moving cargo from origin to destination.
"The idea first sprang up by making a single slide a couple of years ago with a map of Africa showing everything that happened along the coast over a three week period," said Shieh. "In this first week of January 2013, we have seen disruptions in the supply chain due to civil disturbances outside a terminal; heavy rainfall leaving a major hinterland connection broken; the reversal of a planned change in customs clearance procedures; and a tropical cyclone carrying 120 km/h winds. Similarly we have seen a record improvement in productivity of one operator and a $185 million investment by a Chinese company in another."
SeaIntel Maritime Analysis and Appropriate Communications firmly believe that information shared by local authorities, terminal operators, carriers and forwarders alike on this single portal will open the doors further to African trade.
Companies in this article