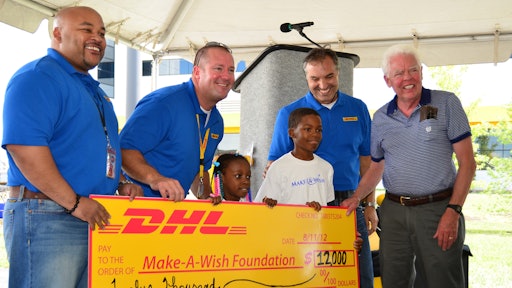 Cincinnati—Aug. 13, 2012—DHL partnered with the Make-A-Wish Foundation to fulfill the wishes of two Cincinnati-area children diagnosed with life-threatening medical conditions.
DHL's growing Cincinnati/Northern Kentucky Airport (CVG) hub selected Make-A-Wish as their charity as part of DHL's Family Day, an employee appreciation event packed with family-friendly activities and fundraising efforts. More than 4,300 DHL employees and their families came together to raise more than $12,000 for eight-year-old Sierra and 11-year-old Daniel of the Make-a-Wish Foundation.
In its second year, DHL Family Day activities included barbecuing; DHL cargo plane tours; and visits from Cincinnati Zoo animals as well as the mascots and cars from the Kentucky Speedway. All proceeds from ticket purchases during Family Day go toward funding the children's wishes.
"The DHL family extends beyond our facility, and well into the community," said Travis Cobb, Vice President of DHL Americas Hubs, Gateways, Network Control. "Our employees strongly believe in giving back and we are honored to work with Make-A-Wish to fulfill the wishes of two very inspiring kids who give the word courageous a whole new meaning."
Sierra's wish is to go to several Florida theme parks with her parents and younger sister. She and her family are expected to leave for Orlando in the fall to begin their fun-filled adventure.
Daniel's wish is to have a grand shopping spree, where he can revamp his wardrobe and pick up some cool gadgets. He and his family are set to hit the malls this fall.
"Each year our Chapter grants wishes to more than 800 children in the tri-state area thanks to donors such as DHL and a network of more than 1,200 volunteers," added Susan McConnell, President and Chief Executive Officer of Make-A-WishOhio, Kentucky and Indiana. "Through the generosity of supporters like DHL, we can continue to make wishes come true for Wish Children in southern Ohio."
Last fiscal year, Make-A-Wish Ohio, Kentucky & Indiana fulfilled the individual wishes of 863 children diagnosed with life-threatening medical conditions. Currently, there are more than 900 pending wishes. The Foundation has granted more than 11,000 wishes in its nearly three-decade history of making wishes come true.
Companies in this article