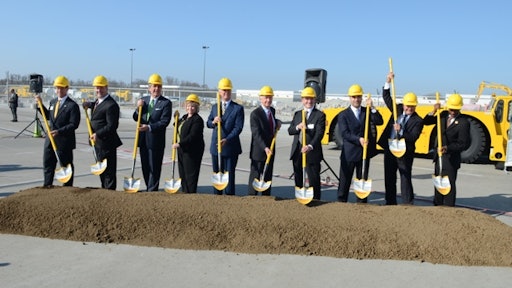 Plantation, Fla.—March 14, 2012—Global logistics company DHL is investing US $47 million to expand its Americas hub facility at the Cincinnati/Northern Kentucky airport (CVG) to meet the growing demands of international shipping customers. The expansion will deliver a new 193,000 square-foot sort facility and create approximately 280 new jobs at the DHL CVG hub over the next 12 months.
"Our multi-million dollar expansion builds upon DHL's commitment to the U.S. market and our longstanding investment in the CVG hub, which is an integral part of our Americas network," said Stephen Fenwick, Regional Chief Executive Officer, DHL Express. "This expansion will provide the additional infrastructure and efficiency needed to handle the continued growth in international shipments that we're seeing in this region."
The 193,000 square foot sort facility is expected to be operational by November 2012, while other improvements to existing buildings and the purchase of material handling equipment will be completed by March 2013.
"Since DHL first opened a facility at CVG in 1983, it has been a great partner to the State of Kentucky and Boone County," said Steve Beshear, Governor of Kentucky. "We are pleased that DHL continues to invest in our state and we will be working closely with the company to facilitate its growth and to create good paying jobs."
The CVG hub connects the United States to a global network spanning Asia, Europe and the Americas. Processing more than two million international shipments a month, the CVG hub handles shipments bound for the U.S., Canada, Mexico and Latin America, and connects over 100 service centers and five international gateways in the US to over 220 countries around the world.
"This investment in Cincinnati and continued shipment growth we are experiencing is a result of the great service quality being delivered by the DHL global network where the CVG hub and the employees here play such a critical role," said Travis Cobb, Vice President for U.S. Network Operations.
With this current expansion, DHL will have invested $105 million in its CVG hub since establishing its U.S. international hub at the Cincinnati/Northern Kentucky airport in 2009. Staffing has also grown, from 1,600 in late 2009 to approximately 2,000 currently. It is scheduled to expand to nearly 2,300 over the next 12 months and beyond.