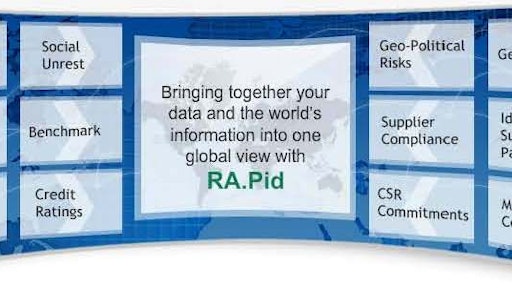 London—March 12, 2012—Knowing your suppliers is now as quick as logging into Facebook to learn who is connected to you. Rosslyn Analytics, a global provider of Business Intelligence delivered as-a-Service (BIAS), offers its RA.Pid Supplier Risk Profile, a new suite of packaged information feeds that enables finance, procurement and supply chain organizations to evaluate, monitor and mitigate supplier-centric risks in real-time, in five business days and from a single screen.
"The current generation of supply risk management tools are costing businesses millions because they fail to provide customers with a comprehensive view of enterprise-wide business intelligence in a timely manner," said Charles Clark, Chief Executive Officer of Rosslyn Analytics.
Rosslyn Analytics' RA.Pid cloud-based data services and analytics platform provides users with a unified view into supplier and supply chain problems before they become disruptions such as supplier dependency, financial problems, natural disasters, contract compliance and geo-political concerns.
"Rosslyn Analytics gives decision makers access to the necessary deep contextual information essential to uncover hidden risks and opportunities by linking tagged data to multiple external and internal relevant data sources for on-demand analysis," Clark added.
With RA.Pid users can:
Monitor the financial vulnerability of their suppliers with credit ratings
Identify the highest water usage and carbon emissions across their entire supply chain
Identify supplier dependency such as business exposure as a percentage of total revenue
Assess the cost impact of natural disasters on their supply chain
Respond to and track market conditions with streamed news
Identify alternative suppliers with real-time geo-location information
Track societal unrest including labor strikes that may shut down supplier operations
Ensure company directors of suppliers are not on international watch lists or convicted felons
"Rosslyn Analytics is taking the market lead in the development of new data standards to facilitate the easy delivery and consumption of actionable business intelligence for organizations," said John Campbell, Alliance Director, QlikTech. "Rosslyn Analytics, in partnership with QlikTech, is pushing Business Discovery to new levels by keeping decision-makers globally connected to relevant information at the click of a mouse."
With RA.Pid, customers do not need to install software or hardware, hire consultants or have training.
The multi-purpose analytics platform reduces the time and cost for organizations to evaluate and proactively reduce supply chain disruptions, optimize spend and manage supplier performance, all-in-one packaged information solution, according to Hugh Cox, Rosslyn Analytics' Chief Innovation Officer.
RA.DAR maps its databases of interconnected worldwide information to suppliers to provide a unified view of all supplier performance and risk intelligence in easy-to-use drill-down analytical reports accessible from the RA.Pid analytics platform.