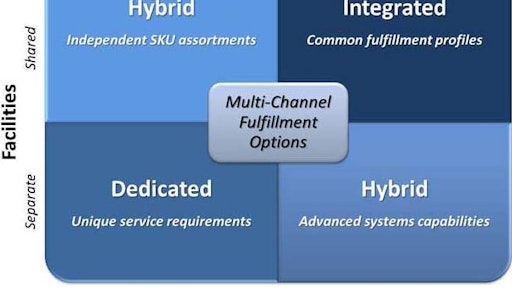 Arlington, Va.—March 7, 2012—The third annual "State of The Retail Supply Chain Report" from the Retail Industry Leaders Association (RILA) and Auburn University, with sponsorship from Accenture, reveals a heightened urgency by retailers and supply chain management (SCM) executives to shift from cost cutting to growth. The report places emphasis on multi-channel retailing and explores how retailers are working to meet the increased consumer demand for continual access to products from any channel.
The report data was compiled through a series of executive interviews and industry surveys with retailers across every segment of retail to better understand the capabilities that drive exceptional retail supply chain performance. The criteria for participation included: company revenue exceeding one billion, multi-channel operations, and director-level or above responsibilities. About 199 retail supply chain executives took part in the research.
"This study will be essential reading for a wide cross-section of retail supply chain executives seeking insights into the key supply chain trends taking place in retail, including multichannel operations," said Parag Jategaonkar, Senior Executive with Accenture's Retail Practice. "Accenture's own experience with clients indicates an increasing focus amongst retailers on developing their supply chains to more effectively deliver a compelling customer experience, regardless of the channel."
The most significant takeaway from the report centered on the importance of multichannel operations including fulfillment of .com, mobile and tablet orders. The report states that electronic ecommerce sales have grown by more than 15 percent to $35.3 billion versus an overall sales growth of 4.1 percent versus the previous year. With predictions that e-commerce sales will grow 10 percent annually, multichannel has become a game changer for retailers. It has also added a new layer of fulfillment complexity that retail SCM executives must manage.
According to the report, over 85 percent of survey participants indicated that direct consumer fulfillment is a top priority for them and that it is imperative to create a seamless customer experience regardless of the fulfillment channel, order size, origin or delivery requirement.
"Consumer expectations are changing, and as a result, retail business models are changing," said Casey Chroust, Executive Vice President of Retail Operations, RILA. "Traditionally retailers have used separate operational models to move goods and fulfill orders. Now those models need to be merged so that companies can continue to deliver the products consumers want across any channel without losing efficiency or adding cost. This requires advanced integration and innovation and working closely with suppliers and service providers while utilizing technology."
Additional findings
According to the report, in any environment supply chain leaders must establish the appropriate mix of fulfillment capabilities. Their networks and processes must be properly aligned with each channel's order characteristics, inventory profiles and service requirements.
The report also highlighted the various multichannel challenges facing retailers, including variation in shipment size, order filling processes and delivery methods; as well as the inconsistent Stock Keeping Unit (SKU) assortment of multi-channel retailers. Less than 18 percent of the retailers surveyed offer the same SKUs across channels.
When it comes to solutions to the multi-channel challenge, the report explored the various technologies that SCM executives are looking at to meet their multi-channel needs. With the complex challenges facing supply chain leaders, utilizing the right technology can mean the difference between mastering multi-channel and succumbing to it.
"The real challenge for today's multichannel retailer is to become channel agnostic and fulfill demand effectively regardless of order type or origin," said Brian Gibson, Professor of Supply Chain Management at Auburn University. "As sales volume grows in nontraditional channels, achievement of technology integration, operational flexibility and process visibility will separate the leaders from the pack. These capabilities provide the fulfillment agility, accuracy, and cost efficiency needed for multichannel success."
In addition, experts are recommending distributed order management (DOM) software as a common-sense response to retailers' multi-channel needs. DOM allows retailers the ability to capture, manage and optimize orders regardless of origin-computer, retailer store, kiosk or mobile phone. After the order capture, the DOM system identifies the fulfillment facility or channel that will best serve the customer and the retailer.
DOM offers promise for cross-chain visibility, integration and service improvement. Analysis from the report concludes that full utilization of DOM across all fulfillment processes earns the greats cost reductions. DOM also allows customers to shop across all channels with the ability to make returns at any location regardless of where the order was fulfilled.
Other takeaways in the report included insight into supply chain strategy, sourcing practices, the re-emergence of Radio Frequency Identification (RFID) and emerging challenges in the retail supply chain.
For more report findings, visit www.rila.org.