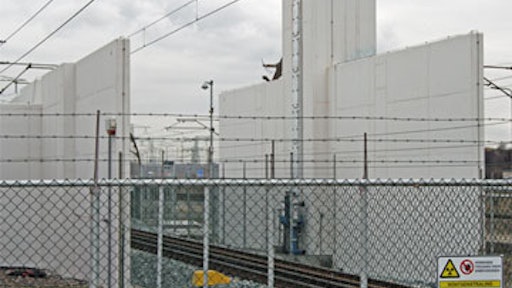 Torrance, Calif.—Feb. 15, 2012—Security inspection solutions provider Rapiscan Systems' (of OSI Systems Inc.) installed and commissioned its Rapiscan Eagle R60 high speed rail scanner for Dutch Customs to enhance detection and identification of a wide range of threats and suspect materials including contraband goods such as drugs and cigarettes.
The Rapiscan Eagle R60 high speed rail scanner will efficiently scan around two hundred thousand cargo containers per annum as they travel at speeds of up to 60kph through the Eagle R60 into the Port of Rotterdam. It uses a high power 6 MeV X-ray source to produce a clear x-image of the densest rail cargo, scanning a 40-foot container in 0.8 of a second.
"With an increased demand for x-ray cargo inspection systems that can efficiently scan trains whilst on the move, Dutch Customs continues to assert its position as a leader worldwide in best practices for cargo and vehicle inspection with the deployment of this ground-breaking technology," said Ajay Mehra, President of Rapiscan Systems. "The ability for rail operators and security organizations to quickly assess rail cargo is vital to protecting rail infrastructure and the global supply chain.
Containers do not have to be unloaded or diverted individually to a cargo inspection facility; instead they are screened during the normal movement of cargo, increasing the speed of cargo throughput. Trains can be diesel, electric (overhead or rail).
"With its ultra-high speed throughput and superior threat detection capabilities, the Eagle R60 is an example of Rapiscan's technical leadership and its ability to meet our customers' most demanding requirements," added Mehra.
The automated nature of the system requires only a single operator to oversee the screening operation.
The Eagle R-series systems are able to scan cargo of different sizes and configurations, including single or double stacked containers, single or dual tracks, ideal for the mixed rail car cargo at border crossings and seaports.