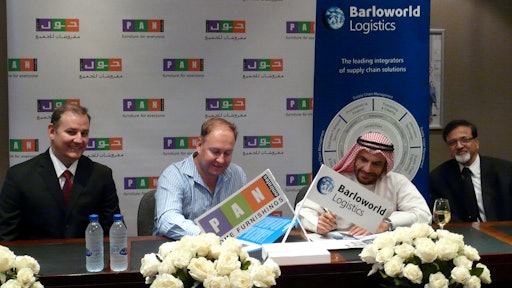 Dubai—Feb. 13, 2012—Home furnishings provider Pan Emirates partnered with Barloworld Logistics to extend its products, accessories and decor retail to customers across the GCC through the optimization of their inbound and outbound distribution.
In an effort to further embrace new strategies to be the best in the industry, PAN Emirates Chairman Abdul Rehman Al Shamsi signed an agreement with Steve Ford, Group CEO of Barloworld Logistics, in a function held at the Pan Emirates management office in Sharjah, United Arab Emirates (UAE) on January 29.
"We are in the process of an aggressive growth strategy in the GCC and recognized the need to align our supply chain strategy to our business strategy," said Mohammed Katawala, Group Finance Director of PAN Emirates. "Supply Chain costs form a big part of the final product cost and if not managed properly, could prevent us from achieving our goals and ultimately put the business at risk. We wanted to have an expert look at our supply chain holistically to optimize it and align it to our business needs."
PAN Emirates partnered with Barloworld Logistics to improve operational efficiency and service excellence in the company's logistics and distribution facilities, Katawala confirmed.
Barloworld Logistics is a logistics and supply chain management provider in South Africa, with full-fledged operations in UAE, China, Spain, Portugal, Germany and the United Kingdom.
"Long-term partnerships with blue chip clients not only highlight our capabilities but also our commitment to delivering smart supply chain solutions that work well into the future," said Frank Courtney, CEO of Barloworld Logistics, Middle East and Asia. "The first six months of our engagement with PAN Emirates will be used to map, design and implement the solution. The second six months will be for the deployment and entrenchment of best practices in the business."
Katawala expects a large reduction in the overall transportation cost while simultaneously enjoying an improvement in service levels to the end consumer.
"The key to this relationship is partnership and we look forward to adding sustainable value to PAN Emirates and its customers as we progress," concluded Courtney.
For more information, visit www.panemirates.com or www.barloworld-logistics.com.