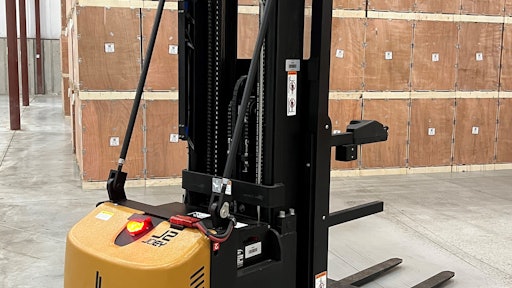 Big Joe Forklifts
Big Joe launched the J2-192 Joey Order Picker that is a versatile, safe and productive machine. This product is designed for order picking operations and reaches higher heights then the previously designed order picker. The primary innovation of this machine is that it supports both forks forward and forks trailing operator stances that can be changed on the fly while maintaining consistent steering orientation.
"The new Big Joe J2-192 is really a different kind of order picking machine for a different generation of supply chain needs," said Chief Marketing Officer of Big Joe, Bill Pedriana. "As retail continues to do more local e-commerce fulfillment and distribution centers attempt to get more product variety closer to where people live, there is a huge need for a highly compact and versatile machine that is intuitive to operate. The J2-192's dual control set-up and forks forward primary driving stance amplify the benefits of the design, and when in use... it's fun to watch them run circles around traditional machines that were really designed for a different age."
From PR Newswire:
The J2-192 at just 36 inches wide is highly maneuverable and has a much smaller overall footprint than full size order pickers while still maintaining support for loads of over 2,000 lbs.

The new order picker delivers superior productivity in small retail aisles, urban fulfillment centers or dense areas of the largest distribution centers.

The Big Joe J2-192 can be used with a wide-range of pallet types or order picking carts and elevates loads to 192 inches via a 3 stage steel mast.
The J2's dual control system enables the operator to choose a stance that improves their line of sight during travel while staging loads or when elevated.
The J2-192 comes outfitted from the factory with a 24v industrial 340ah battery to support the run time needs of most users and features AC drive motors, an LCD programmable display, pallet clamp, an anchor, tether and harness system that attaches to the machine's overhead guard.