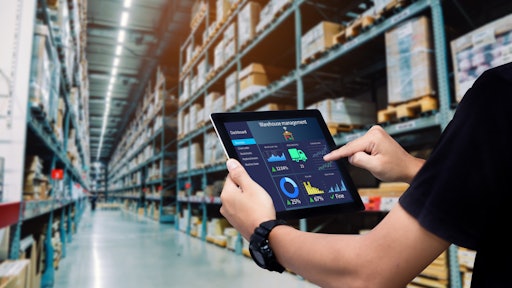 panuwat/stock.adobe.com
Meeting increased demand by hiring more staff is no longer realistic in today's ever tight and expensive labor market, so companies are increasingly turning to automation to boost e-commerce and B2B productivity, as well as rising expectations around delivery speed and convenience.
Little wonder then that the global warehouse automation market was valued at $36 billion in 2021 and forecast to grow to $77 billion by 2027, according to the fourth edition of Interact Analysis' Warehouse Automation Report.
Furthermore, a recent Gartner report forecasts that "by 2026, over 50% of companies deploying intralogistics robots in the warehouse will have a multiagent orchestration platform."
Competitive advantage
Traditionally, such tech investment has been hard to justify for many, but advances in the supply chain sector are enabling savvy operators to automate their intralogistics – either for their clients, or for themselves, to deliver an enhanced customer experience and secure competitive advantage.
Growth in the market is also being driven by businesses relying on external 3PL experts to manage their fulfillment needs. With robotic and automated technologies now more scalable and flexible than ever before, modular solutions can help orchestrate future expansion and mitigate any worrying investment risk.
Many warehouses operate myriad systems and solutions, but few managers have the time or inclination to deal with a separate system for each function. By removing the need to interact with each one individually, massively cuts costs and complexity.
Speed-to-value
Integration and data are the two buzz words of the moment – and rightly so. Having all the technology in the world is not going to work unless it is connected – that's where multi-agent orchestration software is really taking off. It's all about providing easy implementation and speed-to-value.
Technologically advanced
Multi-agent orchestration tools are the missing piece in warehouse automation because they interpret all the bi-directional messages back and forth between these resources and a technologically advanced WMS. Equally, if one type of device stops working, it will switch it over to the best alternative quickly and in real-time. It's like a two-way conversation between the platform and devices and means the most efficient decisions can be made automatically.
Futureproof the business
Multi-agent orchestration software accelerates integration and gives e-tailers the freedom to choose automation and robotic devices that best fit specific operational requirements and can futureproof the business and workforce needs.
For mid-sized 3PLs who are going to need increasing levels of automation and robotic integration over the next 2-5 years, it also provides them with a faster and targeted roadmap and doesn't lock them into one type of approach or pathway.
This is next generation automation control but at a fraction of the investment cost and it enables less DC staff to quickly and reliably identify, pick, confirm and complete multiple orders.
There are a lot of new products and systems out there, but handling the ongoing integration and communication between them is critical, as is knowing what to put in place for the long term.
Flexibility and configurability
It's vital, therefore, that you're thoughtful about the approach you take when making the switch to automation and fully understand your operation and associated pain points. You also need to be aware of vendor and WMS flexibility and configurability, plus consider how automation might work with existing product sizes and profiles, etc.
Automation is the immediate future, whichever way you look at it, and the smartest operators will maximize their investment by only specifying technology that has the capacity to scale, flex, grow and adapt with their specific and evolving business requirements in mind.
Single point integrations prolong onboarding time, slow growth and often operate within ineffective and separate silos. In today's especially challenging times, the ability to rapidly augment and orchestrate your technology investments, without unnecessary service fees, has never been more important.
It's now mission critical to harness control with 24/7 visibility from one centralized system – and whilst digital transformation like this might seem like short-term pain, it's rather about long-term gain.