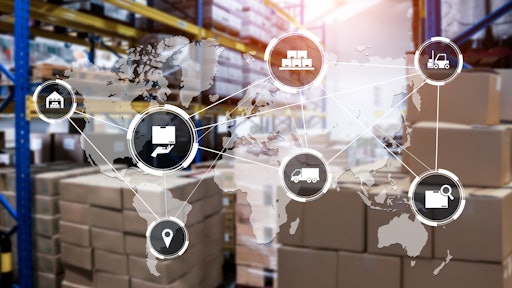 BluePlanetStudio/stock.adobe.com
Today's supply chains have become increasingly complex to support the demands of ecommerce and meet evolving consumer expectations around delivery. Most brands today leverage a multi-node fulfillment network to lower time in transit (TNT) and improve delivery speeds to their best customers.
One of the greatest challenges of managing fulfillment across multiple warehouses and fulfillment centers is visibility. It can be challenging to get a high-level, aggregated view of your operations to understand what's working for you, what's driving costs and what your opportunities are. And just like sales channels have undergone a digital transformation that enables more visibility and control, the best supply chain operations (with the highest levels of visibility) are supported by fulfillment technology that digitizes formerly manual and inefficient processes.
A recent Ware2Go merchant survey revealed that businesses are looking for fulfillment technology to simplify their operations, and visibility is a key component. According to the survey, 44% of merchants are looking for real-time inventory visibility, 35% want insights into fulfillment and delivery statuses and 33% want insights on their customers' geographic locations and buying patterns.
Visibility into each of these areas can drive significant business outcomes and all of them are enabled by a digitally connected warehouse network and streamlined fulfillment operations.
Inventory Visibility in an Onmichannel Sales Environment
Inventory visibility is integral to optimizing your margins, but the new omnichannel sales environment makes real-time inventory visibility particularly complex. In order to meet the varying requirements of the different channels they're selling on, many brands leverage multiple fulfillment solutions. Tracking inventory through multiple platforms can make it nearly impossible to have a full understanding of real-time levels across locations and sales channels.
To improve inventory visibility, brands should consider streamlining multi-channel fulfillment through a single provider. This enables them to not only have a more holistic view of their inventory levels but also allows them to actually take actions to optimize their inventory allocation. Without this flexibility, you may miss sales opportunities on one channel while inventory sits unsold on another.
However, when all sales channels are routed through a single fulfillment network and managed through a single technology platform, you can easily re-allocate inventory to a different channel. For example, if you're sold out of a particular SKU on your direct to consumer (D2C) website, but you're flush with inventory on your marketplace listings, you can simply redirect that inventory to your D2C channel rather than pumping more cash into an ad campaign to drive more sales on your marketplace listing.
Fulfillment Statuses and Delivery Tracking
Delivery tracking is a key part of the customer experience. Today's digitally connected consumers expect full visibility into their order status, and they expect the ability to check that status whenever and wherever they want. In fact, 93% of consumers report that they track their package at some point during the delivery process, and a full 40% say they look at delivery tracking at least once per day until their order is delivered.
On a macro level, accurate delivery tracking starts with choosing the right carrier. But an aspect that many merchants may overlook is visibility into their warehouse operations. The clock starts ticking on delivery times as soon as a consumer finalizes their purchase.
However, the time between the order dropping and carrier pickup can sometimes be a mystery. If your customers are waiting days post-purchase to get a notification from your carrier that the order is in transit, you're going to be overwhelmed with customer service calls that deplete valuable internal resources and create a sub-par customer experience. That's why you need visibility into order status and the ability to communicate that status from the moment an order drops. If you're promising your customers hyper-fast delivery speed, hopefully your fulfillment partner is fulfilling orders same-day or next-day. But at the very least, you should have the technology in place to see real-time order status updates until it's picked up by the carrier.
Warehouse Visibility and Consumer Demand
Many brands are getting more savvy about using their fulfillment data to inform sales and marketing strategy. Your fulfillment data is a wealth of information, and when you leverage a fulfillment technology that can aggregate that data and present it in a digestible format, you can drive better outcomes on both the top and bottom lines.
Your fulfillment data shows you where your customers are located and therefore, where your inventory should be located. If your fulfillment reporting shows that you're driving up costs by shipping a third of your orders to the West Coast from your East Coast warehouse, you know it's time to expand your fulfillment network and reallocate your inventory. On the other hand, if you see that your inventory levels in your Atlanta warehouse are too high, you can run a targeted marketing campaign advertising 2-day shipping in the southeast to drive more sales in that region.
Visibility to Enable Flexibility
Ultimately, the supply chain must be as flexible as the digital sales channels it supports. That flexibility is enabled by visibility, and visibility is enabled by streamlined operations and fully integrated fulfillment technology. With real-time visibility into inventory levels, fulfillment statuses and consumer buying patterns, brands can optimize their fulfillment to drive better outcomes for both their business and their customers.