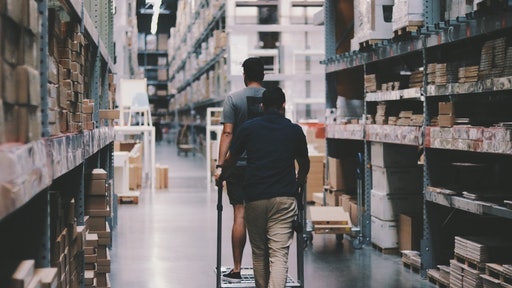 Pexels Alexander Isreb from Pexels
In 2021 and early 2022, retailers and brands increased inventory levels to meet consumer demand, avoid stockouts and mitigate shipping challenges. Some retailers' inventory levels expanded as much as 43%. Now, an uncertain economy, inventory surpluses and record low industrial capacity challenge companies this peak season.
After slow summer sales, retailers and brands are holding inventory longer or finding other strategies to offload goods. Many face weaker holiday sales as consumers say they plan to spend slightly less this holiday season as they struggle with higher prices and economic uncertainty.
Excess inventories require additional—often unforcasted—storage solutions. The challenge: Industrial storage space is at a record low. Rent rates continue spiking. Warehouse capacity contracted again in August, with the industrial vacancy rate dipping to 2.9%. Costs jumped to $9.40 per square foot—a 3% increase over Q1 2022. And vacancy rates dropped to 0.6% in some port markets. Record low vacancies make it nearly impossible to rapidly deal with excess inventories.
Retailers and brands find creative solutions
To mitigate surplus inventory, organizations pursue deep discounting and liquidations. Some strategically reduce SKU counts, rightsizing inventories. Others turn to non-traditional or ad hoc capacity solutions, storing goods in truck trailers, parking lots or shipping containers.
While ad hoc storage provides an immediate solution, it's also an impractical one. Companies avoid new facility construction or costly leases, but converted truck trailers and shipping containers create fresh supply chain snarls. Trailers and containers used for storage aren't reintroduced into transportation pools. And ad hoc storage won't easily mesh with existing inventory management systems.
Ad hoc storage creates unoptimized supply chains—and unhappy customers
Ad hoc storage creates another issue for companies—especially amid peak holiday demand. Tangled logistics networks lead to misallocated inventories and poor customer experiences. Unhappy customers abandon online orders, change brands and skip offending stores when holiday shopping. Why? Because great customer experiences rely on optimized supply chains.
Unoptimized logistics nodes lead to slower delivery promises. Nearly 44% of consumers define "fast" as next day in 2022, compared to only 14% in 2020, while 30% define fast as same-day vs. only 6% in 2020.
Unoptimized logistics nodes—including ad hoc storage away from demand centers—mean slower delivery promises. Slower delivery leads to lost customers. Eighty-three percent of consumers switch retailers for faster delivery. And 72% of consumers skip repeat purchases due to late deliveries. Retailers face even higher expectations during holiday shopping. Thirty-three percent of consumers want holiday gifts delivered in three days or less.
Tangled supply chains generate higher transportation costs. And customers dislike additional fees. Seventy-six percent of consumers say free shipping is important, and 92% source products from other retailers to save on shipping costs.
But many retailers and brands struggle offering free delivery without higher costs. Forty-five percent don't offer fast shipping because it makes total costs too high. Thirty-eight percent claim embedded shipping costs, where brands roll a portion or the full shipping cost into the product's price tag, will make total costs too high.
Ad hoc storage exacerbates transportation costs—especially when trailers and containers used for storage aren't reintroduced into transportation pools.
Misallocated inventories hobble in-store fulfillment. Eighty-five percent of shoppers make additional unplanned in-store purchases when picking up online orders through in-store fulfillment (like BOPIS). Successful stores restock quickly through local distribution networks. Ad hoc storage tangles these networks, leading to inventory misallocations and stock issues.
If goods are understocked or sell out in retail stores without an effective distribution strategy, customers face stockouts. Stockouts lead to lost sales and weakened customer loyalty. Seventy percent of consumers plan to switch retailers or brands to avoid stockouts.
In short, optimized supply chain networks meet consumer expectations and win customers. Ad hoc storage hinders placing the right inventory in the right locations at the right time. Slower, pricier e-commerce delivery—or tangled, mis-stocked in-store fulfillment—creates unhappy customers and lost sales.
Beat excess inventories with supply chain flexibility
Leading retailers and brands recognize traditional supply chains can't adapt quickly or flexibly. Yet speed and flexibility are keys to navigate inventory surpluses amid capacity shortages. Logistics leaders plan for uncertainty by investing in supply chain flexibility and network diversity.
Logistics leaders create supply chain flexibility by: Storing inventory in secondary and tertiary markets, like Las Vegas, or Greenville, S.C. Secondary and tertiary markets offer warehouse capacity at lower labor and space costs while serving critical regions.
Leveraging urgent capacity in port adjacent markets versus congested ports. For example, capacity in the Ports of Los Angeles and Long Beach sits at 0.6%, while inland California has a 3.9% warehouse vacancy and offers substantial cost savings.
Adding logistics service providers (LSPs) and parcel carriers to offset capacity and rates. They position high-velocity SKUs close to customers to decrease mileage, increase efficiency and meet customers' elevated delivery expectations.
While traditional supply chains aren't designed to adapt, retailers and brands still forge a path to flexibility. Ad hoc storage offers one option, but leaders also store inventories in secondary and tertiary markets, source urgent capacity in port adjacent markets and diversify logistics partnerships. They then navigate both excess inventory and peak season crises—quickly and effectively.