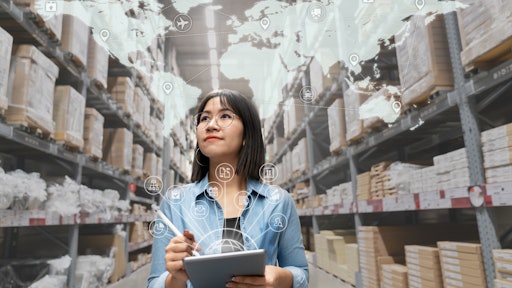 Chaay_tee - stock.adobe.com
Over the past year, we've seen an unprecedented increase in online shopping across all markets. On top of this e-commerce boom, customers are now expecting their products to be shipped faster than ever, putting even more pressure on e-commerce providers. This has led to an assortment of order fulfillment challenges.
It's important to provide your team with the tools necessary to handle such high demands. How will you cope with the challenges this past year has created for e-commerce?
You must first optimize your workflows and processes, connect existing technologies to gather as much data as possible and only then consider adopting automated solutions. Let's walk through a few intralogistics solutions and ideas to achieve more efficient operations.
It's important to think about how your management systems may influence and change the way your staff fulfills orders. In warehousing facilities, even small enhancements in productivity and efficiency can have a big impact on your bottom line. Consider implementing a lean management system to help staff work more securely and efficiently through a proven process of visualization, organization and standardization. Lean management empowers staff members to make the right decisions on their own, and begins to instill a culture of continuous improvement throughout your organization.
Another way to improve your warehouse and support your staff is to implement tools and systems that increase picking accuracy. These systems help your operators quickly locate and pick the correct product in order to efficiently fulfill any order. For example, use a picking accuracy tool, such as an LED light system. This type of put-to-light technology helps eliminate or reduce picking errors by visually reinforcing product placement for order fulfillment in batch picking applications. When integrated into a pallet truck, this innovation helps maximize operator productivity by directing operators where to place the product through colored light clues and voice technology.
Real-time visibility is crucial to help manage moving product throughout a distribution center. Another way your warehouse can continue to grow during this e-commerce increase is by utilizing a telematics system. Telematics inherently encourages continuous improvement by providing actionable data to help optimize operations across your entire business. Providing visibility into your fulfillment processes creates a simple and effective process for progress.
Utilizing trucks with integrated intelligence is a great way to increase efficiency in your fulfillment process as well. Fully integrated trucks, which are designed to enhance the operator experience and increase warehouse productivity, display data such as truck speed and battery state-of-charge, and may include optional technologies such as fault codes and diagnostic information to aid in troubleshooting. This gives operators better visibility into the state of their equipment, improving uptime and furthering a culture of continuous improvement.
When it comes to uptime, it's important to consider how the batteries you use may affect your run-times. You can immensely improve run-time by integrating lithium-ion batteries across your warehouse. This addresses operators' needs to move more pallets, run longer and recharge faster. Lithium-ion battery trucks keep operators powered for the long haul, lasting longer than traditional batteries, requiring less maintenance and helping reduce a plant's overall cost of ownership while keeping operations efficient.
Amid this increase in digital commerce, the industry has faced warehouses experience labor shortages, and therefore, a reduction in throughput. One way to combat this is to consider how automation could impact your operations. Automated and semi-automated guided vehicles are a good place to start. As plants compete to meet e-commerce demands, automated vehicles can help with lane stacking, horizontal towing and conveyor interfacing to increase efficiency and accuracy. These trucks are ideal for repetitive and time-consuming tasks, allowing plant managers to reallocate operators' time to more value-added jobs. Additionally, semi-automated solutions can make production and distribution processes quicker while helping operators reach higher proficiency levels faster and making operations run more effectively.
It's important to also consider the nuances of returns and reverse logistics during this time. With more e-commerce purchases than ever before, the level of returns is bound to be proportionately high as well. One way to address this is to work with a consultant to ensure your facility is optimized for returns. Their job is to help create and maintain proper staging area and find the right equipment such as racking and conveyors to determine the best mix of forklifts, end riders, pallet jacks or other equipment that matches the nature of your returned goods, workflows and space limitations. Of course, the best layout for a returns area will greatly depend on factors such as the volume of returns that need to be stored, how long they will be stored, expiration date concerns and how much space is available in the warehouse.
During this increase in online shopping, it's vital to consider all the ways you can continue to improve, optimize and automate. How are you addressing the pressures and challenges e-commerce has created? It's time to look into intralogistics solutions you can utilize now and continue to benefit from in the future.