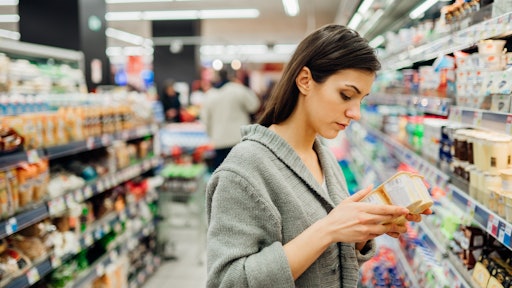 eldarnurkovic/stock.adobe.com
I know it may be a while before any retailer can say, "I'm fully stocked"– and actually stay stocked longer than a few days. Even as production ramps back up and goods become more abundant in the first mile, middle-mile and last-mile shelves remain bare in many categories, including some unexpected ones such as candy, pest control and even feminine products. Shipping capacity issues and port logjams are delaying the availability of multiple SKUs, while pent up demand for certain products is driving rapid sell-through. At the same time, many retailers are now trying to figure out how to clear shelves of excess goods ordered months ago, to include seasonal merchandise that just didn't move as expected. Perhaps demand was miscalculated, or the demand was there at the time of ordering and has since waned. Either way, this perfect storm is creating acute, cyclical shortages and overstocks that make it seem like supply chain disruptions and shelf inventory imbalances will remain chronic.
But perception doesn't have to become reality. It is possible to get control of this situation and right-size inventory levels on all shelves once and for all. CPG companies just need to change the way inventory allocations are calculated.
If you work for a CPG company, don't worry. You don't need to rewrite your entire formula to derive the right numbers because the math isn't the problem. It's how you do the math – the tools you use at the end of the chain – that must change.
The variables that will help you arrive at the right answer
Available To Promise (ATP) plans are so last quarter, quite literally. That's why it seems impossible to gain an edge on anything happening in the supply chain right now, including price increases, supply shortages, shifting consumer demands and shipping instability. If it takes three-to-four months to recalibrate ATP and order promising systems to align supply with demand, you will forever have an imbalance. Gone are the days when historical trends are helpful in forecasting the future, and even last week's trends may already be outdated. You must become more short-sighted if you want to survive supply chain volatilities long term.
Fortunately, this is not an "easier said than done" situation. It only takes three small changes to your systems and processes to start seeing a big difference in your order promising – and fulfillment – accuracy:
Switch to a sophisticated ATP system that accounts for irregularities in near-term demand and support intelligent order promising (IOP). Sticking with a first in/first out order promising strategy may be good for customers who act fast when demand shifts, but it doesn't serve your business well in an unstable market. You will struggle to allocate inventory fairly across all accounts and likely rack up excessive on time, in full (OTIF) penalties. However, if you have an ATP system that allows you to apply consumption-based sensing and forecasting algorithms to pre-determined strategic business objectives and customer segmentation guidelines, you'll receive right-sized allocation recommendations every time. More important, you'll be able to react to sudden supply surges or shortages and reallocate inventory according to business goals. Even if you need to prioritize strategic accounts, you'll be able to distribute constrained inventory in a way that allows all customers to get something.
Set some clear boundaries for what you can and can't do: One of the reasons IOP is so powerful is because it uses artificial intelligence (AI) and machine learning (ML) to help automate order prioritization based on flexible business rules and conditions that account for short-term supply and demand volatility. Fulfillment teams don't have to question if they're making the right calls or worry that they're compounding inventory issues. Additionally, it lightens the team's workload by quickly resolving exceptions according to the rules set by the business user. Getting that time back is priceless. The IOP algorithms account for multiple strategic factors when recommending quantities, confirming feasible shipping dates and more. As a result, you can be truthful with retailers about the current situation and level-set supply expectations, building credibility and loyalty. This mitigates the letdowns and allows retailers to start looking for alternative sources or revamping planograms and promotions as needed to prevent overstocks and understocks. Trust me, they will thank you for the timely communications and transparency, even when it's not the news they were hoping to hear.
Leverage additional data and demand sources to help manage disruptions in near-real time. Integrating weather, events, and consumption data into your calculations will enable you to significantly improve your forecast accuracy and inventory allocations. In turn, your team and supply chain partners can collaboratively prepare for expected changes, aim to mitigate shortages and work toward more consistent fulfillment.
Protecting the customer relationship
At the end of the day, you, retailers, and other supply chain partners all have the same goal: keep customers and your employees happy. You don't want trust to erode or lose relationships due to fulfillment issues. So, you must work together to understand the end-to-end dynamics by embracing Intelligent Order Promising (IOP). When you introduce risk-based modeling into the mix via AI and ML, inventory allocations can be better calculated based on near-term fill-rate, fill-rate target, and customer priority, giving both you and customers time to course correct when future fill-rate risks are identified.
And if you really want to tame the upstream "bullwhip effect" that's leading to distorted CPG demand forecasts in the first place, it might be worth a conversation with retailers about how they can arrive at more accurate demand forecasts before placing orders. If they aren't predicting – or acting – on both macro and granular consumer buying patterns, or they're relying too much on past data to guide current replenishment decisions, your dynamic decisioning capabilities may not be enough to prevent under or overstocks.
Don't get me wrong: your investments in IOP will certainly help you deliver. However, retailers may not be able to deliver OTIF to their customers, or they may see their margins erode when they have excess inventory and, in time, try to pass on the cost of those losses onto others via price increases on other products. And don't forget that even small discrepancies between supply and demand at the retail level will eventually flow upstream and impact wholesalers, distributors and manufacturers as retailers place orders to course correct. My only hope is that, if this happens, you have an IOP system in place that will enable you to realign inventory allocation as often as needed so that you don't find yourself in a position to be blamed for empty store shelves.