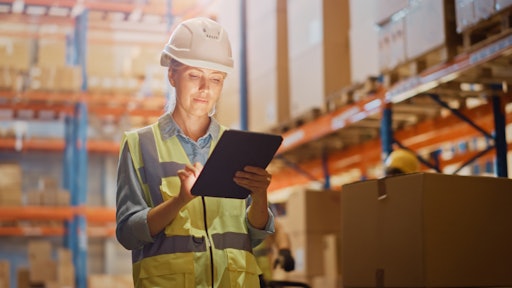 Gorodenkoff/stock.adobe.com
Over the past few decades, lean practices increasingly have gained a foothold in American manufacturing. As lean thinking builds momentum within a facility, managers and employees tend to recognize the potential. They contribute ideas and suggestions and generally engage enthusiastically with the concept.
Organizations typically follow "5S," a fundamental lean tool that focuses on workplace organization and is a method for removing waste from an area. An organization also may use 5S as its over-arching lean strategy.
At the outset, companies rightly focus on the first four of the "5S" lean manufacturing principles – sort, set in order, shine and standardize. These represent the lower-hanging fruit of lean implementation, and addressing them pays back great ROI. Products move more efficiently through the facility, waste is reduced, bottlenecks are smoothed out, work in process becomes more efficient and quality improves.
Over time, however, manufacturing companies often are challenged by the fifth S – sustain. As with any concept, enthusiasm for lean processes can wane. This can happen when company leaders have experienced some successes but aren't sure what further steps will generate continuous improvement. Executives, managers and employees can become complacent, or at least spend less time intentionally looking through a "lean lens" in their day-to-day work.
Considering the current manufacturing climate, however – with less available manpower, inflationary economies and ongoing supply chain disruptions, among other challenges – it's more vital than ever for companies to fine-tune their lean practices.
Signs of diminishing zeal for lean
Multiple signs can reveal that the push for lean manufacturing practices is plateauing or fading. Company leaders should look for indicators like:
Pre-lean habits sliding back into the workplace. For example, supervisors may stop doing daily Gemba walks that are used to observe the shop floor, engage with employees and identify areas where change is needed to perform to lean standards. As time goes by and supervisors cease the walks because they find themselves stretched for time, they lose touch with what is happening on the shop floor. Managers and employees then end up doing more daily firefighting than following previous improvements that minimize disorder and inefficiencies.
Regression on the shop floor. Materials are out of place, the floor may not look as clean as it used to and preventive equipment maintenance may have slipped a bit.
Leaders become preoccupied with other business tasks. Lean practices, like how to make products flow from one process to the next, emerge less often in leadership conversations. Lean coaching and training have tapered off, both informally and through formal projects like Kaizen events and value stream mapping.
The COVID-19 pandemic exacerbated the leveling off of lean practices. Both production and employee levels were scaled back across many manufacturing facilities. When production began ramping back up and hiring resumed, new employees weren't aware of previous lean efforts and, with leadership necessarily focused on managing through unprecedented pandemic impacts, lean fundamentals often were omitted from orientation.
Why it's time to refocus on lean practices
Manufacturers face growth and capacity pressures heightened chiefly by supply chain logjams, skilled worker shortages and rising costs. Lean thinking and management can address each issue.
Lean principles connect Original Equipment Manufacturers (OEMs) with customers and supplier-partners, like Miller Fabrication Solutions, supporting collaborative problem solving and more transparent forecasting. Regular, honest conversations across the supply chain, for example, allow synchronization of accurate, forecasted needs with the capacity and management of our supply chain, enabling us to minimize supply chain roadblocks.
Lean systems can close the labor gap. Placing employees without manufacturing experience or specific skills training into a lean-focused organization and teaching them to follow lean systems empowers them to achieve extraordinary results as they simultaneously grow their skillsets.
Even in the face of price increases, lean helps reduce costs. From its impact on waste reduction to level loading, good production planning and agreements with suppliers, lean practices help stabilize costs and minimize the effects of inflation on customers.
Overcoming the lean plateau
Lean practices repeatedly have proven their ability to generate capacity by freeing up employees to handle the growth and address the challenges many manufacturers are experiencing.
Reinvigorating lean practices in an organization generally relies on leadership reestablishing an environment where lean is a focus. When leaders talk about lean principles, teach lean systems to employees, take Gemba walks and address nonconforming actions or processes, floor managers and employees will rapidly see the benefit and re-engage.
Outside consultants, such as Back2Basics, also can work with leaders or individuals in select areas of a manufacturing facility to foster lean reawakening and develop lean leaders.
Tackling 5S – sustaining lean
To sustain a lean mindset, the commitment to lean practices should infuse the entire organization, establishing multiple lean champions, as well as a pipeline of learners. Manufacturers can take these steps to build that breadth across their companies:
Hold Kaizen and value stream mapping events, which help employees understand how lean processes apply in their areas and how they can use their skills to spur continuous improvement.
Conduct lean-related book studies with mid-level managers, crew leaders and supervisors.
Host lean "boot camps," offering insights into company-tailored lean thinking, simulations and problem solving.
Any of these events also can be used to identify next-generation, lean-oriented employees who are passionate about the concept and the benefits it can deliver. These employees, who may be found at any level of an organization, can receive additional training – including, potentially, lean certification – and be placed in positions where they influence lean thinking and strategy across the organization.
In a highly challenging market, OEMs need to know their supplier-partners are providing value by delivering quality parts on time at competitive prices. Lean principles answer that call, representing a streamlined way to run a manufacturing facility, from the way the president communicates vision to the training a new hire receives on his or her first day of work. Particularly when thorny challenges converge, as they have in the current economy, manufacturing companies should recommit to lean practices. Those who embrace lean will give customers confidence that their supply chains are dedicated to effectively manage and operate as an extension of their own operations.