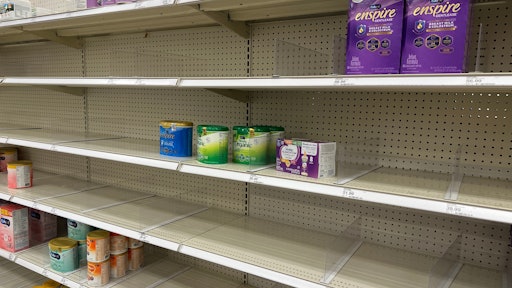 OntheRun Photo/stock.adobe.com
The ongoing baby formula shortage has drawn attention to yet another critical area of supply chain operation -- efficient reverse logistics. As a result of the February recall, leading formula brands have had to reabsorb massive amounts of already-distributed product -- a huge endeavor under any circumstance. We're seeing firsthand how crucial it is for supply chain leaders to have a robust reverse logistics strategy in place.
Meanwhile, we're still recovering from supply chain challenges caused by the COVID-19 pandemic. Factory shutdowns, clogged trade arteries and component shortages continue to slow our recovery. These are hard times for supply chain executives, which is why we need better answers for both the short term and long term.
On one hand, supply chain professionals have to prepare for reverse logistics emergencies, like recalls. On the other hand, teams need to optimize day-to-day reverse logistics operations for activities like recycling, returns processing, refurbishment and more.
The good news is that digitization and modern technologies make reverse logistics easier. The right solutions also align well with the demands of a modern global economy that leans heavily on e-commerce and new-age business models. With this backdrop in mind, let's dig more specifically into why recalls are hard and what they reveal about reverse logistics in 2022.
Why recalls are challenging
A product recall refers to when companies or agencies request that customers send their goods back to manufacturers due to safety or operating concerns. Recalled goods may be hazardous or defective, which is why they need to come off the market as quickly as possible. This is what makes recalls logistically challenging. Large volumes of goods have to go back up the supply chain rapidly. Not all brands are equipped for such a reversal.
A vital part of a reverse logistics strategy is to determine ahead of time how to address recalls. For instance, leaders should decide in advance where end users can ship recalled items or what facilities would be best equipped to take on the work. They should also have systems in place for processing these returns to ensure proper disposal. Recalled goods often require special handling, as we've seen in the baby formula crisis.
Overall, recalls can cause larger inventory problems, missed product launches and higher shipping expenses. Even if products can be refurbished or repackaged for resale, there is typically an incremental cost to storing and selling those items on clearance. Regulatory obligations can also weigh heavily on manufacturers that are flooded with defective goods.
When facilities are dealing with large volumes of recalled products, it's difficult to focus on forward supply chain flow. This takes away from revenue generation and increases overall supply chain costs. But these negative outcomes are not only isolated to recalls – they exist in everyday reverse logistics operations.
Companies that maintain inefficient reverse logistics channels can't extract as much secondary value for products they've already distributed. For instance, they might not be able to repair broken items or extend end-of-life use. They may end up incurring higher material costs if their recycling capabilities are lacking. Moreover, retailers and manufacturers miss out on opportunities to please their customers when reverse logistics processes are underdeveloped. The reality is that a thoughtful and streamlined returns process can delight shoppers and keep them coming back for more.
This is why reverse logistics is so important, especially today. Reverse logistics consists of much more than fixing past distribution problems. A strong reverse logistics strategy can actually create value and accelerate asset recovery. It can also increase profit margin by lowering costs and keeping consumers engaged at a time when return rates and buyer expectations are increasing consistently.
How to optimize reverse logistics
The solution to upgrading a reverse logistics operation is having clearer insight into reverse inventory flow. Supply chain managers should be able to evaluate key success indicators – return volumes, product conditions, product values, warehouse inventories, recovery rates and more – in real time. This means limited data-sharing via asynchronous methods, e.g., spreadsheets, emails and phone calls.
Modern supply chain teams have to be able to share and access performance data at all times in a secure, central place. Today, this happens through cloud-based software that remote teams can access from anywhere, so long as they have the right permissions.
When people across multiple supply chain functions all have access to the latest information available, they can collaborate and problem-solve more effectively. So, in the event of a recall, facility managers can coordinate better and ensure that returns go to the best location for disposal or reuse. Brands can also extend their reverse logistics data to external suppliers and vendors who are essential in the forward supply chain. Doing so can help prevent excess inventory from piling up and highlight other opportunities to reduce supply chain waste.
Fortunately, unlocking this hyper-efficient, transparent reverse supply chain doesn't require complete digital transformation. Yes, supply chain teams have to digitize records and learn a new system. But, after this happens, operators can automate much of what they do manually today and make informed decisions in real time.
While no one can anticipate a recall or a global crisis like the COVID-19 pandemic, supply chain executives have the power to invest in technology that simplifies reverse logistics. Reverse logistics represents an untapped opportunity for many brands to create incremental value and reduce waste in their supply chains. Going forward, those who have more visibility into reverse logistics performance will be able to navigate disruptions and satisfy customers better than their competitors. Strong reverse logistics can also alleviate pressure on the forward supply chain, which matters when distributing life-giving products, like baby formula. In other words, the reverse supply chain deserves attention, and it stands to benefit tremendously in the age of digital transformation.