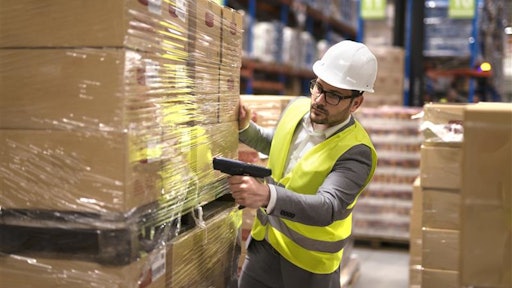 littlewolf1989/stock.adobe.com
The most recent holiday season took what was already a mess of a situation – a strained global supply chain further impacted by pandemic-related consequences – and turned up the intensity. There was a sense of urgency for inventory to make its way through congested ports and onward into warehouses and then stores. And even if a retailer wasn't waiting on inventory from overseas, the disruption was still being felt at home as pressure mounted to deliver the products consumers wanted, when they wanted them.
No retailer wanted to bear the consequences of consumers' supply-chain-related disappointment. For that reason, as they looked to the new year, we saw many retailers acting swiftly to expand their warehouse footprint. Tens of millions of dollars were committed to breaking ground on new facilities. Fulfillment centers and "dark stores" have popped up in strategic places to enable same-day delivery and to house additional local inventory. And this trend isn't slowing down. Commercial real estate firm CBRE estimates that by 2025, "the U.S. will need an additional 330 million square feet of distribution space" just to support the current trajectory of e-commerce demand. Another analysis quantifies the global need for new warehouse space in that same timeframe to be more than 28,000 facilities.
But the acceleration of warehouse-related activity is painfully expensive in terms of both capital costs to create capacity and operating expenses of maintaining higher inventory levels. Therefore, retailers will need to think carefully about how they acquire and maintain inventory – and whether they can leverage AI-based technology to limit those requirements. As they evaluate the benefits of new technology to better forecast and plan inventory needs, they'll want to prioritize both analytics and automation.
Space and stock are top of mind for retailers
Most retailers today look for more space, more inventory, and better ways to manage it all. But that hasn't always been the case. Just two years ago, retailers (especially those in fast-moving consumer goods) were focused on reducing inventory they had sitting in a warehouse, even what they'd consider a cushion or safety stock. Inventory management was a matter of fine-tuning the systems to keep idle inventory to a minimum, pushing stock out to consumers shopping in stores or via online channels. Now, retailers are adopting a much more flexible approach out of necessity.
With the holidays in the rear-view mirror, retailers are planning for the next promotional events. They want more square footage to ensure they'll be able to get additional inventory when they need it. As they find that extra space, they're also looking for capabilities to better manage forward buys for the safety stock they'll maintain. Bringing automation to the operational elements that are working well will be key to their success – even for small retailers. Similarly, determining what's not working as well and bringing maximum visibility and decision-making support to those areas of the business will also be critical. Optimized forecasting, planning and execution will help retailers get the maximum benefit of the investments they make in capacity and inventory, while protecting them from over-investing in those areas to compensate for poor forecasting and planning.
Manpower is another factor in this conversation on inventory and warehouse management. Continued labor shortages and possible COVID-19 outbreaks mean that retailers need more flexibility to manage workforces, having the agility to move a portion of operations from one warehouse to another as needed. And again, even small retailers are vocalizing their need for improvement in workforce productivity. This is another major trend we'll see continue in 2022.
Click here to hear about new ways of warehousing and managing inventory:
Relationships are vital in streamlined inventory management
Two types of relationships will be important areas of focus for you as a retailer – wholesaler partners and customers. A best practice for inventory management is vendor diversification. Being out of stock isn't completely avoidable, but if you have several avenues of acquiring inventory, you'll be more likely to come through with the products shoppers want. That being said, for the foreseeable future you'll need to buy when an item is available. You may not have the choice of saying, "We get our Coke next week and our Pepsi the week after." This reality means that warehouse space must be made quickly so that you can build your safety stock when you get access to that item.
Now, depending on your size and geographic reach as a retailer, there are nuanced considerations for getting your hands on those quantities. If you're a large retailer, you know that you'll be positioned to be first on the list when there's availability of that product. However, your question should be, "Do I want to focus on having all of the items, or just a select set of options? Do I want just the regular Coke, or should I grab stock of this promotional or seasonal version as well?"
Other questions about inventory will require an understanding of customer preferences and motivating factors, so that you're sure to acquire inventory that matters most to them. You'll want to have mechanisms and advanced analytics in place to understand the reasonable substitutions or product alternatives they'll accept. Whatever you can learn from customer behavior insights at the store level is very important; then, you can address your supply chain decision making.
Controlling costs factor into inventory decisions
A lot of the current headaches with grocery inventory management have to do with getting the right food at the right price, and into the right stores, and the cost associated with finding that balance.
For the fresh produce and meat categories, this is where sometimes the dynamics can be reverse, going back to larger retailers getting first pick of available stock. If you're a small retailer and you're developing the right relationships at the vendor level with local suppliers, you can get quality products, on time and in full, allowing you to incorporate much more flexibility into your supply chain. This is a competitive advantage compared to the big chains. Large retailers compete more for those items, needing more quantity to keep shelves full. If that's you, you're going to catch heat on those margins if you're not careful. Then the questions you should be asking include, "Should I focus on my best-selling items, or on my high-margin items?" The goal is to control costs on those lowest-margin items and have more flexibility on those high-margin products.
Decisions made in and about the warehouse need intelligent insights and automation
So, should you invest money today into something that will get you through just the next 12 to 18 months, hoping for a return to more efficient supply chains? Or is what we face with the supply chain a global trend requiring you to invest enough capital, brainpower and engineering to completely transform your operations?
The right technology will enable retailers of any size to forecast inventory needs intelligently and execute supply chain decisions backed by AI-enabled insights. Retailers evaluating their investments should prioritize systems that enable them to manage inventory workflows with automation and agility.