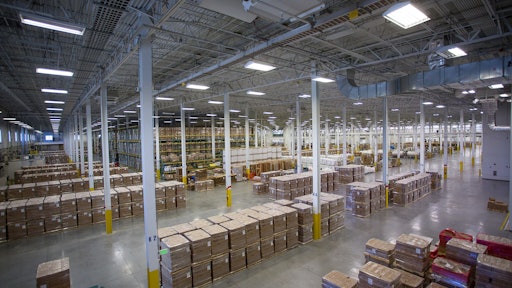 CRB
Picture yourself stepping into a warehouse, circa 1990. What do you see? Low racking separated by aisles wide enough to accommodate a superhighway of operator-driven forklifts. You see paper too, and lots of it—a clipboard in every hand, a stack of physical records around every corner. And, how about what you feel—or rather, what you don't? No climate control. Very little ventilation.
Looking back, it's easy to spot these risks and inefficiencies, and to appreciate how far we've come thanks to improved technology and shifting marketplace dynamics. But, what about looking ahead? How can we design resilient and sustainable warehouses that are ready for another 30 years of rapid change?
Our most useful tool in answering these questions is one that's not typically associated with warehousing design—at least, not yet—and that's sustainability.
Holistic sustainability
For many, sustainability evokes "going green." That idea may be correct, but it's not complete. Holistic sustainability is about more than environmental initiatives and corporate responsibility. It's about protecting product quality, ensuring employee safety, and ultimately, driving ROI. The best way to think about it is to borrow from the notion of "ESG":
ESG: Reduce your Environmental impact and protect Societal wellbeing, all while improving business outcomes through good corporate Governance.
Forward-thinking company leaders know this. That's why we're beginning to see sustainability initiatives expand beyond strictly energy-dense areas of operation, like manufacturing. End-to-end sustainability, inclusive of the warehouse, is the way of the future, particularly when that future is defined by supply chain uncertainty and turbulent market conditions.
We see this sustainability agenda driving change in the warehouse across four key areas:
➔ Warehouses will develop more resiliency
➔ Warehouses will make smarter use of energy
➔ Warehouses will prioritize worker safety
➔ Warehouses will contribute to better business outcomes through tech-assisted optimization.
How warehouses will develop more resiliency
Thermal energy storage.

By storing thermal energy for future use, warehouse operators will improve their cost control while better managing their ongoing risks.
Enhanced building envelope.

The more a warehouse is sealed and insulated like an igloo, the more thermal energy it can store for future use.
How warehouses will make smarter use of energy
On-site renewables to sustain surrounding operations.

Because it typically consumes far less energy than other building functions, the warehouse isn't always a priority area for energy reduction initiatives. But, what about energy production?
Computational fluid dynamics (CFD) simulation.

All areas of warehouse operations will become "smarter," giving operators the data-backed insights they need to take decisive action. This is especially true when it comes to making decisions about energy use.
Destratification.

Temperatures can vary at different heights inside the warehouse. By understanding and proactively addressing these variances, operators can reduce the volume of energy required to correct for hot or cold spots.
Skylights.

Warehouses of the future will increasingly take advantage of natural light to achieve industrial-grade illumination more efficiently.
Lighting power density (LPD) reduction.

Many warehouses sustain a light power density (watts of lighting per square foot of room floor area) that exceeds what's actually needed in order to effectively perform required tasks. By recalibrating their LPD to suit the environment and what goes on inside of it, operators can reduce their overall energy use.
How warehouses will prioritize worker safety
Automation.

Automation is often touted as the key to a highly efficient and quality-driven warehousing system, and that's very true. Automation offers another benefit as well: improved safety.
Fall protection.

As warehouses transition to more a sustainable design, they will need to evolve their safety protocols to suit the new environment.
How warehouses will contribute to better business outcomes through tech-assisted optimization
Right-sizing.

The most effective way to design sustainability into a warehouse is to right-size that warehouse in the design phase, or for existing buildings, to assess and optimize the way space is allocated for both current and future activities.
Flow simulation.

Using computer models to simulate the flow of people and materials through the warehouse environment is already an important tool for forward-thinking operators and managers, and it will become even more vital as enterprises push for ever more efficient and sustainable operations.
Climate change, geopolitical unrest, a global pandemic—supply disruption can be sudden, extensive and potentially disastrous. This makes it all the more essential for companies in every sector to closely examine how their warehouses are operating—and how well.
This isn't only about facing the daunting challenges of tomorrow, though. It's also about seizing on today's tremendous opportunities to design warehouses that are part of a resilient, energy-efficient, safe and optimized enterprise ecosystem—that is, a fully sustainable warehouse, prepared and ready for a productive and thriving future.