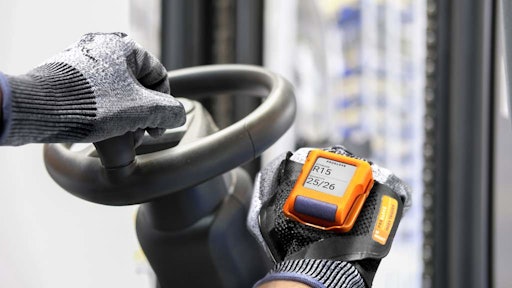 ProGlove
At perhaps no time in our history has the need for efficient and safe supply chains been more critical. With e-commerce sales up 47% at the start of the Coronavirus disease (COVID-19) pandemic, there is increased pressure on logistics operations to meet the increased demand for goods purchased online. Not to mention, this pandemic threatens the safety of everyone working on the frontlines as well, including the men and women deemed essential workers within the supply chain.
How are companies keeping up with both the increased demand and the need to be safer?
New technologies like personal wearable devices help logistics managers sleep easier at night.
Here are four examples of companies leveraging wearable devices to make scanning more efficient, while improving the safety for workers.
Volkswagen
As a global car manufacturer, Volkswagen picks over 1 million items per year. Because of this, it needs real-time transparency in parts movement and storage, as well as high-quality and error-free processes in its storage facilities.
Volkswagen OLTG partnered with ProGlove to transform its scanning activity by making it more efficient and hands-free. To put it into perspective, Volkswagen saves more than 66,000 minutes per year using ProGlove. The error-checking and correction capabilities via optic, acoustic and haptic feedback have greatly reduced errors while making workers' lives less stressful.
ProGlove serves in pre-assembly, end-assembly, intralogistics and warehousing in 40 locations across four continents. With over 1 million picks per year in the palette store alone, Volkswagen's time savings are significant. Using ProGlove data access, Volkswagen has reliable visibility of parts movement and storage in real-time.
Booming e-commerce business leads to a steep increase to an already fluctuating overall shipment volume. DHL needed to address this increase while working with the same size areas in its parcel centers. Moreover, varying sizes and formats required a significant share of shipments needing to be manually processed.
A part of the project "Bulky Good 2.0," DHL equipped its employees with ProGlove's back-of-hand scanners. This meant workers were no longer tethered to stationary workstations and can work from anywhere in the bulky goods areas.
Through the use of ProGlove, DHL has significantly increased efficiency and flexibility.
The use of technologies like ProGlove enhances the transparency and reliability of its services.
Geis Group
At Geis Group, efficiency is mandatory at its warehouse, which holds more than 350,000 different automotive parts. Sorting, issuing, and clearing processes within the warehouse need to run smoothly and Geis Group sought out ProGlove for that very reason.
Geis collaborates with ProGlove to improve matters on the factory floor by adding speed, extra efficiency, and better ergonomics.
The results really add up for Geis. They perform 10,000 daily scans, saving 2-3 seconds per scan with ProGlove. There's also a significant reduction in walking distance for workers who are relieved of the traditional holster that holds their conventional scanner.
For Geis this adds up to saving over 2,000 hours of scanning time per year using ProGlove.
Bosch Thermotechnology
Bosch Thermotechnology was looking for a solution to share with packaging workers that allowed for hands-free operations, improving their mobility and safety. Because of what it does, the company needed to:
● Preserve high-speed cycles – 45-120 seconds
● Maintain 12,000 scans per shift
● Manage 400 different serial numbers assigned to one product line
● Handle 50 product variations per shift and per assembly line
Bosch Thermotechnology deployed ProGlove in their assembly lines, logistics and packaging department. ProGlove hands-free technology gives the workers the ability to scan, assemble, package, and operate cranes safely. All without disruption.
The compound value of ProGlove is sizable – ProGlove makes every second count while greatly reducing errors for Bosch Thermotechnology.
Technologies like wearable barcode scanners from ProGlove, along with other brands focusing on the evolving supply chain, are helping logistics managers and supply chain leaders make the kinds of informed decisions that protect workers and keep them as efficient as possible every step on the supply chain.