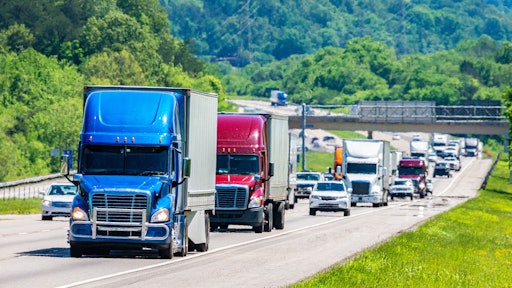 HERE Technologies
It takes a larger partner ecosystem to drive true innovation and disruption in supply chain execution, according to Andre Kaeber, chief executive officer of leogistics. Together as partners, leogistics and HERE Technologies broke new ground. With their shared business model, they can now offer customers a single, integrated platform for their supply chain execution needs.
Background
Trust is emerging as an essential commodity in today's world. Consumers ordering everything from groceries or shoes order with the trust that their order will arrive when expected. Supply chain in major industries, like automotive or chemicals, operate on trust as well. Each participant needs to trust in the commitments their supply chain partners make. They require increasingly higher levels of transparency into the progress of shipments on the ground, road and waterways, and seek greater visibility into logistics in their yards, from load check-in to loading docks.
Eliminating the black hole with transparency
SAP coined the term "supply chain execution" to represent its modular approach to injecting a degree of transparency into large-enterprise transport and operational logistics. It's comprised of modules for warehouse management, transportation management, yard management, dock scheduling, freight track and trace and numerous other functions, and applies to shipments between locations – from a supplier to an OEM – and flows within an organization's yard.
There are integration gaps between SAP's modules, however, those gaps compromise users' visibility into real-time inbound and outbound flows and movements. Leogistics, a long-time SAP global logistics partner, bridges those integration gaps to create an end-to-end integrated supply chain flow.
The company leverages the expertise of specialized partners to build integrated SAP-based add-on solutions and complementary solutions that increase transparency into and control over transport and logistics processes.
"We bring different systems and information sources together," says Kaeber. "We combine our yard knowledge, transportation and management knowledge and tracking-and-tracing knowledge with the specialized expertise of our partners, like HERE Technologies with its location capabilities, to provide full transparency and comprehensive supply chain solutions for our customers."
Location technology facilitates real-time transport status
Leogistics doesn't target particular industries per se; instead, the company serves large enterprises that manage substantial, complex, multimodal transport volumes. Those enterprises seek to optimize supply chain execution and yard processes. They need transparency into their shipment and container movements – inbound, outbound and within the yard.
"Transparency, for me, is one of the most critical success factors for an integrated supply chain," says Kaeber. "Without it – without knowing the status of resources and their locations – you will not be able to manage your supply chain processes properly."
Leogsitics directly connects SAP's Transportation Management module with HERE location technology in two of its products, the LeoTrans transportation management solution and the MyLeo cloud-based track-and-trace solution, enabling its customers to plan routes, monitor road and traffic conditions and alert to route restrictions. The end result is a final transportation plan, ready for execution and positioned for optimizing yard management.
Location information and real-time visibility into that information are the fundamental ingredients of effective supply chain execution.
"Most of our time is spent talking about resources and locations. We live in an event-driven environment where everything is a resource that has to be moved from location to location within the supply chain," Kaeber says. "For our customers, transparency into location means insight into business partners and business objects -- a pallet, a ship or a truck, for example – at any moment in time. It means knowing the status of trucks coming to load or unload product. It means knowing the status of a container ship in real-time and extrapolating that to production schedules."
"With the help of HERE and the carriers, we've established a predictive tracking-and-tracing system. The carriers are connected via telematics units and via our track-and-trace solution, MyLeo DSC. Receiving data predominantly from the carriers, we use HERE for routing and for proactively calculating an ETA," he says.
Once incised the yard, geofence data from HERE provides real-time visibility into truck movements, which is key to dock scheduling and sequencing shipments to multiple different customers. Connecting data from its Yard Designer tool with HERE maps, leogistics maps the physical environment on a yard, which could encompass anything from a port or a network of rail-tracks to a truck yard and loading docks.
Leogistics customers can configure different loading-pattern constraints, loading-point utilizations and location-based rules, which are crucial for optimizing yard flow.
"For one customer, we've reduced the dwell-time for a truck in the yard in half and check-in times for trucks at the yard from 10 minutes to 2 minutes with automatic check-in, pre-check-in and tools like time-slot management," Kaeber says.
A shared business model
Leogistis is at the center of a larger partner ecosystem. That's why Kaeber looks for partners that add value, but are also capable of innovation and disruption.
"A good partner is a company that can talk to us on equal terms. We think we are the innovators in supply chain execution. We're not afraid to build new business models together with our customers and together with our partners, so we're looking for partners who want to break new ground. That is what we've done with HERE. We have a shared business model, which allows us to offer our customers a single, integrated platform for their supply chain execution needs," says Kaeber.
Beyond innovation, Kaeber also values reliability, which he defines as a partner's thought leadership in its given space. HERE's location thought leadership is essential because, going forward, he believes every participant in the supply chain should have a location strategy.
"Logistics is still seen by many as a cost driver, bringing no added value. That will change. In the future, logistics will be a competitive differentiator at every step of the supply chain. We're seeing it now on the consumer side with Amazon. They deliver fast and within a defined time-frame. That's all about location. Location-based data – HERE data – is crucial for logistics and sustained supply chain execution success," says Kaeber.