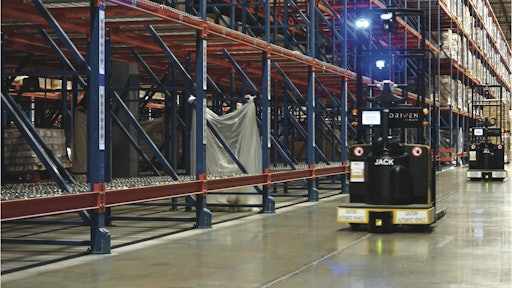 OneCharge
Automation brings unprecedented opportunities for warehouses to improve operating efficiency and reduce costs. Among other innovations, automated guided vehicles (AGVs) are getting momentum.
An automated guided vehicle (AGV) system is computer-controlled, wheel-based load carrier (normally battery powered) that runs on the plant or warehouse floor (or if outdoors on a paved area) without the need for an onboard operator or driver. Essentially, it is a mobile robot.
OneCharge manufactures Lithium-ion batteries for the material handling industry, with over 550 of models for Class I, II and III lift trucks, sweepers, scrubbers and ground support equipment at airports. OneCharge has supplied Li-ion batteries to Papé's demo AGV trucks in April 2018, and clients' interests in AGV solutions have started to pick up in the last few months.
Dubbed the "Amazon Effect," Shane Fairbanks, manager of Papé's Demo facility in Seattle, says "Bigger companies may be slow on the adoption, but they have the money to experiment and once they test and prove a solution, others follow in a stream."
Why lithium-ion?
Facilities that use AGV lead-acid battery-powered fleets consistently face about 20% asset downtime. This is due to the 5-6 hours of battery charging required for each AGV each day. Additionally, each lead-acid battery is required to be down for another 8 hours weekly for trickle charging and cell equalization.
Indeed, li-ion batteries' benefits are even more pronounced with AGVs: significantly less charging time overall and flexible charging schedule, zero daily maintenance and stable voltage with higher travel and lifting speeds provide minimum downtime and highest operational efficiency. In case with OneCharge Batteries, one can expect enhanced safety and advanced data capabilities with the top-notch battery management system.
Spirit AeroSystems is one of the world's leading designers and manufacturers of aerostructures for both commercial and defense customers, including Airbus and Boeing. In late 2018, Spirit AeroSystems has started a demo project to stress-test one AGV li-ion battery recommended by Green Energy Concept, Inc., consultant and installer of motive power solutions. After 9 months, the whole fleet of company's lift trucks in Kinston, N.C., is switching to OneCharge li-ion batteries.
Most of Spirit AeroSystems' North Carolina facility lift trucks are AGVs and MGVs (manually guided by an operator with a remote control). The company was permanently facing problems with maintenance and overall reduced runtime with the sealed lead-acid/TPPL batteries they were using for the last 5 years. The main reasons for switching to li-ion were increased operational demands which the old lead acid batteries could not support any longer.
Allen Grady, Equipment Maintenance Manager at Spirit AeroSystems, says, "We have a large facility to manufacture parts for AirBus A350, and we use lift trucks to move around big tools 24 hours a day. We had to stack spare lead acid batteries at a special section of our facility and install special ventilation and other safety features there. Each truck was down for at least 30-40 minutes 6 times a day (twice per shift) changing big and heavy batteries. Big hassle and big loss of time. With the new li-ion technology we managed to sync our production schedule with batteries charging. It is now only once or twice per day, the battery stays inside the truck, and it takes 1-1.5 hours to fully charge a battery."
Oliver Kuarsingh, Director at GECI says, "OneCharge batteries can stand much more abuse and need much less attention compared to lead-acid batteries. ROI calculations and overall stability of OneCharge li-ion natteries were the main reasons we recommended OneCharge to Spirit AeroSystems."