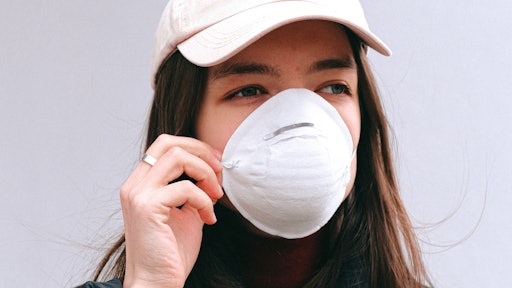 Poor planning, a small production chain and the sheer scale of the Coronavirus (COVID-19) pandemic has left essential medical staff critically exposed without personal protective equipment (PPE) during a time when they need it most.
PPE manufacturers have much smaller operations compared to other industries, which left them unable to handle the increase in demand within such a short time period. Without advanced planning and stocking up on these items such as facial masks, gloves, gowns, etc. in the United States beforehand, the medical industry quickly fell behind as the number of hospitalized patients with Coronavirus (COVID-19) skyrocketed.
Facial masks were also part of panic buying, which many consumers exhibited during the beginning of the virus' spread in the United States, adding to the increase in PPE demand.
This pandemic is not centralized to a few countries, but is a problem for most countries worldwide, putting even further pressure on the need for this equipment.
"The primary reasons behind the shortfall of medical supplies like masks and protective equipment is three-fold: the lack of advance planning, the short lead time to respond, and the unprecedented scale of the pandemic," says Karthik Natarajan, assistant professor of supply chain and operations at Carlson School of Management. "With respect of advance planning, several public health organizations and agencies like the WHO have been warning countries about the possibility of an airborne pandemic in the near future. However, most countries did not develop a contingency plan and adequately prepare in advance for a large-scale pandemic like the COVID-19.
"Once the outbreak started spreading around the world towards the end of January, there was not sufficient lead time to fully ramp production to the levels needed to meet demand. For example, the current total estimated demand for masks is well above the individual monthly production capacities of leading manufacturers," Natarajan adds.
Medical staff are now forced to scale down on the number of PPE used and some hospitals are even keeping these articles locked up to ensure only staff members working with patients hands on have access. Other facilities are looking into ways to sanitize disposable PPE in order to re-use them.
Elective surgeries are now postponed, keeping much needed resources reserved for critical COVID-19-related and other patients in life threatening conditions.
Manufacturers such as Honeywell and 3M are prioritizing PPE production, in addition to smaller brands who specialize only in this. For example, TIDI focuses on medical supplies, including face shields, drapes and eyewear across many industries.
According to TIDI's automatic reply, the company is facing a "dramatic increase in orders and requests" and is asking inquirers to limit their emails to one per issue as well as assuring them these items will be shipped out as soon as possible.
Both Honeywell and 3M state that they have more than doubled production of the N-95 face masks and eyewear worldwide and expanded to around-the-clock production in regions where regulations allow.
Sleep apnea product creator Sleepnet is manufacturing its envomask product for hospitals and medical centers. While it attempts to ramp up production, the supplies to create the masks are in short supply, says Sleepnet chief executive officer Tom Moulton. The Hampton, N.H.-based manufacturer is imposing restrictions on the number of filters a customer can buy every month to help reduce extraneous buying.
Sleepnet has instituted a subscription-based model for filters, allowing medical corporations to receive these products on a monthly basis as needed. The company is also paying acute attention to its production and sales to make sure it will not promise more masks than it can make.
"Supply chains producing PPE equipment are stressed to the max," says Moulton. "The biggest restriction for us right now at Sleepnet Corporation is gaining the supplies necessary to produce the envomask, our product that is being produced for not only New Hampshire hospitals and medical centers, but across the world. Specifically, our suppliers that produce the necessary filters that the envomask requires are struggling to get materials.
"Hospitals and medical staff are running out of N-95 masks and supplies, forced to wear a single mask all day due to the shortage. They are on the front lines of this pandemic and need our help. We need to respond. Sleepnet Corporation's goal is to supply enough envomasks to make a difference. Hospitals are desperate and need our help. My goal is to make a dent in this problem," adds Moulton.
Meanwhile, organizations such as Facebook and Apple (which are based out of California and were required to keep masks on hand to protect staff against smoke inhalation during wildfires) and even television shows like Grey's Anatomy are donating stockpiles of PPE items.
Other brands such as Karla Colletto, Prada, Kering, HanesBrand and H&M are devoting their resources and factories to producing masks. The switch is mutually beneficial, as it helps the medical community while enabling these brands to maintain their workforce.
"As stores began cancelling or postponing orders, we needed to respond quickly and utilize the skills we know to produce products relevant to the changing times," says Karla Colletto, co-founder of Karla Colletto. "By repurposing our facility, we could then bring back our workforce and help the nurses and doctors on the front line. We have our own U.S. facility, therefore, we have the ability to be flexible and easily shift from making swimwear to PPE. We have the necessary machinery and skilled operators ready to work. And, we are able to arrange machinery in accordance with the CDC distancing guidelines."
Even individuals with sewing kits are hoping to get involved, making their own masks out of breathable fabric and donating them to hospitals. Lehigh Valley Health Network is one of many medical organizations sharing instructions to consumers who want to help, asking that constructed masks as well as material to make masks be dropped off at a dedicated location in clearly marked packaging.
Unfortunately, while many companies, organizations and individuals are coming together to help the situation, not all are being so kind. In the search for PPE to give to hospitals, the U.S. government has found companies hoarding these items in warehouses and price gouging when in retail. While it is unknown who these organizations are, President Trump signed the Defense Production Act this past week making stockpiling of these items a criminal activity.
Another regulation likely to be passed in support of the crisis is the ability for medical staff to use industrial masks, lessening the demand for N-95 masks.
"'Flattening the curve' is essential to ensuring that the health systems are not overwhelmed," says Natarajan. "In addition, the federal government has taken some steps to mitigate the shortage of supplies. For example, some recent legislative changes make it possible for industrial masks to be used in healthcare settings. This has the potential to free up millions of N-95 masks that would have been used in other industries like construction. Furthermore, the legislative change would also make it possible for the majority of newly manufactured masks to be used in healthcare settings. While this is a step in the right direction, it is important to remember that this increase in supply of masks may not be immediately available to meet demand that we currently face."
In the fight against this unprecedented pandemic, PPE is essential to keep those on the frontlines as safe as possible. Companies working together to increase production and delivery of these products while social distancing helps to flatten the curve of the spread and help keep U.S. medical workers safe and healthy.