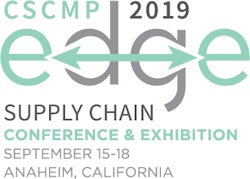 The 2019 CSCMP EDGE conference this September was one for the books as over 3,000 supply chain professionals from around the globe attended the event.
This year's conference provided attendees the opportunity to immerse in high-quality education, networking events and collaborations with supply chain management leaders. This year's trends included both innovative "process" ideas and utilizing the latest tools afforded to supply chain professionals—as well as inspiration. The conference covered topics ranging from transportation, e-commerce, global sourcing, risk management and, of course, talent management.
"Our audience spans all generations and levels of experience with our youngest attendees being students from leading supply chain programs. We are also one of the last associations to formally partner with academia, and our academic members are featured presenters in many of our sessions," says Rick Blasgen, president and CEO of the Council of Supply Chain Management Professionals (CSCMP).
Blasgen explains that CSCMP events typically feature the latest research in various topics, which are then discussed and debated. EDGE encourages attendees to make valuable new connections and leave with new knowledge of the industry.
He believes that every supply chain professional should be a CSCMP participant as the organization provides resources that are needed throughout people's career.
"CSCMP will continue to deliver value to our community. Our members and community are everything to us. All the real supply chain innovations happen because of people—people who create new tools, better processes and meaningful change, for the better," Blasgen says. "These brilliant leaders come to EDGE to sharpen their knowledge, but also to hear from their peers in the industry—those who are shaping the business of supply chain management and willing to share their experiences and takeaways."
EDGE is always looking for ways to innovate and new ways to deliver these experiences. For example, this year the event held an EDGE Townhall Series where C-level leaders were invited to present. The series proved popular and will be appearing at next year's event in Orlando.
The organization will also develop its "track session topics" to ensure it's bringing relevant, meaningful and the highest-quality individual sessions to attendees, customers and presenters.
Keynote Standouts
EDGE held a video competition this year to select a moderator for its Tuesday Keynote Session "The Gig Economy and the Millennial's Journey to Change the World." After two rounds, Felisa Higgins, clinical associate professor and associate dean for the Smeal College of Business at The Pennsylvania State University, was chosen.
"To me, young people have accomplished so much in their lives. They have amazing stories in different ways, and they're all trying to change the world—even if they don't know that they're changing it," Higgins says. "I was excited to get the opportunity to pick their brain. I spent the last 12 and a half years of my life around millennials and post millennials. So, I thought I could bring insight that I've gained in the years that I have worked in higher education and trying to prepare young minds for the future and their careers. It seemed like an incredible opportunity I couldn't pass up."
Higgins believes that millennials are disrupting the supply chain on both sides of the equation, meaning millennials, as customers, are resetting all expectations in human endeavors. She explains that the younger generations' ability to adapt and set higher expectations is a result of having technology in their everyday life.
"We have lived in a life where the technology used every day wasn't essential to operations. Because they're digital natives, this is their natural habitat. It is natural for them to expect how they consume things to be digitally enabled," Higgins says. "Their expectations on value creation, and being the receiver of that value, has created an environment where we all expect things to come to us faster, better and cheaper.
"It's not that those of us who are older don't have as high of expectations, but that the influence of technology and the expectations created from it show this as a millennial and post-millennial thing. However, it's influencing companies to make changes to win over that consumer base."
Meanwhile, the digital natives are entering the workspace and bringing their technological backgrounds and questioning how things operate. Higgins believes that millennials are able to transcend changes easier than older generations.
"Technology is allowing companies to respond and bring new, young talent in, and change and transform from the inside," Higgins says. "It is also challenging the older folks to go back to the drafting board with ideas that we had for many decades."
One of those ideas is Boxed, a mobile, membership-free wholesale retailer that offers delivery of everyday items.
"At its heart, Boxed is an online bulk retailer that provides a more convenient way to buy pantry and home essentials. We charge no membership fees, have an extensive product assortment, and offer free two-day shipping on orders over $49," says Boxed CEO Chieh Huang. "I like to say that Boxed gives consumers all the perks of warehouse shopping without the hassle of actually going to the store. From an app designed to be as easy as wandering aisle by aisle, to automating the fulfillment processes in our warehouses, to group ordering features and AI assistants, we're constantly innovating to create a seamless, digital experience for our customers."
Huang spoke during the same keynote session as Higgins. According to CSCMP EDGE's website, on average, millennials will start their first business between the ages of 20 and 35—which is exactly what he did in 2013.
The company is changing the food logistics landscape by providing a seamless customer-centric, omnichannel experience by meeting its customers where they already are: at home.
"I think we already have disrupted the wholesale market. We've consistently seen industry giants struggle to innovate and keep up in this digital era. By offering convenience and carefully curated products to consumers, and by providing strategic tech solutions and valuable customer data to CPG partners, we have established Boxed as a changemaking disruptor for not only shoppers, but also the wholesale industry at large," Huang says.
Going into the next decade brings new opportunities to the supply chain, Huang points out. Like Higgins, he notes that technology is becoming increasingly crucial to the industry, as innovations like robotics make processes more efficient and give an advantage into improving the overall experience for consumers.
"From a product supply standpoint, retailers are starting to put more thought into the brands they carry because consumer demand now changes rapidly. Every company from Boxed to Amazon must pay closer attention to their stock in the future, listening to their customers and catering to their demands and preferences," Huang says. "Distribution in the supply chain is becoming increasingly important. More and more, shoppers are expecting their goods to be delivered faster. It's even possible that same-day delivery will become a norm in the near future, with companies like Amazon and Walmart already testing one-day delivery."
Higgins also echoes Huang's statements on how technology is going to be a major trend in 2020. However, it is still unclear as to how the emerging tech will impact the industry. In addition, sustainability will be a major standout as materials may become scarce in the future.
"As we see the integration of technology into the supply chain, we will see how supply chains become resilient as companies begin to build more buffers," Higgins says.
Overall, CSCMP EDGE was another successful event and continues to be a premier conference for all supply chain professionals.
"At EDGE, you will find anyone who wants to learn about the latest trends and best practices in this exploding field. They all come to take part in the most innovative and exciting supply chain experience in the world. EDGE is built by members, for members, and all of those attending will walk away with ideas and connections to be utilized throughout their careers," Blasgen says.