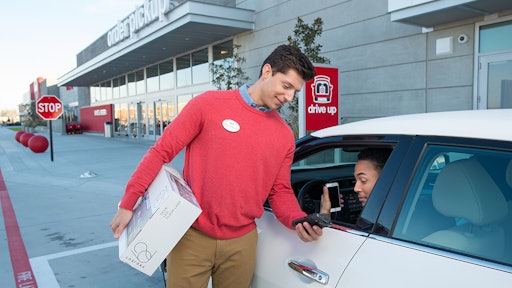 Target
Amazon reached a major milestone in September, becoming the second U.S. company to reach a valuation of $1 trillion. While the e-commerce giant continues to influence the retail industry's every move, traditional retailers are flipping the script by leveraging their brick-and-mortar locations to offer new fulfillment options and a personalized customer experience.
"Retailers can reinvent themselves by…providing a curated buying experience, giving buyers options for delivery times, from same day to next day, just like Amazon, and by providing good customer service in the logistics operation, such as the ability to track shipments and alert customers if their orders will be delayed," says Charles Moore, Transportation Insight's vice president of parcel. "Superior customer satisfaction and service sets your business apart from the competition and ensures customer loyalty."
Take Target, for example. The Minnesota-born retailer has invested significantly in both its in-store experience and digital sales, while essentially overhauling its entire supply chain. The investments provide Target's customers with numerous fulfillment options, many of which revolve around its physical store locations.
"Our strategic plan includes significant investments in the physical infrastructure of our stores…because our stores will continue to be the key fulfillment node for our guests—whether that's a traditional store trip, a drive-up order, an in-store pickup order, a trip by a ship shopper or a traditional e-commerce purchase ship from a local Target store," says John Mulligan, Target's chief operating officer, during the retailer's second quarter earnings call.
In the last few years, Best Buy has also found success in that consumers want to touch and feel and look at the more technical products it offers, as well as confer with the retailer's in-store consultants.
"They embraced their sales force and their in-store associates to offer something you just can't get online," says Eric Lamphier, senior director, product management at Manhattan Associates.
Best Buy also leveraged its brick-and-mortar locations to its advantage by offering the right assortment of products, at the right price.
While Nike is not necessarily known for its physical locations, its focus on customization over the last few years is paying off. The footwear and apparel titan offers an online experience that allows consumers to personalize sneakers by color and style. Key to this innovation is that the personalized option is only available directly from Nike and cannot be found at other retail outlets.
"Target, Best Buy and Nike have all made aggressive investments over the last five years or more in order to stay relevant, stay competitive, stay interesting and retain or even grow their wallet share," Lamphier notes.
Some of the key attributes of their initiatives, he says, involved taking advantage of their physical locations by getting people into the store in a number of ways, including:
Supporting buy online, pickup in store to increase foot traffic
Supporting curbside delivery
Shipping product from stores to reduce the extreme peak season pain that was focused only on distribution centers
Delivering product faster and more efficiently by bringing the store and customer closer
"It's really flipping the Amazon advantage to make it your advantage," Lamphier adds.    
These wide range of investments have all revolved around three basic principles, which Maria Haggerty, CEO of Dotcom Distribution, says are essential for brands to keep pace with Amazon: 
Ease of purchase
Speed of delivery
Customer experience
"What Amazon has done is make shopping so easy," Haggerty explains. "When I think of something that I need, I go on Amazon. Brands need to be able to say, 'Maria, I know what you like, I know what you might like, and I'm going to make it easy for you.'"
In addition to its complete supply chain transformation, Target added a slew of creative fulfillment options. Part of making the shopping experience easier includes wall-to-wall remodels of approximately 1,000 stores over a three-year period; investments in employee training, wages and technological tools; and a constant drum of new and exclusive brands and merchandise.  
Responses to these investments so far have been positive, with the retailer reporting stronger-than-expected sales growth during its second quarter earnings call. Traffic to its stores and online sites grew at its fastest pace since the company began keeping a record in 2008, total sales were up 7 percent from 2017, and digital sales grew more than 40 percent in the second quarter.
And while e-commerce sales are a big part of its success, the store is central to Target's operation—and it's hard to argue with the numbers.
"Consumers continue to vote with their footsteps. The numbers tend to vary from week-to-week, but on any given day, 90 percent of retail sales were done in physical stores," says Brian Cornell, Target's chairman and CEO. "What you're seeing right now from a macro basis is well-run retailers that are winning have strong balance sheets that generate cash that they can invest back into their business."
Buy Anywhere, Get Anywhere
The ease of purchase ultimately comes down to giving the customer the ability to buy anywhere, get anywhere. That is the philosophy Brooks Brothers, the oldest clothing retailer in the United States, was striving for when it deployed Manhattan Active Omni to improve contact center operations and deliver a seamless omnichannel shopping experience for its customers worldwide.
Manhattan Active Omni marries order management and store fulfillment applications on a single platform providing Brooks Brothers associates with a 360-degree view of customer information and access to the company's full network of inventory.
"The genesis and the center of the relationship is making sure that wherever the customer engages with them—be it a mobile device, browser, store, call center and the like—that they can find the inventory regardless of its location in the supply chain. This, while making an accurate and profitable promise to the customer that they can get the product to them how they choose to get it," explains Lamphier.
Target, another Manhattan customer, has made significant investments in how the customer chooses to receive their merchandise. In December 2017, Target acquired Shipt, a same-day personal shopping service, which is now operating in more than 160 markets and serving more than 1,100 Target stores.
Target also implemented a new service in dense urban market stores called "delivery from store." With this service, guests pay a small fee at checkout and choose a time window later in the day when their shopping basket is delivered to their front door. This service is now available in 58 stores across five markets. The average basket size for this service is more than $200, the highest of any service the retailer provides, says Mulligan, Target's chief operating officer.
Additionally, to kick off the year, Target began offering "Drive-Up" in 50 stores, and at the end of the second quarter, it had expanded to more than 800 locations around the country.
"On top of these new services, we continue to see rapid growth and adoption of other digital fulfillment services, including restock, in-store pickup and, of course, shipping to our guest's front door," Mulligan adds.
Inventory Segregation
Consumers want their products faster than ever, and as new fulfillment models emerge to address that demand for immediacy, the pressure for retailers to facilitate a seamless buying experience, regardless of how the purchase takes place, is escalating.
"E-commerce and omnichannel facilities and strategies are no longer an interesting side project. They're no longer optional, and they can no longer afford to be delayed in any way. This is not a piloting and proof-of-concept mentality anymore," says Lamphier. "In our view, the best retailers are the ones that…have set a foundation. It's been built out, and they're integrating their systems and their processes and their building and their people and their inventory to make sure that they're going to be successful."
One of the biggest challenges that hinders omnichannel operations, though, is inventory segregation, where retailers have a separate pool of inventory that is isolated and dedicated for e-commerce channel activity.
"Quite often, step No. 1 is to figure out how to—both physically and systemically—merge those inventories together without disrupting the performance of either of those channels," Lamphier explains.
An inventory merge can lead to a number of benefits, including lowering your overall inventory carrying costs and reducing false shortages.
For example, when a retailer has two separate inventory pools, it may run out of a certain item SKU in one pool but have it in the other. This can result in a false shortage and the rejection of someone's order—either a store replenishment order or an e-commerce order—when the inventory really exists.
"Without omnichannel fulfillment, many retailers lose sales because they have inventory in one store, but not another. With visibility into all inventory, the retailer could have an item shipped from another store to fill the customer's order without losing the sale," adds John Richardson, Transportation Insight's vice president of supply chain analytics.
In fact, earlier this year, an IHL Group study found retailers are leaving roughly $1 trillion in consumers' pockets from stockouts. But with the right digital tools, the study notes that retailers can overcome this problem.
"Having a single enterprise order management system that supports inventory regardless of its location and channel for delivery is crucial in today's retail environment," IHL researchers wrote. "The enterprise order management solution needs to be smart enough to optimize the shipping for the greatest margin/sales opportunity. While one is more expensive on this sale, it avoids missing another sale by creating an out-of-stock."
Lamphier agrees, noting that while there is no singular blueprint or sequence that works for every single retailer, connecting all stores into an order management system should be a high priority. This allows the retailer to sell the network regardless of what channel the order originates and where the inventory may be.
"This is where the forward-thinking retailers have already taken these steps, and they're able to drive product to your home or your office very quickly because they're sourcing it from a nearby store," he adds." This gives them a competitive advantage or, at minimum, levels the playing field with respect to somebody like an Amazon."
Innovation in the Warehouse
For those forward-thinking retailers, however, the challenges don't stop with siloed inventory. The merging of traditional retail replenishment fulfillment with e-commerce fulfillment in a single distribution center or warehouse has led to an influx of automation. E-commerce is also influencing localized distribution centers, meaning warehouses become more numerous, but smaller, and brick-and-mortar stores become strategic distribution centers that can enable faster delivery via ship from store. In all, these trends mean today's distribution centers must welcome innovation in order to overcome the pressure to become more nimble, efficient and accurate.
"There's been a lot of automation in omnichannel and e-commerce distribution centers because of the very unique e-commerce order profile, which requires a lot of product touch and a much higher volume of smaller orders," explains Lamphier.
The typical e-commerce order has a profile very different than that of a traditional retail order. Retail orders are often quite large and take more time to assemble. Because they are being shipped from one store location to another, there is a certain amount of flexibility but not necessarily a need for stringent accuracy. On the flip side, every e-commerce order has a face, meaning there is a new sense of urgency to fulfill the service level promised.
While the major big box stores often have the resources to invest in their in-house distribution centers, other small- or mid-size retailers and e-commerce companies are turning to third-party logistics providers that offer customized solutions such as returns processing and storage.
Dotcom Distribution, a 3PL that specializes in e-commerce, B2B and multichannel order fulfillment, is focused on using analytics to help their customers understand what they're shipping, where it's going and how much they're willing to spend on transportation.
"Since we don't really control the physical part of the transportation, we're doing it all with analytics," explains Dotcom's Haggerty. "We have a software program that analyzes all of our clients' packages, looking at things like dimensional weight to determine if we are using the right cartons for the right size things."
Instead of receiving a tube of lipstick in a box big enough for a case of lipstick, Dotcom's program can cut costs by choosing smaller and lighter packaging material.
"Dimensional weight is a big thing because that really drives up your transportation costs," Haggerty adds.
The 3PL can also analyze what is more important—speed or cost—and determine the right carrier for the job.
"If they're running a big Halloween promotion, and somebody's sending Halloween costumes, speed is important on Oct. 29," explains Haggerty. "And if you need to get it there on Saturday, we're going to switch over to FedEx who will deliver on a Saturday, whereas UPS won't."
Analytics can also help Dotcom make better judgement calls on expedited shipping. For example, if a customer who lives in New York orders something with next-day shipping from its warehouse in New Jersey, the system knows you don't have to put it on a plane to still guarantee expedited shipping.
"It's really now about getting clever with how you use the data to get your packages there as quickly as possible," Haggerty says.
The e-commerce boom also provides an opportunity for 3PLs to leverage their infrastructure, offering small- to mid-size companies multi-client buildings where they receive the benefits of automation without having to pay for it.
"With e-commerce, you continue to get a lot more automation or mechanization brought into the distribution center to run those volumes through. The challenge is you need such a large annual volume to justify really sophisticated, high-end automation," explains David Caines, chief operating officer for Kenco Logistics Services, a family-owned and privately-held 3PL and supply chain management company.
 "You may not have 25 million packages a year, but if you've got 3 million, and you can consolidate with 15 or 18 other companies that are using the same infrastructure, you get the benefits of that automation, which is hard to pay for and cost justify when your volume is not at the top tier," he adds.
In addition to shared capital expenditures, Caines says this type of relationship could potentially delve into co-shipping.
Whether you outsource your distribution or bring it in-house, a few similar trends have emerged from within the e-commerce warehouse. Of note, the average warehouse management system (WMS) has become increasingly advanced, switching over to what Lamphier calls a "waveless strategy."
Instead of a warehouse associate having to curate and batch together a large set of orders to be processed in the distribution center, a waveless system has these capabilities built into its WMS and can automatically process the most urgent orders that make the most sense.
For example, if you promised an order with next-day delivery and it's already 4 p.m., the warehouse needs to work on that order very quickly. With a waveless system, that process occurs automatically, instead of waiting for a person to take action on it.
Manhattan Associates recently deployed what it calls "order streaming" in its WMS, which combines wave and waveless together, as well as a warehouse execution system that looks at the availability of all the automated equipment—including any robotics that may be in the facility—and of the people to streamline work into the building based on the availability of both the people and the robots.
The warehouse has also transitioned to a greater use of mobile handheld devices and wearable solutions to boost efficiency and accuracy.  Voice picking is particularly popular, evolving far from the days of Google Glass.
"It works by highlighting locations that have to be picked from, and allows the user to keep both hands free. It can also scan directly from the glasses," explains Kenco's Caines.
Technology has also moved to the wrist, transitioning away from hefty handheld devices to mobile devices like the Apple Watch.
"For decades, there was a large, heavy, key-laden device style that dominated warehouses," explains Lamphier. "Today's focus is based on touch screen apps that you use on your phone. We've…taken advantage of new hardware devices that are touch screen. They've eliminated all those keys, making the user experience much more elegant and intuitive. It also allows bringing on new people to support a growing business and shipping volume , especially during high-volume peak seasons."
Customer Experience
Companies that have a strong customer-centric philosophy and own their customer data and relationships are rewarded by consumers who become repeat purchasers and passionate brand advocates.
According to a consumer survey by the Ascendant Network, "Building Consumer Brand Infatuation: How Popular Retail and Travel Brands Are Crushing Customer Churn with Great Experiences," 40 percent of consumers say they are likely to buy more often from brands that prioritize the customer experience.
"Since Amazon has reset shoppers' expectations, an obsessive customer focus built on the timeless principles that a shopping experience with Amazon embodies will help retailers compete with Amazon. Retailers must provide convenience, speed, price and selection," says Transportation Insight's Moore.
Transportation Insight's Richardson adds that "the best experience is going to include having the product they want, when they want it, at a competitive price, with information available to make an informed decision and the delivery mechanism they want to use."
Now more than ever, it's about delivering more than a product, but rather a brand experience. And whether that sale takes place in store or online, the brand experience should be the same.
"Brands are realizing and people are realizing there is still this element of a good social experience. Consumers like going into the store and interacting live with the product, but they also want the convenience of not having to go to the store. And if you're going to do that, you have to make sure that you don't walk into the Marc Jacobs store and have this absolutely phenomenal experience, and then when you buy that $3,000 bag, it shows up at your door in a brown box," explains Haggerty. "You want to feel that same experience, so you have to connect them."
Manhattan's Lamphier points out that this connection is especially important for mid-size and specialty retailers that often are selling something you want but don't necessarily need.
"It's just a very pleasing kind of experience where you feel more valued as a consumer. Retailers really want to create that strong bond with a customer or make it really personal and valuable for both parties," he says.
One way Manhattan customers are able to do that is through its call center, which provides retailers with a single source for all customer transactions. So no matter where the customer shopped, whether it's a brick-and-mortar store or online, each one of their transactions is fused together into one application that can support returns, discounts, promotions and more.
"The contact center app and all the intelligence it pulls together is a great step in the direction of a unified customer-centric experience," Lamphier notes, adding, "So many of the retailers today and businesses of all kinds, have fallen under this overgeneralized focus of customer centricity—whatever the customer wants, we're focused on offering great selection, great quality and timely delivery of products that are going to delight the customer. And, if that's the singular mission of the enterprise, then you're off to a good start."
Follow Amy Wunderlin on Twitter.