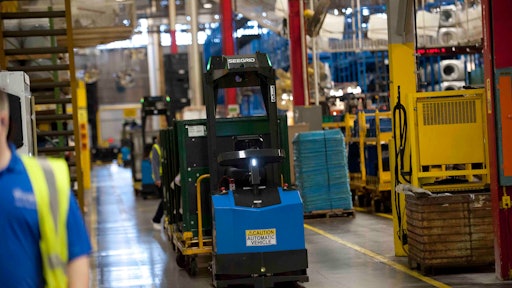 In April, Seegrid announced that its self-driving vehicles reached 1 million production miles at customer sites without a single personnel safety incident. The milestone is significant, and Seegrid's vision guided vehicles (VGVs) have now logged more infrastructure-free miles at customer sites than any other infrastructure-free AGV company.
The company's VGVs can be found in some of the largest manufacturing and distribution companies in the world, including Amazon, General Motors, Whirlpool and Boeing.
But, how are humans adapting to an increasingly automated warehouse? According to a senior supply chain executive at Giant Eagle, "Seegrid self-driving vehicles have reduced the number of miles driven by the team members who work in our retail support centers, allowing us to redeploy our folks to more value-added roles while improving overall safety."
Removing humans from assembly lines and repetitive tasks and assigning them to more value-added roles is undeniably a positive outcome of increased automation. However, humans are not always receptive to change, even when the results are positive.
Seegrid notes in its e-book, 5 Steps On Your Journey Toward Industry 4.0, that "Introducing new technology can be disruptive; upending the status quo is always challenging for business and their employees." Yet for manufacturers, "The idea of the smart factory of the future is quickly becoming a reality, and even those hesitant to embrace these advancement are finding it hard to ignore. As we advance steadily toward Industry 4.0, companies should prepare to redefine how they approach materials handling."
At the same time, with regards to the Industry 4.0 lifecycle, Seegrid emphasizes that, "Before real change can happen, employees must be sold on the true value that new technologies can provide…the technologies must prove they can make significant improvements in efficiency and predictability."
Seegrid concludes in its e-book that the future will be marked by, "Self-driving vehicles working side by side with human employees, and plant managers staying up to date with reports and dashboards that monitor, control and optimize their operations."
Jeff Christensen, vice president, product, at Seegrid, met with the Supply & Demand Chain Executive (SDCE) team during MODEX last month in Atlanta. The discussion included the safety aspect of humans co-existing with automation. When asked how the company's VGVs managed to exceed 1 million miles without a single safety incident, he explained that, "First, you have to make safety the No. 1 requirement with regards to product development." The next requirement he said is to "surpass industry standards."
Of course, adequate training is another key ingredient for safety, particularly when humans and autonomous vehicles or robots are working in close proximity to one another.
Derek Byrd, marketing and inside sales manager at Evans Distribution Systems, says that aside from exercising common sense, training is essential. He acknowledges that "anytime you have humans and machinery operating in close quarters there is the potential for injury." Nonetheless, he adds, "A lot of stuff can be avoided with the right training."