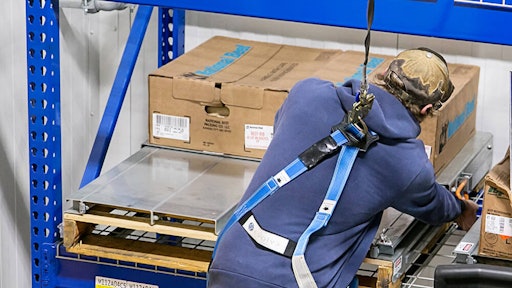 A safe working culture is always a hot topic among supply chain professionals. But is it possible to bridge the gap between safety and operations?
"Everybody wants to make (their facilities) the safest place possible, but you're going to look to justify a return on investment," says Brian Neuwirth, vice president of sales and marketing at UNEX Manufacturing, Inc., an innovative provider of order picking and carton flow solutions that maximize space usage, increase pick rates and improve ergonomics at the point of pick. "It's about finding the balance, and ultimately designing a system that's going to make you efficient without justifying people's safety."
The Occupational Safety and Health Administration (OSHA), which regulates safety in American warehouses through a series of standards, reports that that since the administration began in 1970, the amount of occupational deaths has been cut by 62 percent, and workplace injuries have declined by 42 percent.
However, the fatal injury rate for the manufacturing industry was at its highest point in 2015 since 2008, rising from 349 fatalities in 2014 to 353 in 2015. OSHA reports 4,836 workers in total were killed on the job in 2015. (The most recent census date on occupational injuries was collected in 2015 and released by the Bureau of Labor Statistics on Dec. 16, 2016).
So how do we achieve what might seem impossible—the goal of zero workplace deaths or injuries while maintaining an efficient and profitable business? Prevention—as well as a little investment—is key, and that begins with implementing a safe workplace culture.
According to Jonathan Jacobi, a senior environment, health and safety adviser for UL EHS Sustainability, a provider of safety training and employee health management supply solutions, at its core, workplace health and safety is made up of four essential parts. They include:
Culture—the values, assumptions, norms, and everyday behaviors of an organization's people.
Compliance—meeting mandated regulatory standards.
Risk Management—processes to better identify risk and to control exposures.
Governance—establishing controls by which an organization can validate and ensure compliance standards and policies.
"To truly create lasting change, organizations must create an environment in which safety is more than just a box to be checked, but is an attitude that makes up the very foundation of the company and is upheld by everyone from front line workers to senior management," says Jacobi.
"Safe workplaces are created when workers make good decisions. But, workers need good information in order to make good decisions," he adds, noting a systems approach to training is often best as it ensures a continual stream of current and contextually-rich information when and where it is needed. And when workers are well-informed, they become "dynamically-adaptive, productive workers," resulting in gains that offset resources invested.
Jacobi believes "organizations that do not embrace a systems approach to training have a lot of knowledge, productivity and safety performance to lose."
Ergonomics
Each year, OSHA releases a list of the top 10 most frequently cited violations. And though these violations result in numerous injuries—and even deaths—poor ergonomics, which OSHA does not have a standard for, might be the most impactful cause of injury in the workplace.
Back injuries and other soft tissue manual material handling injuries caused by poor ergonomics can have adverse effects on both the operations and finances because they affect an employee's ability to efficiently do their job and may even keep them from the job if severe enough.
"Frequent citation or not, it is in an employer's best interest to address the causes of ergonomic injuries," says Jacobi. "Well-considered investments in ergonomics almost always result in a safer and more productive working environment."
UNEX's Neuwirth agrees that there is a direct correlation between a safe workplace and higher productivity, which means happier employees and higher profits.
"Ultimately, workplace injuries are going to cost you because it's not just timeout, but you're also replacing people with staff that have to be trained," Neuwirth says. "There are a lot of costs associated with workplace injuries beyond just the actual injury; it trickles over onto operations."
Using OSHA's Safety Pays calculator, Jacobi was able to determine how much an injury costs and the amount of sales needed to cover that cost. For example, one strain can cost a company more than $67,000. If your company has a profit margin of 5 percent, you need sales of more than $1.3 million to pay for that single injury.
Neuwirth emphasizes that though the cost of injury in the warehouse outweighs the cost of investing in safety equipment, it is a discipline that not all companies have.
"Order picking is one of the most costly activates from an operating stand point, and your workforce and labor is the driving cost of that. A safe workplace is something that is going to boost overall productivity… so you want to make sure you're people are working happily, they're working safely, they're working efficiently, and that all goes hand in hand," says Neuwirth.
UNEX Manufacturing makes ergonomically sound equipment for distribution centers, warehouses and automotive assembly operations. Their storage equipment removes items from aisles, so workers won't trip over them, and a product called the Pick-Plank ergonomically eases picking from pallets.
The manufacturer's most popular solution is its carton flow and pick tray that not only keeps the workstation neat and orderly, but keeps important parts and products at the point of pick, eliminating excessive reaching that can result in strain or injury. Carton flow keeps product rotating, so they are loaded from the back and picked from the front. It allows operators to always have something in that first location, which not only prevents injury but improves overall efficiency because they don't have to take the time to access product that is further away.
"What we see a lot are people who are trying to improve the ergonomics of order picking as far as reaching and bending. This is associated with accessing product that is bulky or just not easy to grab. It all comes down to the ergonomics of actually picking and fulfilling the order," Neuwirth explains.
He says when UNEX works with clients to find a solution, they are asking, 'how do we position products in a way that it becomes the most easily accessible?' The core of our products keeps the product at the pick point, which is right in that first location, so operators don't have to go into the rack; they never have to access product from the back of the shelf."
In addition to investing in ergonomically designed solutions, Jacobi says many employers establish lifting limits for manual material handling. With these limits in mind, heavy lifts can be performed with the mechanical assistance of a fork lift, manual lifts may be performed as a team, and workers can be placed appropriately according to job demands.
"Knowing what needs to be lifted helps determine safe storage and picking positions. Employers can opt for self-leveling lift tables, keeping bins at a biomechanically advantageous waist level, and heaviest items can be placed on middle shelves, so workers will not need to stoop or reach to pick parts," Jacobi says.
Other Costly Injuries
Improving ergonomics in the warehouse will go a long way in not only improving the safety of your employees but saving you the costs associated with injuries. But not all workplace injuries are so easily prevented. Forklifts are the second leading cause of machine-related death in the workplace, with struck-by and tip-over accidents most prominent. OSHA estimates 100 people die, 95,000 are injured, and 20,000 are seriously injured by forklifts each year in the United States, resulting in an average of 60 lost workdays incurred per incident (9x the average for all other injuries).
According to Jacobi, one of the reason's forklifts are so dangerous is because of the differing perspectives on who should have right of way (who yields to whom)—pedestrians of forklift operators?
"Until recently, there was no any language that clearly specified which party should have right of way. The 1969 forklift consensus standard that OSHA references just says to stay out of the way of ambulances, fire truck and other vehicles in emergency situations," he says.
An updated 2015 version of the American National Standards Institute (ANSI) rule provided simplified guidance, stating lift operators should "yield the right of way to pedestrians and emergency vehicles such as ambulances and fire trucks."
"The message is and always has been the same: separate forklifts and pedestrians. People are vulnerable relative to industrial vehicles, and people generally have the right of way in plant settings, just as they would on public streets. Things usually play out this way in jury trials where negligence lands on forklift operators more times than not," explains Jacobi, citing a forklift accident in August 2015 that resulted in $15.2 million in relief to a worker whose foot was seriously injured when he was struck and run over by a forklift at a trade show in Chicago.
The forklift operator worked for the show's organizer who was breaking down booths, and the injured party was representing an exhibitor at the show. OSHA citations totaling $91,000 were issued for failing to ensure driver training, failing to ensure safe clearances for forklift operations, failing to train drivers on specific issues related to pedestrians present, and other related issues. The prosecution called attention to the weight of the lift (58,000 pounds) and entered testimony from witnesses alleging that the driver did not keep a clear view of his path and did not maintain a proper lookout or spotter.
"There has been a lot of regulatory focus on forklift operators, yet frequency and severity remain relatively high in comparison to other industry exposures," Jacobi notes. "Maybe regulators have been focused on the wrong thing? Maybe forklift operators are not solely to blame when workers are struck by forklifts?
"There is no standard that speaks to the responsibility of pedestrians," he adds. "Leading companies preach mutual responsibility or 'safety is everyone's responsibility' and educate about the severity of forklift incidents, lift and operator limitations, and how to establish intentions through eye contact and hand signals."
One industry leader taking notice of how dangerous operating a forklift can be is the Raymond Corp. The forklift manufacturer is taking safety to the next level with its virtual reality (VR) training, which it introduced last month during ProMat 2017 in Chicago.
The VR headset allows new operators to use a Raymond forklift truck in simulation mode for an enhanced training experience that mimics the movement and feel of operating a forklift in the warehouse while using the truck's actual controls.
Used as a supplemental training tool, new forklift operators are able to become more comfortable with the vehicle and its controls before operating it within the actual warehouse environment.
Though similar VR training tools are available, Raymond's innovative technology stands apart because it can be plugged directly into the actual Raymond forklift the operator will use on the job.
Also common in the warehouse environment are violations related to powered conveyor systems, hazard communication, electrical safety and respiratory protection.
Jacobi says citations often are issued for failure to properly guard in-running nip points and in places where workers might become entangled or drawn into conveyor rollers. Conveyor systems may jam because of misaligned product or pallet, damaged pallet and a variety of other reasons. Clearing some jams will require work done under provisions for hazardous energy control (lockout/tagout).
"A fantastic lockout/tagout program may seem like the goal," Jacobi adds, but "properly selecting, installing, operating and maintaining automated systems will result in lessened needs to be up close and personal with equipment (lockout/tagout required)."
In regards to all safety measures, proper preventative maintenance involves planned downtime with minimal impact to production. Unplanned maintenance because of an injury causes larger operational upsets, making risky high-pressure shortcuts a very understandable temptation.