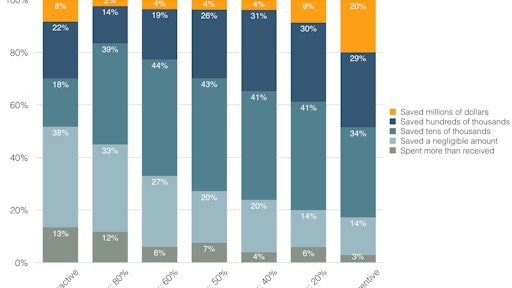 A recent study that surveyed 1,000 maintenance professionals found groundbreaking return on investment (ROI) statistics from maintenance teams across a variety of industries that affect supply chains across the globe. The 2017 State of CMMS Report, by Maintenance Connection, dives deeply into the components of a well-designed maintenance management process and includes data on which factors have the largest impact. The report also gives a snapshot of how facilities are performing today, and offers suggestions for how to improve and strengthen maintenance procedures.
Preventive Maintenance: Big Savings on Both Time and Budgets
The report shows that the facilities who implement preventive maintenance schedules can expect to see the highest ROI. In fact, facilities that had a 50 percent or greater preventive maintenance ratio saved tens of thousands to millions of dollars in addition to experiencing less operational downtime and improved labor efficiency.
Some of the study's key findings include:
Satisfaction improves as more service requests are configured in a Computerized Maintenance Management System (CMMS). Sixty-four precent of facilities that configure most work orders in a CMMS report strong improvements in service satisfaction.
Equipment life increases as more assets are configured using Enterprise Asset Management Systems (EAM). Seventy-eight percent of facilities that configure most of their assets in an EAM report strong improvements in equipment lifetime.
Parts availability and time-to-fix improves with integrated parts inventory. Sixty-seven percent of facilities that have most of their spare parts managed in a CMMS report strong improvements to parts availability and time-to-fix.
Key Correlations
The report offers key insights into several correlations between factors, such as the number of assets a facility is responsible for versus the number of work orders processed per month. Several trends are revealed in the findings using facilities' data, including the industries that typically operate with lean maintenance staffs, and how lean teams affect productivity and downtime.
Other key correlations include the impact to time and costs that are realized when maintenance employees use a mobile maintenance management tool. Those with a greater number of personnel using a mobile CMMS reported greater improvements in labor efficiency. Regarding inventory management, managing spare parts inventory in the software directly impacted time to fix. It will probably come as no surprise that 85 percent of organizations that have all inventory managed in their CMMS realized "strong" or "maximum" benefits of improved parts availability and time to fix.
In day-to-day maintenance management, have you factored in major cost and time saving components like work order tracking, preventive maintenance, asset management and more? If the answer is no, your bottom line is suffering, and it's time to consider a better maintenance management strategy.