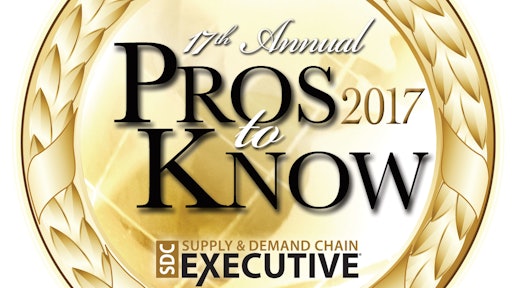 Supply & Demand Chain Executive, the executive's user manual for successful supply and demand chain transformation, is pleased to announce the 17th annual listing of Pros to Know in the supply chain industry.
The annual award recognizes Provider Pros and Practitioner Pros, including teams. The Provider Pros to Know is a listing of individuals from a software firm or service provider, consultancy or academia who helped their supply chain clients or the supply chain community at large prepare to meet the significant challenges in the year ahead. This year's list includes nearly 200 qualified Pros to Know.
The Practitioner Pros to Know is a listing of exceptional corporate executives at manufacturing and non-manufacturing enterprises who are leading initiatives to help prepare their companies' supply chains for the significant challenges in the year ahead.
This year's Practitioner Pros to Know list also includes recognition of three supply chain teams.
"Supply & Demand Chain Executive congratulates the 2017 Pros to Know recipients for their achievements," said Ronnie Garrett, editor of Supply & Demand Chain Executive. "Their accomplishments offer a roadmap for other leaders looking to leverage the supply chain for competitive advantage. Their efforts in developing the tools, processes and a knowledge base for supply chain transformation, as well as in promoting new approaches to supply chain enablement, earned these individuals a rightful place in this year's Pros to Know."
The March issue of Supply & Demand Chain Executive will feature more detail on many of these honorees, including the name of the Pro of the Year. Here are this year's winners.
Provider Pros to Know
Mitch Weseley, 3Gtms
Mike Ulreich, 4SIGHT Supply Chain Group
Paul de Guingand, Adjuno
Trevor Read, Agistix
Lisa Dolan, ALOM
Hannah Kain, ALOM
Rick Mizzo, ALOM
Jim Preuninger, Amber Road
Jim Briles, American Global Logistics
Blake Shumate, American Global Logistics
Joseph Tillman, American Productivity & Quality Center (APQC)
Wenxiang Ma, Arena Solutions
Peter Murphy, Arkieva
Tim Kolbus, Arrow Electronics
Brian Glahn, Atlantix Global Systems
Richard Burton, AVATA UK Ltd.
Gene Averill, Avercast LLC
Gerrit de Haas, Avnet Inc.
Yael Shloush,

Avnet Inc.

Don Zhao, Azoya International
Kevin Hoyle, B2BGateway
Brian Harvey, Barcoding Inc.
Eric Wilson, Basware
Morgan Griffin, Baxter Planning Systems
David Marshall,

Baxter Planning Systems

Kimberlin Marston,

Baxter Planning Systems

Tara Buchler, BluJay Solutions
John Hamelink,

BluJay Solutions

Rod Daugherty, Blue Ridge
Greg White,

Blue Ridge

Jake Barr, BlueWorld Supply Chain Consulting
Daniel Stanton, Bradley University
Ivaylo Iliev, B-Stock Solutions
Ed Burns, Burns Logistics Solutions Inc.
Nicholas Couture, C3 Solutions
Abtin Hamidi, Cargo Chief
Colby Beland, CaseStack
Tim Chiu, CBX Software
David Clark, Celestica Inc.
Curt Cote, Censeo Consulting Group
Kelly Hahn,

Censeo Consulting Group

Aram Mazmanian,

Censeo Consulting Group

Kerry Rosenhagen, Chainalytics
Steve Thrift,

Chainalytics

Jonathan Whitaker,

Chainalytics

William (Bill) Mrzlak, ChainSequence Inc.
Natalya Berdzeni, Chase Cost Management, an LAC Group Company
Bruce Bleikamp, Cimcorp
Don Heelis,

Cimcorp

Derek Rickard,

Cimcorp

Adam Compain, ClearMetal Inc.
David Landau, Cloud Logistics
Mark Nix,

Cloud Logistics

Patrick Nemeth, Comprehensive Logistics Company Inc.
Dave Lindeen, Corcentric
Dustin Cochran, Corporate United
Matt Narens,

Corporate United

Katie Virtue,

Corporate United

Jeff Silver, Coyote Logistics
Jon Kirkegaard, DCRA Inc.
Bill Harrison, Demand Management Inc.
Peter Edlund, DiCentral
Chris Castaldi, DMW&H
Jim Huston, DMW&H
Michael Roe, DMW&H
Ann Drake, DSC Logistics
Michael Farlekas, E2open
Doug Waggoner, Echo Global Logistics
Ian Bolger, Efficio Limited
James Jenkinson,

Efficio

Limited
Alex Klein,

Efficio

Limited
Cindi Hane, Elemica
Sergio Juarez,

Elemica

Ed Rusch,

Elemica

Joel Garcia, enVista
Craig McCollum, Epicor Software Corporation
Sam Mikles, Flash Global
Karl Siebrecht, FLEXE
Dean Wiltse, FoodLogiQ
Brad Anderson, Fortna Inc.
Seth Conrad,

Fortna Inc.

Mathew Elenjickal, FourKites
Jamie Ogilvie-Smals, GEP
Chris Luoma, Global Healthcare Exchange (GHX)
Peter Nelson,

Global Healthcare Exchange (GHX

)
Sergio Retamal, Global4PL Supply Chain Services
Robert A. Rudzki, Greybeard Advisors LLC
Jeff Wehner, Haven Inc.
Mike Perez, HH Global
Jon Kuerschner, HighJump
Bill Leedale, IFS
Doug Fair, InfinityQS International Inc.
Ayman Labib, Invata Intralogistics
Sherri Hammons, IQNavigator
Tim Frank, IronDirect
Brooks Noonan, itelligence
Robert Bonavito, JAGGAER
Zia Zahiri,

JAGGAER

Annemarie Omrod, John Galt Solutions
Keith Whaley, JustEnough Software
James V. Kelly, JVKellyGroup Inc.
Madhav Durbha, Ph.D., Kinaxis
Jay Harris, Komar Distribution Services
Dan Clark, Kuebix
Tom Flynn, Lavante Inc.
Doug Markle, Lavante Inc.
Allison Fowler, LLamasoft Inc.
Carlos Valderrama, LLamasoft Inc.
Jim Wilson, LLamasoft Inc.
Diego Pantoja-Navajas, LogFire
Mark A. Balte, Logility
Allan Dow,

Logility

Donald L. Thomas,

Logility

Mark Millar, M Power Associates Limited
Kimberly Ross, Ph.D., Manhattan Associates
Todd Ericksrud, MatchBack Systems Inc.
Bo Hagler, MFG.com
John Heffernan, ModusLink
Anne Kohler, The Mpower Group
Kim Lunte, NeoGrid
Glenn Master, Newgistics
Michael Weiss, Oildex, a Service of Transzap Inc.
Mark Perera, Old St Labs
Akhil Oltikar, Omnics Inc.
Greg Ferraro, OmniTRAX Inc.
Jan Malasek, OnDemand Resources
Bilal Shahabuddin, Pace Harmon
Joy Sim,

Pace Harmon

Andrew Wisenberg,

Pace Harmon

Donald J. Hoeppner, Paladin Associates Inc.
William Salter, Paragon Software Systems
Dan Grant, Prime Advantage
Mike McDonald,

Prime Advantage

Sheila O'Sullivan,

Prime Advantage

Tim Anthony, PrimeRevenue Inc.
Philip Ideson, ProcureChange/Art of Procurement
Tania Seary, Procurious
Tommy Barnes, project44
Jett McCandless,

project44

Tony Abel, Protiviti
John Costanzo, Purolator International
Luc Janssen, QAD Inc.
Leon Turetsky, QuestaWeb Inc.
Peter Shin, Quintiq, a Dassault Systèmes Company
James H. Gellert, Rapid Ratings International
Frank Locascio, RateLinx
Shannon Vaillancourt,

RateLinx

Michael Falck, RELEX Solutions
Mark Krupnik, Ph.D., Retalon
Marie Colbert, REZ-1
Bill DeMartino, riskmethods Inc.
Robert E. Rich, III, ROAR Logistics Inc.
Will Johnson, Ryder System Inc.
Hans Thalbauer, SAP
Tony Harris, SAP Ariba
Jon Stevens,

SAP Ariba

Padmini Ranganathan,

SAP Ariba

Bill Nulty, Ph.D., Scientific Logistics
Sal Fateen, Seizmic Inc.
Jim Kandilas, The Shelby Group
Michael Kuebler, Smithers Pira
Sean Riley, Software AG
Jess Kraus, Source Intelligence
Steven Belli, Source One Management Services LLC
Diego De la Garza,

Source One Management Services LLC

Torey Guingrich,

Source One Management Services LLC

Brian Broadhurst, Spend Management Experts
John Haber,

Spend Management Experts

Bekki Windsperger, SPS Commerce
Lisa Aleman, Steelwedge
Glenn Jones, Steelwedge
Andrew McCall, Steelwedge
John Maher, Synchrono
Tony Dobson, Synergy North America Inc.
Anthony Allwood, Systems Logic
Matthew Lekstutis, Tata Consultancy Services (TCS)
Stephany Lapierre, tealbook
Doug Niemeyer, TEKLYNX International
Tom Poduch, Transervice Logistics Inc.
Mark McEntire, Transplace
Rick Brumett, Transportation Insight
Charles Moore,

Transportation Insight

Andy Recard, TZA
Howard McIlvaine, Unex Manufacturing
Peter Bromley, United Parcel Service (UPS)
Andrew Lynch, Zipline Logistics
Practitioner Pros to Know
Sean Smith, Agropur
Dave Quillin, Alliant Credit Union
Rick Meyer, Badcock Home Furniture
Santos Carrillo, Brightstar Corporation
Jordan Downs, Central Garden & Pet Company
Abul Hasan Muhammad Shahadat Ullah, Coats Bangladesh
Erik Sternisha, Cushman & Wakefield
Steve Schuman, DG3
Paul Romano, Fusion Worldwide
Rob Brown, Linde
Andrea Atwell, L'Oréal
Pratik Attray, Motocare India Private Limited
Terry Boe, Multi-Tech Systems Inc.
Kunal Thakkar, Newegg Inc.
Bobby Burg, Southern Glazer's Wine and Spirits
Joseph A. Fassano, SPI Pharma
Vince Aisthorpe, Stanwell Corporation
Shaun Black, SunTerra Chicago
James Bleyer, Tempur Sealy International (TSI)
Ben Madden, Tradiv Inc.
Michael Cygan, True Value Company
Angie Taylor, Vista Outdoor Inc.
Team Practitioner Pros to Know
Celestica Inc.

Lockheed Martin