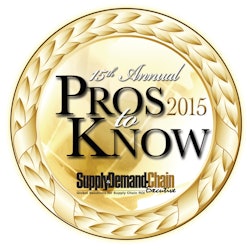 Supply & Demand Chain Executive, the executive's user manual for successful supply and demand chain transformation, is pleased to announce the 15th annual listing of Pros to Know in the Supply Chain industry.
Supply & Demand Chain Executive recognizes Provider Pros and Practitioner Pros (including Teams). The Provider Pros to Know is a listing of individuals from a software firm or service provider, consultancy or academia who have helped their Supply Chain clients or the Supply Chain community at large prepare to meet the significant challenges in the year ahead. This year's list includes more than 200 Provider Pros to Know.
The Practitioner Pros to Know is a listing of exceptional corporate executives at manufacturing and non-manufacturing enterprises who are leading initiatives to help prepare their companies' supply chains for the significant challenges in the year ahead. This year's Practitioner Pros to Know list also includes recognition of three Supply Chain teams.
Supply Chain is increasingly recognized as a strategic differentiator for leading small, medium and large enterprises, and Supply Chain leaders have become crucial to the success of the enterprise in meeting the challenges of what truthfully has been called a turbulent economy. And that's the purpose of the Pros to Know awards. These outstanding executives and their accomplishments offer a roadmap for other leaders looking to leverage Supply Chain for competitive advantage. Their efforts in developing the tools, processes and knowledge base necessary for Supply Chain transformation, and in promoting new approaches to supply chain enablement, have earned them a place on this year's Pros listing.
Supply & Demand Chain Executive issued a call for Pros to Know nominations in Fall of 2014. Beginning in January, the magazine's editorial selection committee culled through more than 300 submissions to find the applicants that best fit the criteria.
The March issue of Supply & Demand Chain Executive will feature more detail on many of these honorees, including the name of the Pro of the Year. Here are this year's winners.
Provider Pros to Know
John DiPalo, Acsis; Daryl Fullerton, Actian Corp.; Jim Phelps, Aegis Strategies; Trevor Read, Agistix; Jaymie Forrest, Alexander Prodfoot; Hannah Kain, Alom; Stephanie J. Miles and Nathan Pieri, Amber Road; Jim Briles, Chad Rosenberg and Blake Shumate, American Global Logistics; Steve Chalgren, Arena Solutions; James Marland, Ariba, an SAP Company; Bill Michels, Aripart Consulting; Gene Averill and Joe Averill, Avercast; Mike Buseman, Avnet; Martin Jack, Barcoding Inc.; Esa Tihila, Basware; Dawn Anderson, Chris Heywood and Lisa Primrose, Baxter Planning Systems; Marc Kalman, BizSlate; Rod Daugherty, John Moffitt and Greg White, Blue Ridge; Howard Rosenberg, B-Stock Solutions; Kelly Barner, Buyers Meeting Point; Colby Beland, CaseStack; Don Pesek, Cass Information Systems; Tim Chiu, CBX Software; Erwin Hermans, Celestica; Curtis Cote, Brian Fischbeck and Derrick Moreira, Censeo Consulting Group; Tom Cisewski, Jonathan Eaton and Ben YoKell, Chainalytics; Derek Rickard, Cimcorp; Dan Brunner, Ian Hobkirk and John Neblett, Commonwealth Supply Chain Advisors; Trey Lyda and Steve Olender, Comprehensive Logistics; Kevin V. Cox, ConnectShip; Dave Lindeen, Corecentric; Ara Arslanian, David Clevenger and Andrea Morton, Corporate United; Jeff Silver, Coyote Logistics; Roger Blumberg, Patrick Grady and William Kohnen, Deem; Bill Harrison, Demand Solutions; Marrena Anderson, T. Grant Dearborn and Lauren Gallagher, Denali Group; Peter Edlund and Thuy Mai, DiCentral; Ann Drake, DSC Logistics; Brian Savage, DSSI; Geoff Annesley, Pawan Joshi and Steve Lykken, E2open; Sanjiv Bhatia, Brad Delizia and Arun Samuga, Elemica; William Gindlesperger, eLynxx Solutions;
Jim Monkmeyer, England Logistics; Gavin Murphy and Rahul Singh, Entercoms; Doug Kahl, Mike Rader and John Stitz, enVista; Donna Troy, Epicor Software; Jeff Sovelove, eZCom Software; Stacy Kannawin and Greg Puckett, 4Sight Supply Chain Group; Marc Austin, Russell D. Meller and John A. White III, Fortna; Zvi Schreiber, Freightos; Kirit Goyal, Gazelle Information Technologies; Santosh Niar, GEP; Tina Vatanka Murphy, GHX; Sergio Retamal, Global4PL; Robert A. Rudzki, Greybeard Advisors; Sean Feeney, GT Nexus; Roger Layette, Douglas Markle and Grant Watling, HICX Solutions; Dan Radunz, HighJump Software; Brett Schemerhorn, Hyster; Tim Conroy and Nadeem Ellahi, IBS; Matt Smith, icix; Laura Hodges, Rory King, Katie Tamblin and Mark Ulmer, IHS; Martyn Gill and Michael Lyle, InfinityQS International; Nick Pellegrino, Inmar; Jeff Karrenbauer, Insight Inc.; Tom Beaty, Brett H. Eiland and Jacob Wojcik, Insight Sourcing Group; Jeff McCauley, Claudio Marques and James Meares, Integration Point; John Allen and Paul Crinks, International Asset Systems; Brian Miller, Intesource; Padman Ramankutty, Intrigo Systems; Ryan Sheehan, Invata Intralogistics; Brian Hoffmeyer, IQNavigator; Melissa Drew, isoftstone Inc.; Stephen Durston, Jamaica Bearings Group; Fabrizio Brasca, Anand Medepalli and Adeel Najmi, JDA Software; Anne Omrod, John Galt Solutions; Chris Jones, Junction Solutions; James V. Kelly, JVKellyGroup; Michael Allinder and Celeste Catano, Kewell; Manik Sharma, Kinaxis; Rob Barrett, KPMG; Robert Martichenko, LeanCor Supply Chain Group; Jason Nurmi, LeanLogistics; Mike Detampel and Neelima Ramaraju, LLamasoft; Diego Pantoja-Navajas, LogFire; David Pennino, LogicSource; Mike Edenfield, Logility; Scott Fenwick and Michael Mulqueen, Manhattan Associates;
Russ King and David Rhodes, MEBC; Dave Bowen and Jill Ivancich, MM4; Anne M. Kohler and Dalip Raheja, The Mpower Group; Joseph K. Gallick, National Lease; Gavin Davidson, NetSuite; Paul Gettings, Network Global Logistics; Mark Burstein, NGC Software; Daniel Clarahan and Michael Williams, NeoGrid; Charles Dominick, Next Level Purchasing; Steve Keegan, Melanie Prestridge and Craig Wright, Pace Harmon; Matt Yearling, PINC Solutions; Yves Provencher, PIT Group; Thomas Dieringer, Pool4Tool; Dan Grant, Mike McDonald and Sheila O'Sullivan, Prime Advantage; Aman Mann, Procurify; Meredith Marshall, Puridiom; John Costanzo, Purolator International; Pam Lopker, QAD; Victor Allis, Quintiq; Rose Kelly-Falls, Rapid Ratings; Arturo Hinojosa and Alex Ramirez, Reddwerks; Jim Lawton, Rethink Robotics; Heiko Schwartz, Riskmethods; Charles Clark, Hugh Cox and Jeff Sweetman, Rosslyn Analytics; Cliff Otto, Saddle Creek Logistics; Ronald D. Southard, SafeSourcing; Sanish Mondkar, SAP; Dan Swartwood, Satellite Logistics Group; Ole Nielsen, Scanmarket North America; Jeremy Becker, SciQuest; Mitchell Weiss, Seegrid Corp.; Aggie Hanczewski, Constantine Limberakis and Patrick Stakenas, Selectica; James Kandilas, The Shelby Group; Omer Abdullah, The Smart Cube; Sean Riley, Software AG; Brad Carlson, Michael Croasdale and Martin Przeworski, Source One Management Services; Dawn Tiura Evans, Sarah Holliman and Mary Zampino, Sourcing Interests Group; Joe Humm, Sparta Systems; John Haber and Paul Steiner, Spend Management Experts; Edward Lewis and Pervinder Johar, Steelwedge Software; Amanda Bohl, Supply Vision; Joey Benadretti, SYSPRO USA; Robert F. Byrne, Terra Technology; Tom Mann, TrakLok; Troy Ryley, Transplace; Eric Lail, Transportation Insight; Dennis Groseclose, TransVoyant; Scott Nelson, Trax Technologies; Geoff Bastow, UPS; Ronald Chang, UPS Capital; Perry F. Rotella, Verisk Analytics; Dan Labell, Westfalia Technologies; Paul Hendrikse, W&H Systems; John Dillon and Randy Marble, Wynright Corp.; and Gonzague de Thieulloy, Xchanging Procurement.
Practitioner Pros to Know
Josh Lankford, Advance Auto Parts; Sean Smith, Agropur; Kevin Hoyle, B2B Gateway; Jake Barr, BlueWorld Supply Chain Consulting; Nancy Jorgensen, Brunswick; Tom Flies, Cadec Global; Sean Fitzpatrick, Cardinal Health; Jacqueline E. Bailey, Cargill Inc.; Edna Conway, Cisco Systems; Joanna Martinez, Cushman & Wakefield; Steven Schuman, dg3; Louis A. Galczynski, Endo Pharmaceuticals; James Gavin McCarthy, Equifax; Keith Nash, Lennox Industries; Francois d'Ivernois, LiveSource; William Duty, Momentive Performance Materials; Kunal Thakkar, Newegg; John P. Willi, NYU Langone Medical Center; Richard D. Slack, Oildex; Michael Morris, Owens Corning; Rebecca Karp; Sourcing Synergies; David Medlin, Target Corp.; Eric Wilson, Tempur & Sealy; Rick Morris, Thrive Technologies; Celeste Aarons-Jenkins, Tiffany's & Co.; J. Carlos P. Villasenor, TransProcure Corp.; Pat DeSutter, Yale Materials Handling; and Jason East, YP.
Team Pros to Know
Armada and ExtenData.