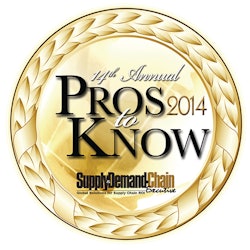 Supply & Demand Chain Executive, the executive's user manual for successful supply and demand chain transformation, is pleased to announce the 14th annual listing of Pros to Know in the Supply Chain industry.
Supply & Demand Chain Executive recognizes Provider Pros and Practitioner Pros (including Teams). The Provider Pros to Know is a listing of individuals from a software firm or service provider, consultancy or academia who have helped their Supply Chain clients or the Supply Chain community at large prepare to meet the significant challenges in the year ahead. This year's list includes more than 180 Provider Pros to Know.
The Practitioner Pros to Know is a listing of exceptional corporate executives at manufacturing and non-manufacturing enterprises who are leading initiatives to help prepare their companies' supply chains for the significant challenges in the year ahead. This year's Practitioner Pros to Know list also includes recognition of four Supply Chain teams.
"Supply Chain is increasingly recognized as a strategic differentiator for leading small, medium and large enterprises, and Supply Chain leaders have become crucial to the success of the enterprise in meeting the challenges of what truthfully has been called a turbulent economy," said Barry Hochfelder, editor of Supply & Demand Chain Executive. "Our Pros to Know listing highlights many of these outstanding executives and their accomplishments, and it offers a roadmap for other leaders looking to leverage Supply Chain for competitive advantage.
"This honor highlights the many thought-leaders who are helping to shape the Supply Chain industry and advance Supply Chain as a respected discipline in the enterprise," Hochfelder added. "Their efforts in developing the tools, processes and knowledge base necessary for Supply Chain transformation, and in promoting new approaches to supply chain enablement, have earned them a place on this year's Pros listing."
Supply & Demand Chain Executive, which has created three separate sets of criteria for the Practitioner, Practitioner Team and the Provider Pros to Know, issued a call for Pros to Know nominations in Fall of 2013. Beginning in January, the magazine's editorial selection committee culled through more than 300 submissions to find the applicants that best fit the criteria. Submission information requested included:
Selection Criteria: Practitioner Pros to Know:
What does the nominee believe to be the key challenges facing his/her company AND its supply chain in the year ahead?
What programs or initiatives has the nominee undertaken in the supply chain to help his or her company meet the challenges described above?
What is the nominee's philosophy or strategy for aligning supply chain with the company's broader corporate strategy?
Selection Criteria: Provider Pros to Know:
What does the nominee believe to be the key challenges facing his/her customers/clients and their supply chains in the year ahead, and how is the nominee working with them to meet those challenges?
In the nominee's opinion, how can supply chain, as a function, better align with a company's broader corporate strategy?
Here are this year's winners. The March issue of Supply & Demand Chain Executive will feature more detail on many of these honorees, including the name of the Pro of the Year.
Provider Pros
Brian Ehlenberg and Mark Tuskey, 4Sight Supply Chain Group; Joe E. Couto, Sr., Accellos; John DiPalo, Acsis Inc.; Phil Marlowe, Acuitive Solutions; Bill Michels, ADR North America; Trevor Read, Agistix; Michael B. Lee, Airclic; Ty Bordner, Stephanie Miles and Anthony Hardenburgh, Amber Road; Christopher J. Dwyer, Ardent Partners; Robert Steinberg and Rachel Spasser, Ariba, an SAP Company; Steven LaVoie, ArrowStream; Jason Averill and Clark Johnson, Avercast; Lynn Torrel and Lalit Wadhwa, Avnet; Tom O'Boyle, Barcoding; Ilari Nurmi, Basware; Mike Ross, Baxter Planning Systems; Marc Kalman, BizSlate; Greg White, Blue Ridge; Kelly Barner, Buyers Meeting Point; Nicholas Couture, C3 Solutions; Joel Clum and Jett McCandless, CarrierDirect; Thomas L. Tanel, CATTAN Services Group; Heather Cox, Certify My Company; Robert Bacchi, Choice Logistics; Unni Vasudev, Corbus; Michael Hung, Core Solutions; David Clevenger, Andrea Morton and Ara Arslanian, Corporate United; Jeff Silver, Coyote Logistics; Michael Cirafesi, CSC Consulting; Rick Burian, CVM Solutions; Bill Harrison, Demand Management; Susanne Wrage, Denali Sourcing Services; Edward Ryan, Descartes Systems Group; Thuy Mai, DiCentral; Aaron Kless, Digital Lumens; and
Ann Drake, DSC Logistics; Michael McFerrin, DSSI, LLC; Stephan Hofmann, Sean Rollings and David Vallejo, E2open; John Blyzinskyj, Elemica; William Gindlesperger, eLynxx; Tom Stretar, enVista; Donna Troy, Epicor Software Corporation; Joy McCaffrey and Talia Mashiach, Eved; Bernard Byrne, eZCom Software; Nikko Pianetto , Phil Quartel and Andrew Breckenridge, Fortna; Shariq Mansoor, FusionOps; Kirit Goyal, Gazelle Information Technologies; Volker Schulz and James Hunt, GENCO; Page Siplon, Georgia Center of Innovation; Biju Mohan, GEP; Rachel Hall; GHX; Robert A. Rudzki, Greybeard Advisors; JB Dagley, GSCS, Inc.; Sean Feeney, GT Nexus; Roger Layette and Douglas Markle, HICX; Don Rigdon, HighJump Software; Mike Pringle, Jason Treida and Chris Jasper, IASTA; Rory King, Laura Hodges and Scott Wilson, IHS; Michael Lyle, InfinityQS International; Rob Small, Inmar; Brent H. Eiland, Doug VanWingerden and Brian Houpt, Insight Sourcing Group; Jeff Karrenbauer, INSIGHT, Inc.; Jim Barnes, Institute for Supply Management; Carrie Liptrot, Zoe Martinez and Kris Kay, Integration Point; Christopher Mazza, International Asset Systems; Douglas Braun, Mike Verdeyen and Scott Brown, International Business Systems; Natalia Yenatska, i-payout; Joe Juliano, IQNavigator; and
Melissa Drew, ISoftStone; Paula Natoli, Tom Kozenski and Vali Fayen, JDA Software; Annemarie Omrod, John Galt Solutions; John Freund, Jump Technologies; Thad Neal, Junction Solutions; James V. Kelly, JVKellyGroup; Tim Dupree, Kate Dyer and Barbara Lauer, Kelly Outsourcing and Consulting Group; Celeste Catano, Kewill; Charles Wehlage, Kinaxis; Robert Martichenko, LeanCor Supply Chain Group; Chris Johnson and Eric Meister; LeanLogistics; Toby Brzoznowski, Jeff Metersky and Nejat Karabakal, LLamasoft; Diego Pantoja-Navajas and Arun Murugan, LogFire; Mike Edenfield, Logility; Robert Camozzo, Logistix Solutions; Mark Millar, Mpower Associates; Dave Bowen, MarketMaker4; Doug Kimball, Kevin Kasiborski and Grace Wang, NeoGrid; Ranga Bodla, NetSuite; Anand Raghavendran, Netwin Solutions; John Sidell, New Course LLC; Charles Dominick, Next Level Purchasing Association; Fred Isenberg, NGC; Troy Graham, Oz Development; Andrew Alpert, Steven Kirz and Adam Cummins, Pace Harmon; Josh Green, Panjiva; William Salter, Paragon Software Systems; Antonio Rodrigues, Pcdata; Matt Yearling, PINC Solutions; Adrien Sandrini, Precogs; Mike McDonald, Prime Advantage; Eugene Buckley, PrimeRevenue; Christopher Monk, Protiviti; Shelley Sherony, Puridiom; Rose Kelly-Falls, Rapid Ratings International; and
Shannon Vaillancourt, RateLinx; Tom David, Riverwood Solutions; Jeff Sweetman, Hugh Cox and Charles Clark, Rosslyn Analytics; Mike DelBovo, Saddle Creek Transportation; Mark Davis, Ronald D. Southard and Heather Powell, SafeSourcing; Kevin Brady, Satellite Logistics Group; Rolf Weiland, SAP; John Hayes, Seegrid; Thomas R. Willemain, Smart Software; Dave Brooks and Sean Riley, Software AG; Kathleen Daly, Diego De la Garza and Jennifer Ulrich, Source One Management Services; KR Karu, Sparta Systems; John R. Haber, Spend Management Experts; Jack DeButts, Jeff Jorgensen and George Fowler, Spinnaker Management Group; Michelle Jones, Andres Botero and Danny Smith, Steelwedge Software; Kirk Jacquay, Stericycle StrongPak; Stuart Sutton, Sylectus; Joey Benadretti, SYSPRO USA; Robert Byrne, Terra Technology; Omer Abdullah, The Smart Cube; Michael Shaw, The Sourcing Source; Rick Morris, Thrive Technologies; Kelly Reed, Tompkins International; Jay Moss, Transplace; Jim Taylor, Transportation Insight; Mark Usher and Rahul Ahuja, Treya Partners; David O'Leary, UPS; Sherry R. Gordon, Value Chain Group; John Hutchinson, Vinimaya, Inc.; and Rudi Lueg, W&H Systems.
Practitioner Pros
Sean Smith, Agropur Ingredients; Nancy Jorgensen, Brunswick, Corporation; Randal Hill, Carestream Health; Jacqueline E. Bailey, Cargill; Steve Golich, Celtic International; John O'Connor, Cisco; Joanna L. Martinez, Cushman & Wakefield; John P. Willi, Dana-Farber Cancer Institute; Caryn Furtaw, David's Bridal; Jon Kirkegaard, DCRA Inc.; Steve Schuman, dg3; James Gavin McCarthy, Equifax; Frank Hazeltine, Gartner; Timothy J. Grabus, Hooker Furniture Corporation, Michael Butensky, Hudson's Bay Company; Keary McNew, Lilly Pulitzer; Greg Ecker, Magline, Inc.; John Grasso, Matco-Norca; Susan Avery, My Purchasing Center; John Sidell, New Course LLC; Robert McAdoo, Parker Hannifin; Dave Magness, Red Wing Shoe Company; Steve Martin, Ryder System, Inc.; Tommy Skinner, SHIFT Freight; Mary Lewis, Sprint; Ryan Verbecken, The Kroger Company; Shekar Natarajan, The Walt Disney Company; and Tim Floyd, Trilogiq USA.
Team Pros to Know
American Global Logistics: Chad Rosenberg (team leader)
Global4PL: Sergio Retamal (team leader), Robert Santos, Tim Andrews, Jonathan Cook and Jose Antonio Vergara
Hennepin County Medical Center: Matthew Werder (team leader), Yogi Ohneswere, Phillip Van Gorp, Hilary Radtke, Doug Lowe and Jess Becker
PassageMaker: KC Pramod (team leader)