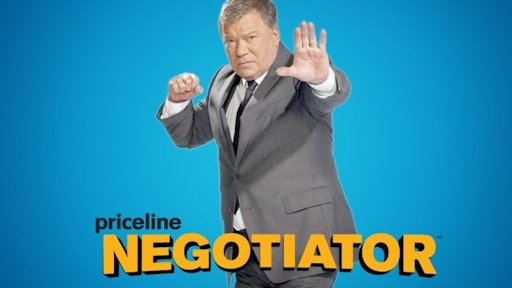 In the world of online travel and hotel accommodation, Priceline.com has been the top player for nearly two and a half decades.
Its advertising campaigns worked not only because they went as big as budgetarily possible—featuring both top-tier talent William Shatner and top-tier placements like the Super Bowl—but because they combined the four-word distillation of their business model with the biggest advertising campaign e-commerce had seen to date: Name. Your. Own. Price.
Since those four words were introduced to the American lexicon through William Shatner's Negotiator character in the late '90s, those four words have become ubiquitous in the world of hotel and travel.
But it didn't stop there. Companies quickly realized that price negotiation shouldn't be exclusive to airfare and hotels, and is a perfect solution for many of the problems that product-based e-commerce retailers would face in the worldwide e-commerce boom.
That is, until recently, when Priceline announced that it ended the Name Your Own Price tool, the same tool that made it a titan in the industry.
Why would it end this strategy when it not only put the company on the map, but also was proven successful in a dozen other industries?
It turns out the announcement had nothing to do with a lack of traction of price negotiation online and had everything to do with consolidation of the airline industry over the last 10 years.
The trend of airline mergers in recent years made a Name Your Own Price strategy less effective. As carriers like US Airways and Northwest Airlines consolidated, there were fewer excess seats and less incentive for airlines to provide negotiated discounts.
According to Henry Harteveldt, a travel analyst for Atmosphere Research Group, the industry consolidation had a massive impact on its core business model. Harteveldt told the "Wall Street Journal," "Now, we have four supercarriers that collectively control approximately 85 percent of U.S. capacity. A product like Name Your Own Price only works when there's a critical mass of seats available."
In the place of hotels and airlines, however, dozens of other industries and retailers of all sizes began to thrive using price negotiation as a sales tactic to boost conversion rates.
eBay was another major player to roll out the functionality to its marketplace as Make an Offer. More recently, PriceWaiter.com launched a software-as-a-service (SaaS) solution that ported negotiation functionality onto non-marketplace sites for retailers in industries such as apparel, home goods, jewelry, technology, furniture and even niche industries like home alarm systems. This allowed retailers of any size in any industry using any platform to use an efficient price negotiation system without being limited to Amazon or eBay.
That shift caused a significant expansion of retailers adopting name-your-price strategies across the Web, starting around 2014.
In January 2014, "STORES" cited name-your-price retailing as one of the top new strategies in e-commerce. That signaled the beginning of the transition to industry-agnostic adoption of Priceline's hotel-and-airfare strategy.
Dan Weinstein, CEO of security company 123SecurityProducts.com, elaborates on this strategy: "We find, with today's competitive markets, the need to negotiate prices online is essential."
Minimum advertised pricing (MAP), the much debated regulation that allows manufacturers to control the lowest advertised price for retailers, largely took price out of the online retailer's marketing toolbox. Private and efficient negotiation gave this tool back to retailers as the entire dialog happens in a tasteful, private manner.
Weinstein goes on to say, "We deal with MAP pricing and extremely low margins in some areas of our product line. Tools like PriceWaiter are critical to convert shoppers who are comparing multiple retailers."
But MAP isn't the only reason retailers are using negotiation strategies in many new industries. Price negotiation simply drives a higher conversion rate than conventional online shopping because of the shopper psychology behind negotiation.
Consumers who feel like they win or earn a discount are simply more likely to complete a transaction, even though the retailer maintains control from the beginning to the end of the transaction.
Pricing will always be the primary factor driving shoppers' decision-making and, when combined with behavioral economics of negotiating a discount, a significant conversion uplift is possible.
A CEO of a top 500 online retailer in the furniture industry elaborates on this potent combination, when comparing this strategy to other lead sources: "We were an early adopter of price negotiation, and at 25 percent, our name-your-price campaign is our highest converting lead source—over catalog requests, newsletter signups, email campaigns and all our other efforts."
The bottom line is that, despite Priceline's cradle-to-grave strategy arc, online price negotiation for e-commerce is only in its infancy. As other industries continue to adopt this strategy into their on-page conversion tactics, it becomes very possible that name-your-price retailing becomes the norm and retailers not engaging directly with their consumers online become the outliers.