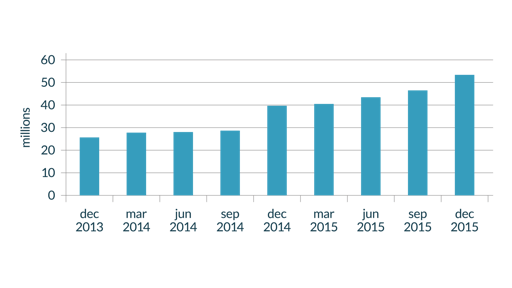 Online shopping is our present and online marketplace shopping is our future—there's no denying it. Web sales reached $341.7 billion in 2015, up 14.6 percent from $298.3 billion in 2014, according to the U.S. Commerce Department.
Last year, customers chose two of the most rewarding and convenient marketplaces, Amazon and Jet, for the majority of their online purchases and this trend will continue in 2016. This is evident in the knowledge that prices became more competitive and the product selection vaster on these online marketplaces by the minute. Amazon added 7 million of its 14 million new 2015 members during the busiest time of year, the holiday quarter of 2015, according to Consumer Intelligence Research Partners. There are five key reasons why these marketplaces are the shopping portals of choice for savvy web shoppers before, during and after the holidays.
1. Customers Will Continue to Move to Marketplaces with the Best Product Selection
While Amazon and Jet are booming year-round, they're especially thriving during the holiday season. When customers are shopping for gifts, the vast product selection becomes a huge draw. They want product options, and Amazon and Jet give that to them, and often at the best prices. The giant product catalogs offer the choices consumers crave, as well as the familiar perks and savings they're used to.
More often than not, if customers can find the gift they're looking for on Amazon or Jet, and the price is right, they are going to purchase it there. If they're saving money and getting rewards that are worth it, why wouldn't they? From toothpaste to tools and yarn to yams, the product selection appeals to all online shoppers including bargain hunters, busy Millennials and casual browsers.
Amazon is expanding its product options and differentiating itself in many categories, such as luxury beauty, to meet the demands of consumers who desire higher-end products. This enables Amazon to offer more prestige beauty products to consumers who are already Amazon customers.
2. Marketplaces Attract Shoppers with Dynamic Pricing and Time-Sensitive Deals
Amazon's Today's Deals attract deal-seeking consumers, who are often times more impulsive and open-minded, to buying new brands. The deals last only for brief periods of time and new deals are added frequently, enticing consumers to frequent the Today's Deals page and never miss out on the best deals.
According to a Ugam report on retail pricing and assortment strategies for toys and electronics from Thanksgiving through Cyber Week 2015, Amazon was the clear dynamic pricing leader, making over three times more price changes per item than its competitors. Amazon re-priced some popular toy items an average of 4.5 times a day and electronics 3.2 times per day. Ultimately, Amazon was most effective in utilizing dynamic pricing techniques, according to the report.
Jet is also incredibly appealing to shoppers because, unlike other marketplaces, Jet offers a Basket Building incentive that encourages customers to build larger baskets in exchange for more overall discounts. This was a defining feature of Jet since its launch earlier in 2015, but many anticipate it having an even greater effect on consumers' shopping habits during the holidays as holiday shoppers are much more likely to have multi-quantity and varying types of products in their baskets, which will realize deeper discounts. And, during the holidays, when money tends to be tighter for many families, these savings will continue to draw consumers in.
3. Amazon and Jet Customers Will Enjoy More Enticing Perks and Convenience
Amazon poured resources into developing programs that highlight the perks shoppers appreciate. This is evident in the expansion of customer loyalty programs, aggressive offers, daily deals and—especially appealing to those last-minute holiday shoppers—lightning-fast delivery. All of the perks of shopping on Amazon are even more greatly appreciated by holiday shoppers who need specific items delivered in time for their holiday gift exchanges.
Jet offers unique perks, such as the ability to waive a return in exchange for an up-front discount. This is not only a perk to the consumer, but it also mitigates risk of return for the seller. In fact, Jet can be considered a fair financial trading platform for both the buyer and the seller.
4. Marketplaces Continue to Offer a One-Stop Shop Experience for Consumers
Jet's Basket Building feature is the perfect example of an online one-stop shop. As an incentive for consumers to get better prices, the company encourages them to buy more products at once, thus increasing the overall average order value. And unlike brick and mortars that advertise themselves as one-stop shops, they can't even get close to the product selection on Jet. And of course, the discounts are unbeatable. Jet even offers customers the ability to shop by Smart Cart Items, which displays only the items eligible for additional shipping discounts. This helps to increase basket sizes and displays more products from the same seller shipping items from the same location.
5. Omnichannel Retailers Grow their Presence in Online Marketplaces
Brick-and-mortar stores caught on to the online shopping shift and are joining in. Retailers are growing the holiday season online with more deals that run for longer periods of time each year. Many omnichannel retailers understand they will be able to reach more customers by integrating a better online marketplace strategy.
Brick and mortars know that, by offering their local favorites or specialty goods, they'll be able to reach not only their existing clientele in a more convenient fashion, but also millions of new customers. Brands and omnichannel retailers that embrace online shopping's evolution to marketplaces offering the greatest product selection, pricing, perks and convenience will thrive in 2016 and beyond.