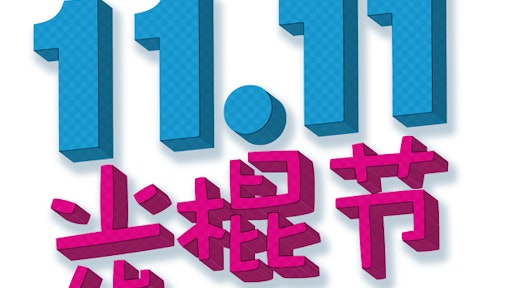 For every flower gifted on Valentine's Day, someone is treating themselves to a box of chocolates. It's a common practice to spend money on yourself on days like Valentine's Day, and many stores offer discounts and promotions to capitalize on this trend. But China has an entire day devoted to single people. Every Nov. 11, the aptly named Singles' Day inspires millions of singles to participate in special events, eat themed candies and—above all—shop. It's the largest online shopping day in the world, but unless you live in China, you probably never heard of it.
Singles' Day originated at Nanjing University, China, in 1993 as a student tradition for being single. It was suggested that four male students planned activities for fellow singles on Nov. 11, or 11.11 (the ones to denote—yep—being solo). Over the years, the holiday transitioned from a locally celebrated day to a national phenomenon. This has a lot to do with the country's population and historical roots. In 1980, the ratio of male to female babies was 103 to 107:100. As of 2013, this ratio reached a disparity of 122:100. In 2015, China's National Bureau of Statistics made estimates that 33.8 million more men are going to come of age by 2020, which is roughly the population of Canada. These statistics highlight the country's bachelor crisis. Singles' Day acts as a release for these bachelors to have a stress-free holiday and simply enjoy their single status.
It wasn't until the late 2000s that Singles' Day started to make a huge impact in China. The holiday eventually morphed into one of the biggest sources of revenue for Chinese companies. e-Commerce giant Alibaba initially offered Singles' Day sales back in 2009 through its Tmall platform and turned it into one of the biggest revenue-making events in China. According to statistical data released by Alibaba, Singles' Day customers in 2014 spent U.S. $2 billion on different goods during the first hour of sales, which is almost equal to the total online shopping revenues made by Americans on Cyber Monday of the same year. Eager shoppers made purchases through the company's Taobao and Tmall websites.
The most popular brands during the 24-hour Singles' Day Shopping Festival include:
Xiaomi, the Chinese smartphone giant that sold 720,000 phones and acquired U.S. $163 million in sales during Singles' Day 2014 alone.
Haier, a Chinese consumer electronics and appliances company.
Uniqlo, a Japanese clothing manufacturer.
Huawei, a smartphone maker.
Linshimuye, a Chinese furniture retailer.
Other rivals, such as JD.com, Suning Commerce Group, Walmart's Yihaodian and even e-commerce giant Amazon, also decided to join the rush. Singles' Day sales exploded from $8 million in 2009 to $9.3 billion in 2014.
The 11.11 Shopping Festival started out with 27 merchants in 2009. As of 2014, at least 27,000 vendors offer goods to eager shoppers. These vendors scramble for customers, but many complain that the competitive price cuts, discounts and offers undercut the benefits.
Singles' Day will continue to grow in popularity as e-commerce becomes more efficient. The country's pace in social media, social commerce and digital change will only boost its position in the global market. China's continuous growth adds to its emerging role as a trendsetter and an economic example to the West. According to John Tomich, CEO and cofounder of Onestop Internet, "Singles' Day and Alibaba's TMall in general provide tremendous opportunities for Western brands to tap into the rising purchasing power of Chinese consumers." If Western retailers can open up more to the Chinese market, there is no doubt that there will be more room for revenues to grow.
Will Singles' Day Travel?
Western brands certainly benefit from Singles' Day in China—but will single Americans get the opportunity to celebrate their independence? Not any time soon. The holiday falls too close to Black Friday and Cyber Monday, the two biggest shopping days in the U.S., so consumers save their spending money till then. Moreover, November 11th is Veteran's Day in the U.S.
There's also the cultural problem: No other countries have the extreme gender disparity that China faces, meaning fewer single people. Furthermore, it could be said that there is less pressure to settle down in the U.S.—and less room for backlash against that pressure. So if you want to celebrate your singledom (and don't like the thought of rebranding Valentine's Day as Singles Awareness Day), you can choose to honor the Chinese holiday with friends, some Youtiaos, and, of course, a lot of new stuff.
Amy Clark works on the Elementum Rapid Response Team.